Forest Society leasing Creek Farm buildings, dock
Re/Max By the Bay's Jane James picked as broker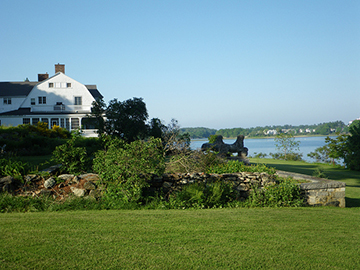 The Society for the Protection of New Hampshire Forests is looking for a new leaseholder for the two buildings and dock at the historic Creek Farm in Portsmouth.
The organization has selected Jane James, broker for Re/Max By the Bay, to market the lease.
In August, Cornell University, the leaseholder of the buildings and grounds, had given formal notice and triggered an exit clause in the lease. Cornell used Creek Farm as a mainland office for students and staff in support of educational programming conducted at the Shoals Marine Lab on Appledore Island.
"While we are sad to see such a perfect match for the facilities go, we feel good about the timeframe, more than two years, in which to identify a partner that can make use of the facilities and land that is compatible with the Forest Society's mission and the ongoing public enjoyment of the property," said Jane Difley, president/forester of the Forest Society.
The buildings and dock are on the Forest Society's 35-acre Creek Farm Reservation, located off Little Harbor Road in Portsmouth. It was once part of the 18th century farm of royal governor Benning Wentworth. The main house and grounds were created for Arthur Astor Carey in 1888, and then purchased in 1957 by Lillian and Chester Noel.
Creek Farm Cottage offers a total of 19,461 square feet, including an unfinished basement of 5,714 square feet, attic of 2,078 square feet, and 1,020 square-foot open porch. There is also a two-story (650 square foot total) utility building with a first-floor garage. The property includes a dock on tidal Sagamore Creek, providing water access to the Portsmouth Harbor and beyond. Proposed uses will need to be consistent with city zoning and building code regulations and the historic character of the main building.
The New Hampshire State Department of Resources and Development holds a conservation easement on some 30 acres of the property.