For the Singers, business, community are a family affair not your typical business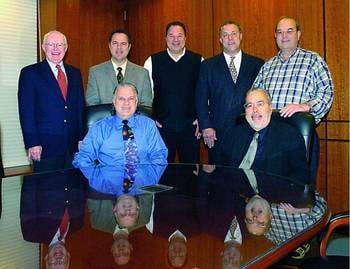 In 1962, Irving Singer and his partner Arthur Spohr walked into Merchants Bank with hopes of securing a loan to start a used car business on a small lot in Manchester. The two left with not only a loan but a name for their new business.
"They were so pleased with the service provided by Merchants Bank that they decided to name their own business Merchants Motors after them," said Stephen Singer, eldest son of Irving and Bernice Singer and president of Merchants Automotive Group in Hooksett.
That banking relationship still exists today, although Merchants Motors became Merchants Automotive Group in the late 1990s and Merchants Bank is now Citizens Bank.
"Merchants Automotive Group is a local company in an industry dominated by national players. They perform so well financially because of the great service they offer. Their commitment to the community really sets an example. Recommending them was the easiest decision I've made all month," said Lori Chandonnais, vice president of commercial lending at Citizens and officer credited with recommending Merchants Automotive Group as November's recipient of the Not Your Typical Business award.
What began in 1962 with 50 used cars has evolved into a diverse $140 million business now run by the Singer brothers.
It truly is a family affair.
"It now takes six of us to fill the large shoes that that man left," said Stephen Singer of his father, who died in 1991.
The business moved to its current Hooksett Road location in 1974, where Alan Singer now oversees sales from the 500-car lot.
With a fleet of 8,000 cars, Merchants Leasing continues to thrive. Robert and Gary Singer oversee this operation, with Gary also managing the government lease program and Robert the commercial-end leasing cars, a business that has attracted such well-known customers as The New York Times, Saks Fifth Avenue, Colombo Yogurt and the American Red Cross.
In 1985 Merchants Nissan opened in Concord, under the direction of Jeffrey Singer.
Most recently Joyland Associates and Merchants Realty Associates, managed by Michael Sydney, husband of Irving and Bernice Singer's only daughter, Joy, has been added to the family's growing portfolio. One of Manchester's newest hotels, the Tage Inn is a Singer-family property.
Stewart Singer, a Philadelphia attorney, is a shareholder in the business and continues to be an active board member.
Family heritage
Stephen Singer credits their success to a philosophy instilled in them by their parents and a continued commitment to their customers.
"We work hard at making every person feel like he is the most important person that has ever walked through those doors. Our customers know they will be treated fairly and honestly," he said.
For longtime customer Alan Sprague, Merchants Automotive Group is the first place he thinks of when he or someone he knows is looking for a car.
Sprague — owner and president of Bedford Granite Group, an advertising and public relations company in Manchester – has been a customer for 35 years.
Sprague said he also values the company's philanthropic side. "I'm a guy who likes to give back to the community, and I like the fact that the Singers always put their money where their mouth is."
Stephen Singer said it is part of their "family heritage to become involved in the community."
Twenty years ago, the Singer family began the Gail Singer Memorial Blood Drive on behalf of the Red Cross and in memory of Gary's wife, who passed away in 1984. The first blood drive held only one month after Gail's passing was attended by 50 people. This year's drive drew over 500 donors.
Merchants Automotive Group and their employees also can be found ringing the bell every year for the Salvation Army's Kettle Campaign and are lead sponsors of St. Joseph's Community Services' Meals-On-Wheels program.
Children's causes also are dear to the hearts of the Singer family. Whether hosting a Halloween party for the children at Easter Seals in Manchester or treating a group of children from the Salvation Army Kids' Café to a pizza party and night at the circus, the Singer family is always looking for new ways to put smiles on the faces of local kids.
For Stephen Singer and his wife Pam, turning their Dunbarton home into Camp I.C.E. C.R.E.A.M. (Inner City Escape Can Really Enhance A Mind), where a dozen city children are treated to a week or two of swimming, arts and crafts, horseback riding and frog-catching is a favorite.
"It's so wonderful to be able to share what we are so blessed with, and I don't think there is a better way to show your commitment than by opening the doors to your own home," Singer said.
The Singers also say "thank you" to their 250 employees by opening their home and celebrating employee appreciation day each summer. They also aim to promote from within and strive to create a work environment that is enjoyable and where each employee feels respected and valued.
"We understand that the key to success is having happy employees. We try to give our employees the sense of being part of our extended family," said Singer.
This sentiment has not been wasted on Bob Williams, lot manager at the Hooksett Road site for 17 years and an active supporter of veterans' causes.
"On the lot, I'm my own boss. They put their faith in me; they put their faith in the ability of all their employees," Williams said. "I have fun here."