Flotsam & Jetsam: May 3, 2013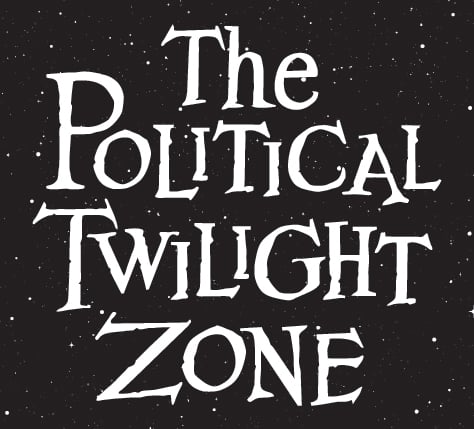 Strange bedfellows indeed
There is a fifth dimension beyond that which is known to politicians. It is the middle ground between governing and bases, special interests and core beliefs, sane and insane, sense and nonsense. And it lies between the pit of politicians' fears and the summit of their courage.
This is the Political Twilight Zone.
"If Kelly continues to pick sides like this, on very extreme positions, I think she's going to be in real trouble, and she's going to be perceived as not acting in the interests of New Hampshire citizens." — Former Congressman Dick Swett, who lost his seat after a 1994 vote in favor of an assault weapons ban, offers his assessment of U.S. Sen. Kelly Ayotte's decision to vote against expanded background checks.
This is the point of no return.
And it is an area toward which the New Hampshire Republican Party finds itself slipping, ever so deliberately.
Consider for your evaluation:
• State Rep. Peter Hansen, an Amherst Republican now infamous for his "children and vaginas" email to his fellow reps. Putting aside the ridiculous premise, and the equally ridiculous explanation he gave for his "reasoning," the man who claims he is a retired executive with a "Fortune 500" company, he managed to embarrass himself and his party on an international scale.
• State Rep. Stella Tremblay, an Auburn Republican, who tries to one-up Hansen with her own online musings, these on Glenn Beck's Facebook page. In her post, she claims that the Boston Marathon bombings were a "Black Ops 'terrorist' attack," adding: Drones and now "terrorist" attacks by our own Government. Sad day, but a 'wake up' to all of us." Despite a bipartisan call for her to apologize, resign, or at least shut up, the rep complains to Concord Patch: "What am I going to apologize for, asking questions?"
• Jerry DeLemus, husband of former GOP state rep Susan DeLemus, a self-anointed leader of the tea party wing of the party in Rochester, and yet another Glenn Beck acolyte, tries to cause a stir by holding a public meeting calling for the formation of a militia by citizens "in order to defend our freedoms as well as our country" and apparently to channel the founders, who "found themselves in and their decision to stand was equally difficult." The plan, however, hits a roadblock when it's discovered that any militia formed under the state constitution would come under the purview of Governor Hassan, the commander in chief of such a force.
• The formation of a new organization — Belknap County Conservative Republicans, in opposition to the Belknap County Republican Committee. The goal: "to flood our party, like it or not, with conservatives,"
at the local level, says Rep. Jane Cormier of Alton, co-founder of the group.
• Former Congressman Chuck Douglas pens an op-ed in The Union Leader excoriating three GOP state reps – Al Baldasaro of Londonderry, John Hikel of Goffstown and Lenette Peterson of Merrimack – along with former state GOP chair Jack Kimball for their call to remove 189 state reps over their "stand your ground" vote. In it, the former state Supreme Court chief justice calls the quartet's mission "an example of constitutional illiteracy at its best." Adds Douglas: "It is this type of craziness that cost 120 Republican seats in the House last year. It is also embarrassing to my party and to the state."
"We don't have that kind of money." – Jim Rubens, chairman of the Granite State Coalition Against Expanded Gambling, rebuts the charge that his group engineered the cancelation of a pro-gambling meeting at St. Paul's Church in Concord.
Come on up
Considering the economic facts – the gay/lesbian market was valued at $790 billion in 2012 and 28 percent of gay households reported as income of over $50,000 a year – why doesn't New Hampshire do a little marketing targeted at gay and lesbian households where the climate is somewhat less hospitable?
F&J tote board:
Hillary Clinton: The former secretary of state garners 68 percent in a Public Policy Polling survey of New Hampshire voters, with Veep Joe Biden a distant second (at 12 percent). That's for 2016, folks.
Greg Moore: The recently installed state director for Americans for Prosperity New Hampshire shows he knows how to grab the spotlight, this time filing a right-to-know request to find out the cost of a mini-conference on sex workers hosted by UNH's Women's Studies Program.
Mark Bodi: In a sworn deposition, the former state liquor commissioner claims that the other two members of the commission were eager to end the commission's 20-year relationship with Law Warehouses, simply because they didn't like owner Brian Law and thought he was "gouging" the state.
Jeanne Shaheen: New Hampshire's senior senator will be in the passenger's seat as the guest of honor at a May 21 fundraiser in D.C. sponsored by the National Limousine Association.
It's been making the rounds …
• So how'd you like to have House Minority Leader Gene Chandler's job right now?
• Considering how much national press Kelly Ayotte was getting with her opposition to an Internet sales tax, you'd think Jeanne Shaheen would have jumped on the bandwagon a lot sooner – and a lot more effectively – than she did.
• Could one explanation for Ayotte's anti-background check vote be that she's afraid of a 2016 primary challenge?
• Yet another budding revolt has surfaced on her left against Annie Kuster — this time over her vote supporting CISPA — the Cyber Intelligence Sharing and Protection Act.
• Just so you can rest easy, the bill establishing the white potato as New Hampshire's official state vegetable – which has already passed the House — has won unanimous approval by the Senate Energy and Natural Resources Committee.
• All things considered, let's all be thankful that the bill posthumously emancipating 14 Portsmouth slaves was passed by a unanimous vote in the House.
• There's no doubt about it: New Hampshire state government has a tobacco addiction problem.