Flotsam & Jetsam: March 22, 2013
To the folks at Northeast Utilities/PSNH: In your annual report, you told shareholders that you'd be unveiling an alternate route for the Northern Pass project by March 31. That's March 31, 2013. Just in case it may have slipped your mind.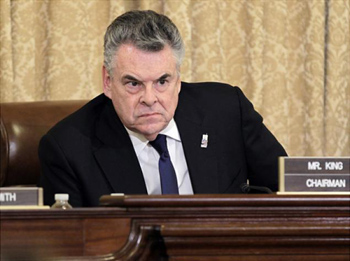 King: Welcome to New York – now go home
Stormy reception for Kelly?
Not surprisingly for a politician, Congressman Peter King has a good memory.
Which is why the outspoken Republican from New York's Long Island lashed out a couple of weeks ago at the GOP Boy Wonder from Florida, Sen. Marco Rubio.
Rubio, it turns out, was on one on of those national politicians' fund-raising sprees in New York City (where, as Willie Sutton would say, the money is).
Not that there's anything wrong with fund-raising in NYC. King's problem was that Rubio was one of the senators who voted against federal funding for aid to victims of Hurricane Sandy.
King blasted Rubio in an email that was reported by the Daily News: "It's bad enough that potential Republican presidential candidates voted against Hurricane Sandy aid, that's inexcusable enough. But to have the balls to come in and say, 'We screwed you now make us President?'"
Added King: "They cast their vote against us, so I think we should vote no on them. Don't give them a nickel!"
Interestingly, Rubio was one of 215 members of Congress — 39 in the Senate and 179 in the House — who voted against the $50.4 billion emergency appropriation. Among them were fellow possible GOP presidential candidates Rep. Paul Ryan of Wisconsin and Sen. Rand Paul of Kentucky.
Another name on the list of naysayers was New Hampshire's own junior senator, Kelly Ayotte, who doesn't appear to be a presidential contender at this point. But that hasn't stopped political types from heading down to NYC hat in hand before.
Be interesting to see what kind of welcome she gets if and when she does visit the Big Apple.
"Oh no … I think it's me." – Gov. Maggie Hassan, after hearing her raffle ticket called as the winner of a giant flat-screen TV during a Children's Hospital at Dartmouth-sponsored St. Patrick's Day luncheon. She quickly announced she would donate the TV to the hospital.
A history lesson
F&J readers may remember the tale of Cancer Treatment Centers of America. It was the company that last year sought special treatment under the state's health facilities laws – namely, to be exempt from the Certificate of Need process as well as the Medicaid tax that other hospitals pay. Lead sponsor of the bill was Republican Rep Marilinda Garcia of Salem. But its godfather was none other than Bill O'Brien, the man who once was speaker of the New Hampshire House.
In the end, O'Brien/Garcia lost their bid in the Senate, where apparently cooler, if not wiser, heads prevailed.
Turns out that CTCA is once again in the news, although not necessarily in New Hampshire's. The Reuters news agency recently reported that CTCA manipulates its success statistics by admitting patients with the best chances of survival. Put another way, it turns away patients with particularly difficult cancers. And, not surprisingly, it rarely accepts patients without insurance.
And when it comes to CTCA's vaunted "whole person" treatment, it turns that in 1996 the company settled with the FTC over allegations of making "false and unsubstantiated claims" about the treatments.
Nice addition to the New Hampshire health industry, no?
For further context, CTCA's founder, Roger J. Stephenson, is a board member of FreedomWorks, the tea party astroturf organization founded by the Koch Brothers.
And, interestingly as well, the company's been on a spending spree of late on National Public Radio, with a ubiquitous sponsorship spot.
One other thing: When CTCA was making its push into New Hampshire last year, O'Brien and other supporters claimed if it were allowed to bill that Salem hospital, it would create 500 jobs and spur $500 million in economic development.
A year later, New Hampshire can put those claims into context ­– considering the questionable cancer success rate stats and the FTC allegations.
Horn: Making herself heard
She's got her under her skin
You've gotta hand it to state GOP Chair Jennifer Horn: She knows how to get press – and get under the governor's skin. (Of course, she's also getting under Dem Chair Ray Buckley's skin, but that's not quite so difficult a feat.)
Her latest foray into the subderma involves her claim that Lottery Commission Exec Director Charles McIntyre was essentially lobbying – or at least attempting to lobby — members of the House Ways and Means Committee, which is the first destination of the casino gambling bill after the Senate's recent approval of the measure.
Questionable behavior? Well, according to Rep. Susan Almy – chair of Ways and Means and a Dem from Lebanon – at the very least it's "highly uncommon" for an agency head to approach lawmakers in such a fashion. You can also add "inappropriate," as Deputy House GOP Leader Dave Hess put it.
The governor, for her part, added fuel to the fire by hemming and hawing after begin asked about McIntyre by Josh Rogers of New Hampshire Public Radio – not to mention the later admission by her office that staff members did ask McIntyre to reach out to members of the Legislature.
All of which gave Horn an opening you could drive a truck through. She wrote a letter to the governor seeking any records showing contact between her staff and the Lottery Commission on gambling matters.
And then she went for the subdermal: "Your disgraceful lack of candor and forthrightness raises very serious questions about an unwillingness to be open and transparent about the actions of your administration," she wrote to Hassan. Ouch.
Do you think Bactine would help?
F&J tote board:
Bob Kingsbury: The former GOP state rep from Laconia claims he has found evidence of voter fraud: After mailing a letter to each of the 1,395 people who registered at the Laconia polls on Election Day, he says 60 were returned as undeliverable.
Chris Sununu: The GOP exec councilor starts making noises about running for governor, or perhaps the 1st C.D.
John DiStaso: The political reporter for the Union Leader – and author of the Granite Status column – returns to the State House to cover the comings and goings in Concord.
Frank Guinta: The former 1st District congressman launches the Independent Business Council of New Hampshire, a group aimed at advocating for independent business owners.
Jim Finnegan: The longtime writer of the Union Leader's often scathing editorials — "the punch" behind the newspaper, as former congressman Chuck Douglas put it – dies at 82.
It's been making the rounds …
• There's only one question to ask about soon-to-depart AG Mike Delaney: Did he jump or was he pushed?
• Wouldn't Jeb Bradley be better off if he set his sights on the Corner Office instead of insisting on returning to D.C.?
• The good news: The House vote to approve a gas tax was 207-163 – only 30 reps absent that day. The bad: Maybe the missing couldn't make it because the roads were so bad.
• With Frank Guinta's recent formation of the Independent Business Council of New Hampshire to get his political career back on track, does he owe at least a shout out to Bob Clegg?
• You'd think the state troopers association would have held out for more than filling 15 of 31 vacant positions before endorsing the gambling bill.