Flotsam & Jetsam: January 25, 2013
"I didn't see running for Republican leader would be the best way I could use my talents and get to where I want to be." -- Former House Speaker Bill O'Brien explaining why he chose not to run to be minority leader in the current legislative session.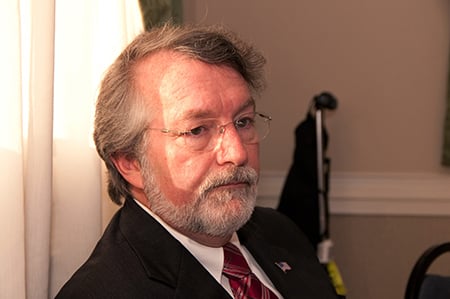 Scared straight
First, a history lesson.
There was a time, boys and girls, when the New Hampshire Republican Party pretty much owned every major political office, not just for years at a time, but generations. The governor's office, the Legislature, the Executive Council – you name it, it had an (R) next to its name.
Did straight-ticket voting help the GOP get its stranglehold on Granite State politics? Let's put it this way: It didn't hurt.
So when during one of the brief moments in New Hampshire history when Democrats held sway, straight-ticket voting was eliminated. And whaddaya know? Dems started winning more offices.
Even counting the 2010 Dem disaster, no one with a passing interest in New Hampshire politics would argue that there isn't a more obvious balance of power when it comes to the two parties.
Did elimination of straight-ticket voting have anything to do with the state of state politics today? It didn't hurt.
That's why the latest GOP effort to return to the days of straight tickets — HB 143 — is so transparent.
Case in point is bill co-sponsor Rep. Fred Rice's
take on the subject.
"It is just a simplicity, a nonpartisan partisan measure," said the Hampton Republican. "A number of voters go in and say 'I know in advance that I want to vote for all one party or another.' For them it is a convenience." ("Nonpartisan partisan?" Whatever.)
But the beauty part was Rice's take on the voting process in general:
"If the person at the top of the ticket is someone you support, and you like their ideas, their principles, their approach everything about them, why in the world would you ever vote for someone down the line that is against that?" Rice said.
Which sounds like, in Rice's world, you should vote for anyone on your party's ballot even if a) he advocates killing police officers or b) she is a convicted felon.
Just a couple of hypotheticals.
Words association
That was quite the shot taken by Colin Powell against a former co-worker in the Bush 41 administration, one John H. Sununu, New Hampshire's former esteemed governor.
During a Jan. 12 appearance on "Meet the Press," the former chairman of the Joint Chiefs of Staff under Bush 41 and secretary of state under Bush 43 took straight aim at what he called a "dark vein of intolerance" in the GOP, going on to say that that some people in the party "look down on minorities."
Asked for examples, Powell gave two examples. One was Sarah Palin's "shuck and jive" comment about President Obama. No further comment necessary on the comment or the speaker.
Second example was Sununu's decision to call the president "lazy" after the first presidential debate against Sununu's man, Mitt Romney.
"He didn't say he was slow, he was tired, he didn't do well, he said he was lazy," said Powell. "Now, it may not mean anything to most Americans, but to those of us who are African-Americans, the second word is shiftless and then there's a third word that goes along with it."
Funny thing about former Guv Sununu: For such smart guy he does and says some really, really dumb and offensive things.
And he really, really gets away with it — usually.
Good grief?
Just because the 2013 version of the New Hampshire House of Representatives has gotten rid of the Redress of Grievances Committee doesn't mean the grievances have gone away.
That's why Kevin Avard – a former Republican state rep from Nashua who was swept away in the November Dem electoral tidal wave – has decided to set up the Center for Redress of Grievances. Its mission, according to a Concord Monitor article: to investigate wrongdoing by government officials and try to rectify it with legislation or publicity.
Avard said he wants to recruit a group of former and current lawmakers and attorneys to hear citizens' complaints against the state's courts and agencies. When appropriate, the center will ask a sitting lawmaker to introduce legislation remedying alleged problems, he said.
There won't be any charge for the service, said Avard, who added the center will help citizens file lawsuits when necessary.
"My heart goes out to the people who feel they have lost their faith in government," Avard said this week. "I want to restore that faith and this is a way of helping out. This is for the people falling through the cracks."
Perhaps. But to judge from cases that came before the House Grievances Committee last session, you could pretty much say that the panel was there for sore losers – people who lost their court cases, like divorces, and still held grudges over it.
Consider the legislation filed by George Lambert, a Republican state rep from Litchfield who served on the excised House Grievances Committee last session.
He's sponsoring some bills that he says grew out of his work on the panel. One would deny guardian ad litems immunity when they make custody recommendations with malicious intent. Another would prohibit authorities from taking a person's firearms as a condition of bail. Another would change the definition of resisting arrest.
Like we said – the grievances don't go away.
It's been making the rounds …
• Think Carol Shea-Porter was breathing a sigh of relief the other day when she wasn't on the National Republican Congressional Committee's list of seven U.S. House Dems they're already targeting?
• Do you think Governor Hassan should have sent the message via certified mail to make sure House Dems heard her thoughts on the beer tax?
• Wondering why there's no love lost between GOP chair wannabe/tea partier Andrew Hemingway and former GOP guv wannabe Kevin Smith? Just some jostling on the GOP bench.
• Sure, no one opposed State Dem Chairman Ray Buckley in his re-election bid after Dems handed the GOP a drubbing in November. Just remember that no one opposed him after Republicans handed the Dems their head two years earlier.
• Want to know how cold it's been? One F&J contributing spy actually saw a Democrat with his hands in his pocket the other day.
F&J tote board:
Fergus Cullen: The former state GOP chairman launches a bipartisan group to promote immigration reform from a "center-right" perspective.
Joe Biden: The vice president stirs up talk about a presidential run after playing host to several New Hampshirites over inauguration weekend in D.C.
Meredith Hatfield: The former Public Utilities Commission consumer advocate – denied another term last year by the all-GOP Executive Council – is named director of the Office of Energy and Planning by Governor Hassan.
John E. Sununu: The former Republican U.S. senator from New Hampshire tears into his alma mater – MIT – for its role in the prosecution of the late "hacktivisit" Aaron Swartz.
Bob Kingsbury: The former GOP state rep from Laconia asks police to arrest two city Democratic state reps for allegedly violating their oath of office to uphold the state Constitution after they voted to reinstate the prohibition against carrying firearms into the State House.