Flotsam & Jetsam: August 9, 2013
"I'm not going to support anybody. I support everybody." – Bill O'Connor, chair of the Strafford County GOP, when asked where he stood on the growing number of potential Republican presidential contenders.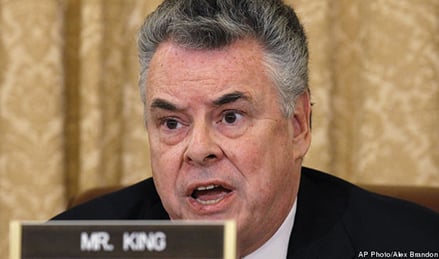 Clarification Corner
An F&J item in the 8/9-8/22 NHBR about the recent sale of their Manchester house by UL publisher Joe McQuaid and his wife Signe mentioned that the house sold without a "For Sale" appearing in front of the house. It didn't need one, since the buyers of the house – William P. and Katherine M. Cote – were already living in the home.
Mrs. Cote occasionally goes by another name – Katie McQuaid, the UL columnist and daughter of the aforementioned Joe and Signe.
King of the Hill
Considering that politicians may well be among the most egotistical people on earth, it's never surprising when you read about yet another elected human being undergoing that oh-so-rigorous self-examination required to consider running for president of the United States. (And since we're all so lucky to be living in NH, we get a ringside seat to the Egofest.)
Thus let us now be introduced to another in the increasingly long line of possible contenders for the GOP nomination: U.S. Rep. Peter King of New York's Long Island, the self-styled Defender of the Nation's Security, who made his first visit to NH at the beginning of August and is apparently determined to get to know even more Granite Staters as the 2016 window opens.
King's next visit is scheduled for Sept. 15, when he'll be all-to-eager to attend the Strafford County Republican Committee's annual cookout.
Apparently, Bill O'Connor, chair of the Stafford County GOP, thinks King might be able to convince NH Republicans that he's got what it takes.
"He's blunt, he says what he thinks, and he's not timid. From what I've seen, those are people who do well in New Hampshire," O'Connor, told the New York Daily News.
King's blunt all right. In fact, it wasn't so long ago that the congressman went ballistic against members of his own party after several of them voted against a disaster aid package after Superstorm Sandy.
At the time, King railed against one of them in particular – namely, another potential GOP presidential contender, Marco Rubio, who shortly after the vote was in NYC with his hand out at a fundraiser.
Here's what King said: "It's bad enough that potential Republican presidential candidates voted against Hurricane Sandy aid, that's inexcusable enough. But to have the balls to come in and say, 'We screwed you now make us President?' They cast their vote against us, so I think we should vote no on them. Don't give them a nickel!"
Interestingly, another one of those anti-Sandy aid voters was NH's own Kelly Ayotte – someone it's pretty clear has the support and admiration of the Strafford County GOP. And who has already raised some substantial dough from potential GOP presidential contenders – for the state party, mind you, but it's only a matter of time before the checks are made out to the Ayotte 2016 re-election campaign.
Which raises the question: Is Congressman King thinking twice about where his nickels would be going, if and when he actually decides to run for president?
Constant reader
The most careful UL reader that F&J knows found this interesting little tidbit, buried on page C3 in the real estate transfers on July 26:
"Joseph W. and Signe McQuaid to William P. and Katherine M. Cote 256 N. Bay St., July 1, $350,000, land and building."
Rumors were that the UL publisher and his wife were trying to sell their Manchester home, but a "For Sale" never appeared in front of their house.
Never underestimate the marketing power of word-of-mouth.
Bon voyage
F&J readers will be ever-so-happy to know that Craig Benson, NH's esteemed former governor and still a multi-multi-multimillionaire, has fallen in love.
That's what he says in a recent press release touting NISI Yachts' new 1700 Xpresso – a 58-footer of which Benson just so happens to be the very happy owner.
Benson – described in the press release as "a successful American entrepreneur, politician and philanthropist" – describes his adoration-at-first-sight experience with his new boat thusly:
"After years of enjoying my Hinckley, upon delivery, we saw our new NISI and fell in love," said Benson. "She is fantastic – 40-knot performance with flybridge, a beach house on the water with amazing space and headroom. Fully thought through, she came completely decorated, even down to the elegant towels and sheets. New England cruising will never be the same."
Doesn't that make you so happy that he's so happy?
Oh … and according to Onine Boat Marine, the price of one of these babies ranges from $1.8 million to $2.6 million, depending on options.
F&J Tote Board:
Patrick Arnold: The Manchester alderman who's taking on Mayor Ted Gatsas in this year's election has his work cut out for him, considering it was reported he's raised $30k for his race so far, and Gatsas raised $152k in the last quarter alone.
Dan Innis: The dean of UNH's Peter T. Paul College of Business and Economics says he's mulling over running for the GOP nomination for the 1st C.D. – and it looks very likely that he'll be running against Frank Guinta, the man who once held the seat.
Matt Bonner: The Concord native and NBA star dips his toe into the political waters – or at least it seems like it, doesn't it? – by sponsoring the screening of the anti-Northern Pass film, "Northern Trespass," at Red River Theatres.
Carol Shea-Porter: The 1st C.D. Dem congresswoman votes in support of a bill that would have reined in the NSA surveillance program. Might just make the more libertarian-inclined folks who've ignored/reviled her all these years think twice.
Annie Kuster: The congresswoman from the 2nd C.D. votes against reining in the NSA, proving yet again you can't judge a book by its cover, or a politician by his or her campaign.
It's been making the rounds:
• By saying he's against opting out of Medicaid expansion, is Rep. Neal Kurk, of all people, giving cover to Nancy Stiles, and possibly Bob Odell, if they wind up supporting opening up the program?
• The more you see the term "first gentleman," the more ridiculous "first lady" appears.
• Lest anyone think there ain't no money to be made from Bike Week, consider that the Laconia Motorcycle Week Association recently trademarked the phrases, "Laconia Motorcycle Week," "Laconia Bike Week" and "Laconia Motorcycle Rally." Strictly commercial.
• Considering he has a best-selling book out, wouldn't you think that pseudo journalist/professional PITA James O'Keefe would have drawn more than three dozen or so folks to a recent fund-raiser for the NH House Republicans?