Flotsam & Jetsam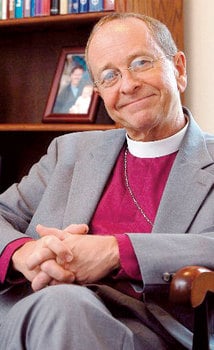 Out of proportion?
Judging by the most recent coverage by local and national – even international – media, you'd think that the rift in the Episcopal Church over the ordination more than three years ago of openly gay New Hampshire Bishop Gene Robinson, was a pretty big deal.
Not necessarily, according to Robinson himself – at least when it comes to the size and make-up of the contingent of critics opposing him.
In an interview with the Berlin Daily Sun, Robinson essentially said, don't believe everything you hear.
"If you read the newspapers you would think there is a 50/50 split," said Robinson. Instead, he said, "it is a 95-to-5 percent split."
And, he said, the 5 percent "is making a lot of noise," led by "a very small number of people in leadership positions" who "mean to undermine the Episcopal Church."
In other words, Bishop Robinson, is that old Silent Majority staying silent again?
The times they are a-changin'
For a man who used to make a point of attending big-deal Christmas parties put on by gay-lesbian-bisexual groups in New York City back when he was mayor, Rudy Giuliani sure seems to have had a Romney-like change of heart on one of the biggest issues relating to the so-called GLB community.
Giuliani – who once even was on the record as supporting civil unions – recently told the New York Sun that he was opposed to New Hampshire's recently passed law.
"Domestic partnerships are the appropriate way to ensure that people are treated fairly," the Giuliani campaign wrote in a response to a question from the Sun. "In this specific case the law states same sex civil unions are the equivalent of marriage and recognizes same sex unions from outside states. This goes too far and Mayor Giuliani does not support it."
A matter of perspective
It was quite an interesting choice of subjects for Jeb Bradley's initial foray onto the state's op-ed pages in the post-Congress phase of his political life.
It wasn't necessarily interesting that the former Republican congressman — who seems to have been running to win back his seat about three seconds after the final vote was tallied last November — wrote a column in praise of the selfless volunteerism displayed by some of his former constituents, led by Pastor Bernie Quinn of Grace Community Church in Rochester. What was interesting was the job those volunteers undertook: building houses for two Gulf Coast families whose homes were destroyed by Hurricane Katrina.
Bradley wrote that the trip he took with the volunteers was "exciting and inspiring," adding that the Gulf Coast residents they met on their trip "were grateful for the generosity and resourcefulness of New Hampshire citizens." An act of charity in the true sense of the word.
Unfortunately, the volunteers' belief that people from all over the country should pitch in to help the Gulf Coast recover from Katrina wasn't exactly shared by at least a few muckety-mucks in the state GOP mere weeks after the election. In fact, it would be safe to say that helping rebuild the Gulf Coast was among the last things on their agenda – at least at the time.
Return with us now to those difficult days for state Republicans in the immediate weeks following the November election. Carol Shea-Porter unexpectedly defeated Bradley in the 1st C.D., and – despite the across-the-board sweep by Democrats, Republicans seemed to have a particularly difficult time swallowing this loss. Their solution: trash the congresswoman-elect, early and often.
Their first opening – at least what they saw as an opening – was a report in the New Orleans Times-Picayune, headlined, "State gains a new friend in New England. Upset House winner pledges Katrina help." The story recounted that in a meeting with freshman Democrats, Shea-Porters said she told Speaker-elect Nancy Pelosi, "about Katrina and Louisiana and all that still needs to be done," in the congresswoman's words. Not exactly surprising, since Shea-Porter said many, many, many times on the campaign trail that she was inspired to run while volunteering to work at Louisiana shelters in Katrina's immediate wake.
At the time, though, as reported by the Union Leader's John DiStaso, "some New Hampshire Republicans" took Shea-Porter's advocacy for continued Katrina cleanup as a swipe at New Hampshire.
As DiStaso wrote: "Admirable, these Republicans said, but what about the 1st District of New Hampshire?"
What about them indeed? At least some of the district's residents – including a former congressman — think the Gulf Coast could use some help from folks in New Hampshire.
F&J TOTEBOARD
Dick Bennett:
The New Hampshire pollster tells the Los Angeles Times, that Republicans are so disgruntled in the waning years of the Bush administration that he's finding it difficult getting GOP voters to participate in surveys.
Ray Buckley:
In an interview with Beth Lamontagne of nhpols.com, the state Dem party chair hints at what the interviewer calls "further action" against Steve Vaillancourt, his accuser in the groundless child porn controversy. "Nothing worth getting comes easy," he says. "That decision will be made at some point with my family and my lawyer … I have a number of years to decide what I want to do. That's just not on my mind at this point."
Suzan Franks:
The former New Hampshire state rep from Nashua announces her candidacy for the Florida State Senate, representing the Citrus Hills area.
Marcus Hurn:
In an op-ed piece in the Concord Monitor, the Franklin Pierce Law Center professor points out that "a crowd that has spent as much as 30 years howling against judicial activism is threatening a lawsuit to overturn a duly adopted statute," namely civil unions.
It's been making the rounds…
• Fiscal conservatives should be celebrating: The pork barrels have rolled merrily along through nearly 6-1/2 years of the Bush administration, but it took a Democratic Congress to finally give Bush a spending bill he could veto.
• By any chance was that letter to the editor in the Concord Monitor from Karen McDonough, president of NEA-NH (headlined, "We don't take orders from the Democratic Party") cc'd to Terry Shumaker, executive director of the teachers' union, and Rick Trombly, its lobbyist?
• All that hoopla – by Lynchian standards, at least – over the governor's signing of the minimum wage bill. Not so much for civil unions.
• You think the smaller states that moved up their presidential primaries to next Feb. 5 could be having rescheduler's remorse about now?
• Katrina Swett sure is running for U.S. Senate as if she expects there won't be a Shaheen in the race.