Flotsam & Jetsam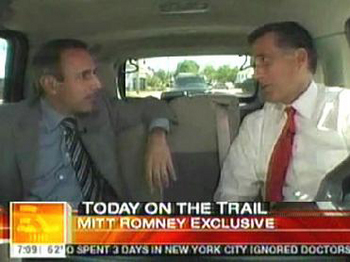 Credit-worthy
Kevin Landrigan of the Nashua Telegraph recently reported this rather interesting exchange between Nashua Democratic Rep. Bette Lasky, who brokered the civil unions compromise, and Ray Buckley, the openly gay chairman of the state Democratic Party:
Lasky: "I didn't have faith at the beginning that we could ever achieve it this year."
Buckley: "When are you going to just listen to me and believe?"
Lasky: "Oh, now the roles are reversed. You did all the work and I was the woman behind the man."
Buckley: "Huh?"
Lasky: "Oh, I guess that image wouldn't be your favorite, would it?"
Reality check
It's probably time for someone to tell Bob Boyce he actually lost the election to retain his state Senate seat last September.
Boyce, who lost the GOP primary to Jim Fitzgerald by almost 1,000 votes – with less than 3,000 votes cast, mind you – insists on signing his Granite Grok blog as "Sen. Bob Boyce, Alton Bay."
Life is good
Even with him gone from The Boston Globe, professional political pundit Tom Oliphant still has lost his knack for telling New Hampshirites how great they have it with whatever Democratic governor happens to be in office at the time.
For years, in his Globe column he touted the wonderfulness of Jeanne Shaheen. But don't think not having a regular New England media outlet has deterred him.
In a speech in April at Keene State College, Oliphant did a macro take on how New Hampshire's political landscape has been in the midst of an evolution over the last several elections. But he also looked at one particular issue in particular – education funding, or more specifically, the constitutional amendment as proposed by Governor Lynch.
In his address, Oliphant – no doubt a good reporter, but not particularly aggressive in his reporting on the amendment – claims that the amendment is an attempt by New Hampshire's elected officials to move "beyond ideology to problem-solving."
Unfortunately, apparently no one in the audience asked him exactly what problem the amendment was designed to solve.
Turnout surprise?
Not that he was hiding or anything, but considering that Governor Lynch gave supporters 80 minutes' notice that he would be signing the civil unions bill on May 31, he must have been somewhat taken aback by the turnout of about 200 people to witness the event.
But you've got to give him credit: At least he signed it in the light of day, unlike Howard Dean, the former Vermont governor who signed the bill "in the closet," as they say, out of sight, but not quite out of mind.
Name-dropper
Joe Kenney, the Republican state senator from Union who has been mentioned every once in a while as a potential candidate to take on Gov. John Lynch in '08 – if the guv chooses to run again, of course – may have to work on that bugaboo of politicians: name recognition.
In his introduction of the senator at a Memorial Day event last month in Tilton, American Legion Commandant Barry Conway referred often, and with gusto, to the senator as "Joe Kennedy."
Not a particularly auspicious start to a statewide career, particularly a statewide career in New Hampshire.
Buckling under
Considering that state Republicans are hoping to make hay out of the near-passage of a mandatory seat belt law, it may be worth it to them to assess the response from viewers last month after they noticed "Today" show host Matt Lauer and GOP presidential hopeful Mitt Romney chatting it up on TV while touring the New Hampshire countryside, seat belt-less, but not tie-less.
Viewers, it should be noted, didn't like the failure to buckle up for safety at all.
Of course, as with all celebrities caught doing something wrong, the two easy riders eventually apologized.
"I should have set a better example. There is no seat belt law in New Hampshire, but, again, it was the wrong example to set," Lauer later told the audience of his NBC News morning show.
As for Romney: "Sometimes I forget to wear my seat belt. For my own safety, I need to keep reminding myself to buckle up."
F&J TOTEBOARD
N.H. Republicans:
Senate defeat of the seat belt bill takes away what party officials thought would be a big issue in '08.
Nanny State:

Smoking ban, yes; seat belt law, no.
Chris Dodd:

Less than a week after a Hotline report says he's the best positioned anti-war candidate among Democratic presidential hopefuls, he barely registers a peep in the New Hampshire debate.
Wes Clark:
Remember him?
Newt Gingrich:
If you'd like, you can start holding your breath until Sept. 29, when the former House speaker announces his presidential aspirations.
Laurie Boyce:
In the debate over the seat belt bill, the GOP state representative from Alton – a survivor of two head-on motor vehicle collisions — speaks against the measure by saying, "Everyone deserves to get a choice."
Real ID:

The federal plan for what would essentially be a national driver's license is totaled in New Hampshire, at least for now.
It's been making the rounds…
• You know how many people would be planning an all-day party if a judge's dismissal of a lawsuit filed by Manchester GOP activist Joe Kelly Levasseur against state Democratic officials was the swan song for the near-obsessive publicity hound?
• Despite Jeb Bradley's running almost at full speed for his old congressional seat, there are at least a handful of Republicans itching to run against Carol Shea-Porter.
• Libertarian types, and some not-so-libertarian-types, are very slowly convincing themselves that prez candidate Ron Paul can pull off a Pat Buchanan in the '08 New Hampshire primary.
• Boy that Wolf Blitzer, the celebrity journalist-turned-celebrity debate moderator, sure knows how to get face time in a multi-candidate debate.
• Most of the smart money is still on a Shaheen Senate race, but not as much as last month.