Flotsam & Jetsam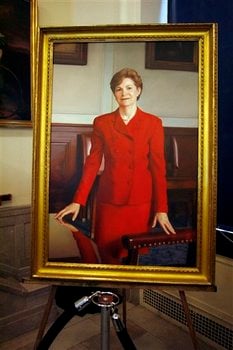 History-onics
It was an absolute lovefest May 17 when the official portrait of the state's first elected woman governor – that's Jeanne Shaheen, in case you forgot – was unveiled at the State House.
To a person, they of course sang the former guv's praises, pointing to her administration's accomplishments, including establishment of LCHIP and the Healthy Kids program. (For some reason no one gave her credit for the statewide property tax.)
They did, however, give her credit for expanding kindergarten, which in the interests of historical accuracy began under the administration of her predecessor, Steve Merrill. She also was rightly praised for finally getting the Legislature to establish a holiday for Martin Luther King Jr., although it could be argued that it was Merrill, who as governor issued official proclamations of a holiday for Dr. King, who finally got the ball rolling toward passage of a King Day bill.
Party-goer
Fran Wendelboe, who's fast becoming the Rodney Dangerfield of the state Republican Party, has come up with a new tactic: If you can't beat 'em, start a rival organization.
The plain-speaking and sometimes off-putting New Hampton state rep has twice tried to win election as the state GOP chairman and has twice been ignored, dismissed and marginalized – not necessarily in that order. So, after her most recent unsuccessful attempt at the party chairmanship, she apparently figured it was time to join a club that wanted her as a leader.
The New Hampshire Reagan Network, Wendelboe says, was formed to promote the Reagan-like agenda that the New Hampton Republican espouses on social and fiscal issues. It also will work for candidates that share its agenda, even in primaries – something the state party doesn't do.
"Many have told me they want to get involved in making sure candidates support the party platform," she said, although she didn't address what might happen if the party platform and the New Hampshire Reagan Network platform don't converge.
GOP Chairman Fergus Cullen doesn't sound exactly enamored with the idea of Wendelboe's group. "We already have an organization dedicated to Ronald Reagan," he told the Nashua Telegraph's Kevin Landrigan. "It's called the Republican State Committee."
As for the Reagan Network's founder, Cullen told Landrigan: "I'm not going to speak to her motives" in founding the group.
In case you were wondering, Wendelboe did dismiss one possible motive, telling Landrigan: "I don't have any animosity."
Sounds good. But remember – in sports, when they say it's not about the money, it's about the money. And in politics, if they say they don't have any animosity …
School of thought
To much fanfare – in Florida, at least, where she made the announcement – presidential candidate Hillary Clinton recently proposed a $10 billion federal program aimed at providing voluntary pre-kindergarten for all 4-year-old children in America.
The reason, she told her Miami Beach audience is that "our educational system needs to be strengthened from start to finish, but we have to start where it all begins." She even cited a study that found a seven-fold return on every dollar invested in pre-kindergarten.
Do you think she has an alternative version for her speech in New Hampshire, where kindergarten is still voluntary, let alone pre-K?
A matter of priorities
People in New Hampshire have been scratching their heads for weeks now over whether Rudy Giuliani really is serious about running in the state's presidential primary. Adding fuel to the fire is an interesting statement in a Wall Street Journal article about how advance balloting in states that allow absentee voting well in advance of an election could affect the impact of Iowa's first caucus and New Hampshire's first primary.
In the article, someone described as a "Giuliani campaign aide" offered the following analysis: "Though Iowa and New Hampshire and South Carolina are important, we can put less of our chips there."
In fact, the aide added, the Giuliani folks are using a "return on investment formula" to determine where to push an early-voting strategy.
So far, apparently, Giuliani sees the ROI coming from Florida, Texas and California, where he spends a lot of his campaign time.
F&J TOTE BOARD
Tad Furtado:
The man fired as a congressional staffer by Charlie Bass after being exposed as a phony blogger, loses his job at the Bass-led Republican Main Street Partnership after an ex-girlfriend accuses him of trashing her apartment.
E-ZPass:

The glitches, PR problems and almost nonexistent customer service continue to plague a high-tech toll collection system that has been anything but easy for NHDOT.
Wyoming:

Without announcing a date, state Republican leaders announce plans to hold their county conventions on the same day as New Hampshire's presidential primary.
Chuck O'Leary:
After being asked by legislators how to fix the rapidly dwindling state Highway Fund, the interim transportation commissioner replies: "Less spending and more revenue — I can take care of the spending."
Bea Francoeur:
The Republican state rep from Nashua who tried weaseling out of a speeding ticket by claiming she was on official legislative business turns down the Libertarian Party's gubernatorial nomination for '08.
It's been making the rounds…
• Considering that the Manchester Monarchs are in their first Calder Cup final, it's a sign that things aren't getting any better at the UL, financially or labor-wise, considering that they decided to go with a stringer to cover away games in Hershey, Pa., rather than send a staffer.
• There are some great mysteries in life, and one of them is how to explain why Charlie Bass hired Tad Furtado for the Main Street Partnership job in the first place, even after the former aide had quite publicly, and thoroughly, embarrassed his former boss, by posing as a phony liberal blogger.
• With each passing day, John Sununu's chances of holding on to his Senate seat improve.
• You'd almost think they were drinking something a lot stronger when House members overwhelmingly approved a 2.5 cent-
per-gallon tax on milk.
• Employees at the Department of Health and Human Services haven't decided whether to hold a ticker-tape parade or have a more tasteful balloon drop when John Stephen finally says "no mas" as HHS commissioner.