Flotsam & Jetsam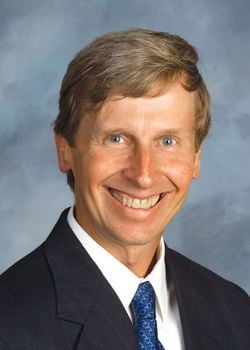 Question of the fortnight
With all the sincerity he can muster, Governor Lynch earlier this month announced — after a Hamlet-like perseveration over whether he would or wouldn't endorse the civil unions bill making its way through the Legislature – that he would, indeed, support the measure.
In announcing his decision, the governor gave his reasoning thusly to the Associated Press: "New Hampshire has a proud history and tradition of taking the side of opposing discrimination where it occurs. This bill will go a long way toward ensuring that," Lynch said. "I believe it is a matter of conscience, fairness and preventing discrimination."
So if it's a simple "matter of conscience," what the heck took him so long to make up his mind?
A potential double bogey
There are plenty of New Hampshirites who not only don't remember Vinnie Palumbo but who never even knew he existed. So to refresh your memory, or edify you: In the 1980s, Palumbo may have been the man most responsible for wakening a New Hampshire Legislature previously mired in self-delusion to the need for at least a semblance of ethics rules.
The Kingston resident's recent reappearance in the news came after his arraignment in U.S. District Court in Concord on five criminal charges of failing to file federal income tax returns.
But Palumbo's original rise and nasty fall came in 1989, when he was Republican leader. It was a time when legislative leaders wallowed in denial over the lack of rules governing the behavior of lawmakers. Instead, it turned out that the failure to institute rules merely served as a big fat hanging curveball for the ethically challenged among lawmakers.
As Republican leader, Palumbo at first was the poster boy against establishing ethics rules. In fact, it was his almost-immediately-infamous response to a call for ethics reform that served – at different times, of course -both sides of the argument.
At first, his reasoning that "we're all gentlemen" in the New Hampshire Legislature "and gentlemen keep their own scorecards" managed to inspire the anti-ethics reform side. But almost immediately after Palumbo's improprieties surfaced, the statement's bitter irony became a rallying cry for the pro-reform crowd.
It wasn't long after his golf metaphor, in fact, that the then 33-year-old Palumbo was forced to resign from the House after it emerged that he had made up his educational history and record as a businessman. By 1991, Palumbo faced 10 counts of bank fraud and failure to file income tax returns after prosecutors charged he had lied about his income, assets and employment, and had secured $225,000 in loans from New Hampshire banks on false pretenses. He was sentenced to 15 months in prison.
Palumbo's predicament was an opening for then-state Sen. Charlie Bass and others to hammer out ethics rules – rules that have proven not to be perfect but have been a lot better than nothing.
This time around, prosecutors say, Palumbo is charged with "willfully" failing to file federal returns from 2000 through 2004 – a period in which his income ranged from $132,150 to $734,406, which he earned as a mortgage loan officer.
Palumbo's latest trial is scheduled for June 19 – yet another nasty sand trap for the man who once thought he would be New Hampshire's youngest speaker of the House.
If he knew then what he knows now
Former Massachusetts Gov. Mitt Romney has almost made the centerpiece of his campaign an attack on one of his opponents in the Republican presidential race: none other than Mitt himself.
On a variety of issues his changes-of-heart, if not mind, are well known. From gays in the military (once was very much for, now very much against) to abortion rights (ditto) to former extreme moderate Massachusetts Gov. Bill Weld (he once described himself as a "Bill Weld Republican") to hunting (it's unclear what he thought, or thinks of it, actually), the ex-guv has summed up his evolution as "I was wrong on some issues back then." ("Then" being the 1990s.)
Well, you can add yet another item to the Romney "to don't" list. It turns out that in 1998, Romney was on record as not only praising but endorsing "It Takes A Village," a recently published book by then-First Lady Hillary Clinton.
Clinton, Romney said at an economic forum at the time, "is very much right, it does take a village, and we are a village and we need to work together in a non-skeptical, no-finger-pointing way."
But – surprise! – Romney has had a change of heart about that one too. Recently asked by a reporter in Newbury what he thinks of his previous near-book blurb for "Village," Romney replied: "It takes a family."
As Gomer Pyle would say: "Surprise, surprise, surprise!"
F&J TOTEBOARD
Department
of Revenue Administration:
The state's tax collection agency is saved from committing bureaucratic hara-kiri after it changes its mind and extends the tax-filing deadline two days – as the IRS already had – after severe rains and floods in New Hampshire.
Hillary Clinton:
Mere days after decrying the "culture of cronyism" during the Bush II years, the Dem presidential wannabe shamelessly pays homage to one of her newer cronies, the Rev. Al Sharpton.
Ed Mosca:
The conservative Republican activist, and occasional NHBR columnist, writes in his blog that – after recent votes on civil unions and related matters in the Legislature, "New Hampshire is no longer a barometer of the ideals and values of this nation" and "it has forfeited its claim on the first-in-the-nation primary."
Lyonel Tracy:
The education commissioner skips an April 10 conference on school violence – featuring a survivor of the Columbine High School shootings – to attend the Red Sox opening day.
Steve Vaillancourt:
The Manchester state rep, videographer and man of infamous letters tells the public radio program, "This American Life," that while "there are three people I rally hate in the world," Vaillancourt target Ray Buckley's not one of them. In fact, Vaillancourt tells the program, "I admire Ray Buckley for being a good vegetarian and for doing a lot of good things."
Making the rounds…
• Either Fergus Cullen is a very good actor or he's losing touch with reality by acting shocked – shocked – that Governor Lynch endorsed the civil unions bill.
• At this point, the Lynch school-funding amendment has about as secure a future as Alberto Gonzalez.
• Dues-paying members of the National Education Association in New Hampshire were growing increasingly frustrated with the very noticeable silent treatment – read that, tacit endorsement — the union seemed to be giving Governor Lynch's school-funding amendment before its April 24 news conference announcing its opposition.
• Yes, you really did read a Foster's Daily Democrat article about Governor Lynch's recent appearance at the Greater Portsmouth Chamber of Commerce that began with the words describing Lynch as "known for his directness."
• Will the governor announce an endorsement for president before the November 2008 election?
• Do you think Katrina Swett, Steve Marchand and Jay Buckey might be kinda Shea-Porterish in reading how the Dem big shots in D.C. won't rest until they get Jeanne Shaheen to run for senator?