Flotsam & Jetsam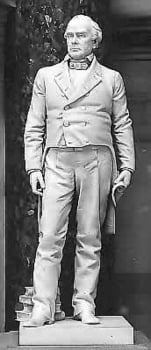 Statuesque conversations
Jeff Dufour and Patrick Gavin, who write the "Yeas & Nays" column for examiner.com, offered this tantalizing tidbit in their March 23 effort:
"You can never tell what will happen in Washington after the sun sets.
"For Rep. Paul Hodes, D-N.H., it occasionally involves talking to the statues in the U.S. Capitol Building.
"During Tuesday's Welcome Reception Honoring the 110th Congress, the freshman lawmaker told attendees that, late at night, he'll sometimes go over to the statue of fellow Granite Stater Daniel Webster in Statuary Hall and chat him up.
"'We have conversations,' Hodes said, although he wouldn't reveal what about. We can only hope, however, that it's only a matter of time before Hodes, who has recorded four contemporary acoustic/folk albums with his wife, starts serenading Webster."
High noon at St. A's
Was that any way to treat the first Democrat elected to Congress from the 2nd District in more than a decade?
Whether it was or not, the rudeness that greeted Paul Hodes when he assumed he could voice his opinion on the upcoming election of the party's new chairman was disconcerting at best.
It was Hodes, you may recall, who had the gumption to say earlier this month that he was withdrawing his support for Ray Buckley after viewing something else that was disconcerting – the now infamous YouTube video of Buckley. Unfortunately for him, he was the only leader of the party to do so, so he was left out there to twist in the wind.
In fact, the only thing missing from Hodes' appearance at the Democratic State Committee meeting at St. Anselm College was a rendition of "Do Not Forsake Me Oh My Darling" from the movie "High Noon" as he prepared to speak.
Actually, music might have been preferable to what accompanied Hodes speech when he attempted to explain why he had withdrawn his support for Buckley.
That's when attorney and lobbyist Judy Reardon and a member of the Buckley posse yelled out, "Point of order! Point of order!" and shouted down Hodes as he tried to speak. "You're talking about a motion that's going to come up (later) and is inappropriate."
She was referring to the vote that would be held later on to anoint Buckley as chairman, shortly after the vote changing the rules to allow those in attendance to write in Buckley – who had withdrawn his name from consideration after the attorney general was forced to investigate baseless child pornography charges against him — for the post.
Considering that Hodes was only recently elected to Congress – and been getting pretty good press too – you'd think the person shouting at him would be urged by the audience to let him speak. You'd think, but you'd be wrong because this is the New New Hampshire Democratic Party. In fact, Reardon drew applause for her efforts, finally prompting the outgoing chair, Kathy Sullivan, to say that she'd generously not rule Hodes out of order – because he is "our congressman" — and let him wrap up , as quickly as possible, of course.
"Let's be respectful of each other," she said.
All well and good, but it still left a few people wondering whether they had actually walked out of a meeting of Democrats in New Hampshire and not Chicago.
Power play
Perhaps it's because they were in power for eons —actually, closer to forever than mere eons – New Hampshire Republicans may have developed a case of clinical narcissism.
That could just about be the only explanation for the growing assumption among GOP'ers in the Legislature, leaders and back-benchers, that the Democratic majority is a mere two-year aberration.
In fact, more than one Republican lawmaker has been heard to utter that they're going to have a lot on their plate when they return to power in '09. And it's not too far-fetched to think that somewhere there's a list being assembled of legislation that the GOP is planning to reverse when and if they retake the reins.
It's been making the rounds…
• Just asking: Have Bill Shaheen and his wife Jeanne ever supported different candidates?
• Yes, Bill Shaheen, who was one of the key supporters of Jim Craig before he was trounced by Carol Shea-Porter, actually did say he supported Shea-Porter when "the odds were against us . . . I said, 'I don't care. I like her, and I'm going to work for her.'"
• Dick Flynn may have gone quietly, but he did indeed leave a wake: His plan to implement "pilot speed zones" on Winnipesaukee helped to once again scuttle efforts to impose a boating speed limit on all New Hampshire lakes.
• Is it the beginning or the end of his presidential campaign when Tommy Thompson hires Meridian Communications as political consultant?
• Will Governor Lynch's school-funding amendment go the way of the moose-hunting lottery if there's enough opposition?
• Apparently the balloon control wing of the Democratic Party has taken over in the House.
F&J TOTE BOARD
| | |
| --- | --- |
| Carol Shea-Porter: | The 1st District congresswoman feels under the weather and fails to show up for the Democrat State Committee meeting, missing a chance to be in attendance when things are about to hit the fan. |
| John Lynch: | The man who very publicly endorsed Ray Buckley, and then very publicly re-endorsed him, doesn't appear at the Democrat State Committee meeting to actually vote for the guy. |
| Alexander Lee: | The gadfly Democrat who has managed to get under the skin of the past and current party chairs tells those assembled at the Democratic State Committee meeting that he's "from the transparency wing of the Democratic Party." |
| Michael Bloomberg: | The New York City mayor, who only a couple of months ago insisted he wasn't running for president, continues to drop hints that he actually may be interested in running as an independent in '08. |
| Jim Tobin: | The convicted phone-jamming mastermind is unconvicted, at least for the time being. |
| John McCain: | Asked how he feels about Supreme Court Justice, and Weare native, David Souter, the Republican presidential wannabe replies, "Duh," and goes on to explain why he's not in the judge's fan club. |