Flotsam & Jetsam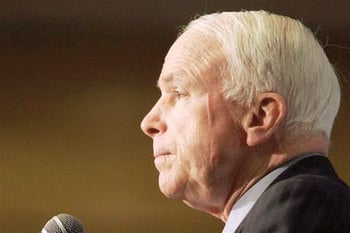 Family planning
Why would Republican presidential hopeful John McCain pay attention to an upcoming fund-raiser for Planned Parenthood of Northern New England?
Well, the event – planned at Keene State College and featuring author John Irving, who will read from a work in progress – is "generously underwritten" by a "host committee" that includes Dorothy and Walter Peterson, the former governor and his wife.
Not that that their involvement should come as a surprise to anyone, but considering that former Governor Peterson was recently named co-chair of McCain's New Hampshire campaign, the pro-life Arizona senator might have a little bit of 'splaining to do, especially in light of his well-publicized contortions to get the party's right wing behind him.
And don't forget Peterson's role as a steering committee member of "Republicans for Lynch" the last two elections.
Choice theory
Republican presidential hopeful and self-proclaimed "business legend" Mitt Romney has been spending a lot of time in New Hampshire and elsewhere trying to get voters to come to grips with his "evolving" views on abortion, gay rights, affirmative action and other so-called social issues of concern to conservative Republican voters.
The New Romney, or at least the 2007 model, has taken stands on those issues that are completely different from the views he espoused in the 1990s, specifically when he was the Old Romney, trying to out-liberal Ted Kennedy in the 1994 Massachusetts Senate campaign. His explanation today is that he was wrong back then – and besides, a guy has the right to change his mind, doesn't he?
Not surprisingly, more than a handful of conservative activists are skeptical about that explanation.
There is another way to look at all this, and it comes from none other than Senator Ted, who managed to put the Old Romney in perspective back in their October 1994 debate. (You can see excerpts from that debate on YouTube at http://www.youtube.com/watch?v=a9IJUkYUbvI.)
Unimpressed with the Old Mitt's slightly convoluted support for abortion rights, Kennedy told the audience that he was the only candidate who was truly pro-choice. Romney, he said, was "multiple choice."
At the time, it's extremely likely that Kennedy didn't know just how right he was.
Song and dance
First they rammed pumpkins down our throats – figuratively, of course – now they're going after our ears.
In yet another example of using the legislative process as a "living classroom," a group of adults has convinced a class of Nashua 4th-graders to sweeten up the effort to get the song, "Live Free or Die" named New Hampshire's official state song.
Never mind that the state already has nine official state songs, and never mind that lawmakers actually have some real work to do this session – the idea that pupils can get their civics lesson by lobbying for passage of a bill, getting a legislative committee to hold hearings on the measure and force what will likely be a floor vote on the song is becoming contagious among educators.
Last session, you may recall, a group of cute and well-meaning 3rd- and 4th-graders from Harrisville actually convinced the Legislature to make pumpkins the state fruit. The pupils had almost every member of the General Court eating out of their hands – save one. That member, famously, was Bob Boyce, the former senator, widely derided as a Scrooge for not only casting the lone vote against the bill but also for wondering aloud why the Senate was wasting its time on such a proposal.
This time around, despite the different subject matter and lyrics like, "Live free or die/Live free or die/Fight the fight with every breath/There are things worse than death," there's a good chance that this group of pupils will get their way as well. After all, how do you say no to 50 earnest and eager 4th-graders?
In fact, it makes you wonder what would happen if a bunch of endearing elementary school students showed up in Concord calling on the state to make an income tax the state's official revenue-raiser.
Nuff said
We'll just say two words about the latest pitch to extend the governor's term in New Hampshire from two years to four: Craig Benson.
It's been making the rounds…
• More than one person is asking why the attorney general, and not the bank commissioner, was the one to issue the warning to New Hampshire consumers about the TJX credit breach.
• The early returns are in: Dennis Kucinich wins Nottingham.
• What would a New Hampshire presidential season look like
without Ray Buckley?
• When the New Hampshire Advantage Coalition calls itself bipartisan, is that because it has Libertarians among its members?
• What was Tom Vilsack thinking in the first place?
• Whoever woulda thunk that lame duck HHS Commissioner John Stephen would be able to have John Lynch over a barrel over funding for developmentally disabled services?