Flotsam & Jetsam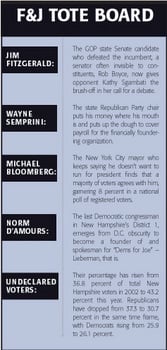 Wile E. Coburn
You can pardon Republican gubernatorial candidate Jim Coburn if he feels somewhat frustrated. Not for lack of trying, he's down by as much as 50 points in polls, and his message – that he's not John Lynch – hasn't really been "resignating," as someone in higher office likes to say.
And then there's what he and his peeps thought would be his moment in the sun. The eagerly awaited "special" legislative session, called to redraw the unconstitutional ballot, would be Coburn's chance to stir up passions among his fellow reps and the general populace by raising the specter of the Supreme Court, the Claremont case, taxes and the end of New Hampshire As We Know It.
But a funny thing happened to Coburn on the way to the legislative podium. After failing to change the special session's agenda and get lawmakers to consider a constitutional amendment to get judges out of the schools – or something like that — he tried to drum up support for another special session whose agenda would be an amendment banning sales or income taxes.
The reasoning in the Coburn camp was simple. Since their man has been going after Lynch for months now about leadership he'll show everyone what a real leader's all about.
Good strategy, not exactly great execution.
It turns out that Coburn, exhorting his fellow state reps to support his anti-tax crusade, didn't exactly come across as Winston Churchill. In fact, he came across just slightly better than Leo Pepino, the state rep whose bid to open the debate to school funding drummed up just 62 votes of 339 cast.
For the record, the man who's been touting leadership as the difference between him and his opponent managed to convince 104 of his fellow reps to follow him over the cliff.
The result? John Lynch excoriating the Republican-led Legislature for wasting money on a special session that produced nothing but a few sound bites for Channel 9.
Come to think of it, you couldn't blame Jim Coburn if he felt like he was playing Wile E. Coyote to John Lynch's Road Runner. Beep beep.
Trader George?
George Pataki, the New York governor who wants to be president, was doing what was expected of him during a recent trip to New Hampshire.
In an appearance in Manchester, Pataki, staunch Republican that he is, urged on the New Hampshire GOP's candidate, Jim Coburn.
"Keep working, Jim because you are going to surprise some people and do a lot better than people think for the governor's race,'' Pataki said.
Pataki went on to compare Coburn with himself – Pataki stunned the New York political world in 1994 when he defeated incumbent Mario Cuomo for governor. "Jim, I know you are fighting a tough race against a popular incumbent. I was doing the same thing back in 1994. I can tell you that probably in October of 1994 there may have been six people who thought Pataki was going to be governor of New York and all six of them had the last name of Pataki.''
Nice job by Pataki, but it does raise a question: Does he get a discount off Jack Heath's political consulting fees by endorsing Coburn, another Heath client?
Slice of life
The Manchester School Board drew predictable criticism after it was learned that it had awarded a contract to supply cooked pizza to the city's schools without competitive bidding. So, caught with its bids up – so to speak – the board rethought the idea and put out the contract to bid.
Lo and behold, the bids came in lower, 7 percent lower, than before – or 45 cents a pie less from the company that had originally received the contract without bidding.
"We're learning an important lesson again," said Doug Kruse, chairman of the school board's finance committee, "that when we put something out to bid, we lower the costs."
Just goes to show: Nothing gets past the Manchester School Board.
It's been making the rounds…
• Has anyone seen even one Coburn for Governor bumper sticker anywhere in New Hampshire?
• Do you think Sen. Andy Martel has figured out how he's going to vote on Nov. 7?
• Is it a good thing or a bad thing that Jim Craig, Bill Shaheen, and others from the Dem Party hierarchy, have joined the Carol Shea-Porter bandwagon?
• Is it a mere coincidence that Bob Flanders and Tom Eaton — two Republican senators who recently did their best in a Concord Monitor article to keep a 10-foot pole between themselves and Jim Coburn – have something else in common: GOP consultant Dave Carney?
• Yes, Mark Blotner, the Democrat running a write-in candidacy against Ray Burton, actually did tell the Union Leader that Burton's hiring of a child-sex offender is "wasn't a factor at all in my candidacy." So what was?