Flotsam & Jetsam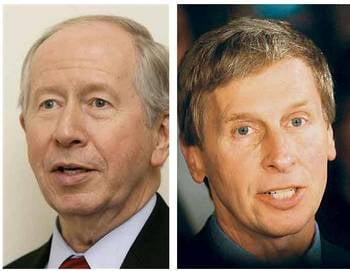 Stirring passions
You can be forgiven if you couldn't believe it after first hearing the news.
The news that Tad Funtado, former policy director in Charlie Bass' congressional office was posing as a liberal blogger on various political Web sites reveals a side of the congressman that few, if any, people have seen.
It has nothing to do with the underhanded phony-blogger tactics to undercut Bass' Democratic challenger Paul Hodes on the Web.
But it does give one pause to think that someone would actually be so passionate in his support of Charlie Bass that he would do something as ridiculously (in the words of one of the blog's hosts) "pathetic and lame" to respond to postings that even the hosts admit don't have "heavy numbers of readers."
Good for what ails you
Dr. Bill Siroty, whose daily e-newsletter, New Hampshire News Links, has been required – no, essential – reading to political types and hangers-on both inside and outside New Hampshire, is in the process of setting up a Web site, nhnewslinks.com, hosted by The Hotline. It will have the same content he's been delivering to inboxes over the years, only a different way of delivering it.
For whatever it's worth, nhnewslinks.com is already at the top of F&J's bookmarks.
Changing times
Did anyone else see the irony in the dissemination via e-mail of a statement by former House Speaker Marshall Cobleigh in support of hijacking the special legislative session to ram a taxophobic, anti-judiciary constitutional amendment on school funding through the Legislature?
After all, it was Cobleigh — described in the e-mail as "a Parliamentary expert who spent 10 years in the Legislature, 6 years as a Legislative Leader and 4 years as Speaker of the House and served as an Administrative Assistant to Governor Mel Thomson for 5 years and Congressman Bill Zeliff for 5 years – who while speaker in 1972 threw his support behind a income tax proposal to close a nagging budget deficit.
In fact, Cobleigh said at the time, "If this be political suicide, then so be it. I believe we in good conscience can no longer hold the line and take this opportunity to lead normal lives for so many of the people in New Hampshire."
Something has been missing in the verbal Ping Pong match between Gov. John Lynch and Jim Coburn, his Republican opponent, over who's got the stronger stomach in preventing passage of an income tax.
In fact, Coburn – turning to the good old reliable GOP playbook — has been consistently raising the specter that Lynch would do the bidding of broad-basers and allow passage of a sales or income tax. Lynch, of course – turning to the good old reliable Jeanne Shaheen playbook – has consistently pledged that he would never do any such thing.
The missing piece? The representative from Windham appears to be forgetting a minor fact: There is no way on God's green earth that Democrats can win a majority in the New Hampshire House, meaning that, as it has been through recorded history, the House, and most likely the Senate, will be in the control of Republicans. So if an income or sales tax were to be sent to the governor's desk for that promised veto, it would have to be them darn Republicans who sent it there.
Making the rounds…
• There's no truth to the rumor that New York Gov. George Pataki's soon-to-open New Hampshire presidential headquarters office will be located at 501 South St. in Bow – home to the studios of radio station WTPL.
• The only thing "unusual," as news reports heralding the joint statement of four former Republican governors in support of an amendment on school funding insisted on describing it, was the addition of ex-guv Benson to the trio of Messrs. Sununu, Gregg and Merrill. We've seen the act before, folks.
• It's becoming increasingly clear that the Democratic congressional candidate who may not be ready for prime time isn't Carol Shea-Porter, but Paul Hodes.
• New Hampshire Dems to Democratic Congressional Campaign Committee:
Butt out.
• Doug Scamman: Just when the retiring House speaker thought he was home free, they keep pulling him back in.
• It is almost remarkable that, even after apparently reading the report on Port Director Geno Marconi's use of racial and religious epithets while on the job, the Executive Council voted unanimously to reappoint him to the post.
• Connecticut Sen. Chris Dodd told a New Hampshire gathering that he called Joe Lieberman a week before the primary he was fated to lose. He wanted to ask his fellow senator details on his election plans if he were to lose. Lieberman never returned the call.