Flotsam & Jetsam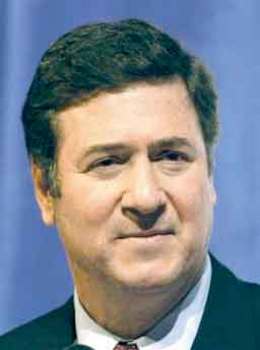 In the bag
Plenty of people around here remember local boy Nick Ashooh, the man who had the job nobody wanted: the '80s spokesman for the owners of the Seabrook Nuclear Power Plant.
Ashooh's still working in the industry as senior vice president of corporate communications for Columbus, Ohio-based American Electric Power. Not a bad job, he is apparently making quite a name for himself in the lawn-care business.
Actually, it's not Ashooh himself that has been having a moment in the sun – it's his lawn. It's the one that is pictured on millions of bags of Scott's Turf Builder – chosen by Scott's not only for its meticulousness, but also because – you guessed it – Ashooh and his wife Brenda use Scott's products to make their lawn the envy of the neighborhood.
His lawn appears to be taking it all in stride. But, according to the Columbus Dispatch, Ashooh — PR man that he is — was happy to let everyone know after learning of his lawn's selection.
"Of course, I've told everyone I know — twice."
Play ball!
Upon hearing the word "disingenuous" uttered in any conversation involving politics, plain-speaking folks should batten down the hatches and get ready to view a "discussion" worthy of Pay Per View.
That's because when political types reach deep into their vocabularies to utter the word, they're really holding back the word they want to use: lying.
Thus the heading-for-an-eruption back-and-forth between Health and Human Services Commissioner John Stephen and officials of the eight New Hampshire counties.
In a nutshell, the county folks have been saying for years now that they've been left holding the bag when it comes to ongoing budget cuts, particularly when they apply to social services. Their argument is that the state has long been balancing its HHS budget – particularly its Medicaid obligations — on the backs of the counties' property-tax payers, who have to make up for any shortfall in funding.
County officials have been harping on that argument for quite a while, and Stephen – who essentially says he's only following orders when it comes to the budget cuts — has long bristled over it.
But criticism of HHS and Stephen's bristling were each turned up a notch in a recent article in the Laconia Citizen.
In it, Stephen takes particular exception to recent comments by Belknap County officials, who recently had to vote for a $1.1 million appropriation to cover county nursing home costs.
"I'm very frustrated … to say that we have shifted costs to the county is totally inaccurate, and you would have to ignore the facts to admit it," Stephen is quoted as saying. "To say that rates have resulted in some of the problems they have faced is disingenuous."
Wherever you stand on the issue, it's interesting to note who is among those being tarred with Stephen's "disingenuous" brush. None other than fellow Republicans Chris Boothby, a Belknap County commissioner, and state Rep. Fran Wendelboe, a member of the Belknap County delegation. Both have been critics of Stephen's actions – or inactions, as they see it – in helping out the counties. And both will likely play a role in helping out whoever would be running against Stephen in a GOP primary if, and when, he decides to run for governor.
That's pretty much inside baseball. And that "disingenuous" was definitely a brushback pitch.
Word association
George Allen, the U.S. senator from Virginia, has made no bones about his goal of running for president in 2008, judging from his high-profile forays into New Hampshire.
But the senator, who's running for re-election this year, may have to work a little bit harder on being ready for prime time.
At a recent campaign rally in southwest Virginia, Allen supposedly tried to show his audience how "positive" and "constructive" he is by pointing to a 20-year-old volunteer from his opponent's campaign standing nearby. The volunteer, S.R. Sidarth, who is of Indian descent, had been following Allen on the campaign trail.
According to the Washington Post, while pointing at Sidarth, Allen said, "This fellow here, over here with the yellow shirt, macaca, or whatever his name is. He's with my opponent. He's following us around everywhere. And it's just great."
He later said: "Let's give a welcome to macaca, here. Welcome to America and the real world of Virginia."
A friendly, welcoming, open-minded sort that senator.
Not so such much.
The word "macaca" either means a monkey in the Eastern Hemisphere or is, in a number of European cultures, a racial slur against African immigrants.
As could be predicted, there was a mini-firestorm over Allen's performance, and, also on schedule, was Allen's "apology":
"I would never want to demean him as an individual. I do apologize if he's offended by that. That was no way the point."
With only two letters, the word "if" sure stands out in that sentence. It's as IF the senator isn't really apologizing.
F&J TOTE BOARD
| | |
| --- | --- |
| Tony Soltani: | The state rep's recent "no contest" plea to hitting another vehicle while retrieving a spilled Diet Coke – and not realizing his car had had struck the vehicle – may be the ultimate proof to critics that the conservative lawmaker actually is unfeeling. |
| Virginia Beecher: | In arguing for New Hampshire participation the federal Real ID program, she says it's necessary because "citizens are really going to be inconvenienced" if the state doesn't join in. As head of the DMV, Beecher's definitely an expert in inconveniencing citizens. |
| Drew Cline: | The editorial page editor of the Union Leader uses his blog to flog political consultant Patrick Hynes for his blogging conflicts of interest, but fails to reveal an op-ed contributor's conflict in writing about the prescription privacy law. |
| Lincoln Chafee: | The endangered Rhode Island Republican U.S. senator reaches out for campaign help – to a Maine telemarketing firm owned by Jammin' Jim Tobin's wife. |
| Bill Frist: | In a speech on the Senate floor, the majority leader from Tennessee takes political pandering to a new low by wistfully claiming that New Hampshire is "the best place for clambakes." |
Making the rounds:
• By naming Bill Bartlett to be interim president of the New Hampshire Community Technical College at Stratham/Pease, yet another set of state officials have proven their commitment to recycling.
• Now that she's been named town administrator, does that mean state rep Harriet Cady has to give up her letter-to-the-editor writing career?
• With yet more changes to its lineup is WZMY Channel 50 waving the white flag on its "MyTV" programming?
• Memo to Carroll County Democrats: Just because crow hunting season runs from Aug. 15 to Nov. 30 doesn't mean you can go after "Crow" Dickinson with buckshot.
• What happens if cop-hating Tom Alciere actually wins the GOP nomination for state Senate in the 13th District?