Flotsam & Jetsam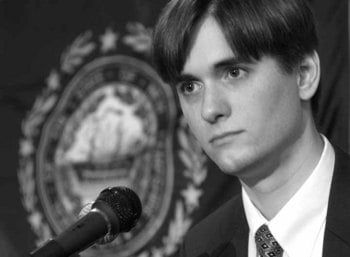 See Jayne run
Jayne Millerick, chair of the state Republican Party, turned in an impressive deadpan post-election performance in trying to explain away her party's loss of the governor's office, an Executive Council seat, a couple of Senate seats and a couple of dozen House seat – including the rejection of some high-powered committee chairs.
But, as has become the fashion among political types in recent years, the chair of the party shied away from actually taking any responsibility for the GOP's less-than-stellar election day performance. "I don't think there is any one person to blame," she said in attempting to explain the loss of the governor's office.
True, there isn't one person to blame – there's a long list, and the state party may very well be at the top of it.
Analyze this
Enough with the election night analysis by pundits, those self-appointed and self-anointed.
F&J would like to nominate Scott McGuffin, a Laconia attorney, Northfield town moderator and longtime Friend of Lynch, for the Astute and Accurate Election Analysis award.
McGuffin, in a Laconia Citizen article about John Lynch gubernatorial victory, offered this breakdown of the campaign of his friend's erstwhile opponent:
"If you had one signature vignette of Governor Benson, it would be to take a couple hundred 20-somethings who had been working very hard day and night calling and canvassing for him and in their time of need, when his situation wasn't looking good, instead of thanking them and encouraging them and saying 'Let's talk about it in the morning,' he just leaves it hanging and let's somebody else do his dirty work for him. Politics is clearly about people and clearly he wasn't paying attention to that last night. That's why he was defeated."
Any other AAEA nominations?
Truth in advertising
New Hampshire residents might like to know that those Free State Projects folks – even, perhaps especially, the ones who don't live here – have thrown out another mass welcome mat, this time to the residents of the Fort Trumbull neighborhood of New London, Conn.
Apparently, the city government of New London recently condemned most of the neighborhood in order to give the property to a private developer, at least that's the Free Staters' take on it.
Anyway, it was enough for them to send out the call to disaffected New Londoners. The Free Staters have begun running a month-long ad on the New London Day's Web site in order to increase the visibility of the project – and New Hampshire residency — among local residents. (This wasn't the first time they've run an ad, by the way. The Free Staters have already run advertisements in South Carolina and Vermont.)
The ads tout the Free State Project's goal of recruiting "advocates of property rights, free markets and civil liberties to move to New Hampshire."
"We'd like to let them know that this event could never happen in New Hampshire; the state Supreme Court has ruled that private property may never be taken for mere 'economic development' reason," said Jason Sorens, Free Stater-in-Chief.
No, but the court has ruled that the government can take private property for "public benefit" reasons.
By the way, Sorens – father of the Free State Project – still lives in New Haven, Conn., where he teaches at Yale University. Which might explain why he doesn't quite have it right on eminent domain in New Hampshire.
In fact, on his next visit he might want to do a little research. Perhaps he can stay at the Center of New Hampshire in Manchester, a development built on land taken by the city to clean up downtown. Or he might want to visit with the shareholders or Pennichuck Water Works.
Numerology
Cheer up, Kerry supporters. The glass may actually be half full, maybe even more than half. As long as you consider how far he came.
Return with us now to December 2003, and a New York Times poll of Democratic voters in those heady, pre-caucus and primary days. In that poll, the field looked like this:
• Dean, 23 percent
• Lieberman and Clark, 10 percent
• Gephardt, 6 percent
• Sharpton, 5 percent
• Kerry, 4 percent
• Edwards, 2 percent
• Braun and Kucinich, 1 percent
That's right – Messrs. Kerry and Edwards together had 6 percent support among Democrats at the time – and the Reverend Al had 5 percent all by his lonesome.
So, considering they ended up with 48 or so percent isn't that bad.
Or maybe it should have been Sharpton at the top of the ticket.
It's been making the rounds…
So what are negotiations with the state employees union going to be like under a Lynch administration, now that the incoming governor owes his victory almost entirely to the state workers?
How come no one has used the term "sore loser" – at least not publicly — in explaining Governor Benson's behavior election night and the following days?
What does John Stephen do next, now that he doesn't have a friend in the corner office?
How about Clif Below for budget director?
So now it's New Hampshire Republicans' turn to gripe about a party chair who focuses far too much on national races.
Remember the saying that made the rounds after Howard Dean lost to Kerry in the New Hampshire primary, "Dated Dean, Married Kerry, Woke Up With Bush"?
Colin Manning of Foster's Daily Democrat deserves some kind of award for his comparison of Governor Benson to famed groundhog Punxsutawney Phil When Phil "comes out of his hole on Feb. 2 and sees his shadow, winter is to last another six weeks. So what happens when a governor fails to appear in public after an election? It apparently means his term is over in 60 days."
Will Dick Flynn be pushing for a speeded-up Executive Council hearing now that the clock is ticking on David Wheeler's tenure?
Ignorance of the law is no excuse – unless you're the speaker of the New Hampshire House.
On second thought …
For those of you keeping score, here's a little newspaper clipping found lying on the desk. The quote is from one Linda Fowler, professor of government at Dartmouth. the newspaper: the Concord Monitor. The subject: John Lynch's freshly announced candidacy. The date: May 19, 2004.
"I do think it's late for anybody to be actually coming forward and raising the money and putting together an organization. I mean, here we are in the middle of May."
They said it…
"He's a human being, and we shouldn't forget that." – Alicia Preston, Governor Benson's press secretary, explaining why the governor seemed to be taking so long to lick his election loss wounds.
"State workers brought their brains to the polls." — Beth Campbell, first vice president of the State Employees Association, which endorsed John Lynch for governor.
"My sense is Governor Lynch is more of a people person than Governor Benson was." – Rep. Neal Kurk, R-Weare, chairman of the House Finance Committee.