Flotsam & Jetsam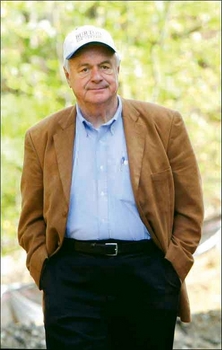 Keeping councilor
Nothing tells the story better than a recent Concord Monitor article on the – dare we say? – invulnerability of Executive Councilor Ray Burton in his (and we do mean HIS) North Country District 1.
In a 1,000-word piece on both Burton's impressive fund-raising ability as well as the loyalty he inspires in supporters, Monitor reporter Eric Moskowitz paints a picture of a man who basically is proving that he is indeed Executive Councilor-for-Life.
Judging by the piece, constituents and volunteers have no problem brushing aside the troubles Burton faced after the revelation that a longtime campaign worker had been convicted of attempted sexual assault against a minor, indecent exposure and had failed several times to register as a sex offender.
To quote Barbara Ashley, Burton's volunteer campaign treasurer: "It's all about the service that he provides and the job he does as an elected official, and that's a prime thing right there. When there seemed to be some kind of a threat mounted, like when the Union Leader led the charge to demand his resignation, the people of District 1 … we just said, 'Oh my god, there's nobody that does that job like Ray.'"
Apparently not. In fact, the only criticism of the councilor contained in the piece comes from Manchester resident, and state Democratic Party chair, Kathy Sullivan – not exactly a Burton constituent.
With what seems like a little exasperation in her tone, Sullivan — who joined with the entire GOP congressional delegation, the governor, the Union Leader and what seemed like the entire non-District 1 population in calling on Burton to resign last year – tells Moskowitz: "I think he's trying to thumb his nose a little bit at everyone who called for him to resign."
Ya think, Kathy?
Hynes-sight is 20-20
Ankle-biting pundit and Barrington resident Patrick Hynes apparently bit off more than he could chew last month when he pulled what folks in New Hampshire know as a "Jack Heath."
It turns out Hynes was outed by Jim Geraghty of National Review Online as a paid consultant to Sen. John McCain, all while exposing innocent readers of his blog to Hynes' potentially money-tainted opinions – including an energetic defense of McCain's forays into the world of the Christian right.
The think-skinned Hynes quickly owned up to the conflict – but, considering the source was National Review, that's not too surprising.
Hynes' name may be familiar to F&J readers. He's the unrepentantly acrimonious fellow who viciously attacked, in another blog, Franklin Pierce Law Center John Hutson's appearance last year before a Senate subcommittee, during which the prescient former admiral and Judge Advocate General roundly criticized U.S. treatment of suspected terrorists.
Hynes was the one who went off on a tirade, saying that the opinions of Hutson – whom he called "a lefty shill" — were tainted because he was "a partisan enthusiast for John Kerry just last year."
Using Hynes' logic, leads to the direct assumption that the consultant-cum-blogger must be a righty shill – with a $16,500 price tag.
Close but no cigar
Democratic presidential candidate Joe Biden, the U.S. senator from Delaware, may have thought he took New Hampshire by storm last month with a whirlwind tour across the state.
But whether he left his mark remains to be seen, judging by the comments of Concord resident David Rinciari.
Rinciari told a Concord Monitor reporter who was tailing Biden that "I talked to him for 15 minutes yesterday."
Actually, the Monitor reported, Mr. Rinciari was a little mistaken. "That was someone else," Paul Audet told him.
Indeed it was – it was 2nd Congressional District candidate Paul Hodes, who last we checked remains opposed to getting a hair weave.
You asked for it
Above a July 31 front-page article on a series of free concerts in the Queen City, the free daily newspaper Manchester Express ran the headline, apparently with no irony, "Free, but worth it?"
Interesting question coming from a publication that has yet to amass a full page of advertising in a single issue.
Making the rounds…
• The Campaign for Families, formerly known as the New Hampshire chapter of the Christian Coalition stuck a shiv in the back of GOP Executive Council candidate Russell Prescott by endorsing opponent Sean Mahoney.
• The "Take a Gander at Gatsas" campaign will go on the road in August, when New York Gov. George Pataki hosts a fund-raiser for the Senate president in Saratoga Springs, the day before the famed Travers Stakes – a race his horse gelding didn't compete in.
• So if Paul Hodes is such a strong candidate in the 2nd C.D., why would Hotline downgrade their estimate of his campaign's strength?
• The first New Hampshire politician who has the political chutzpah to call Granite State voters "the chosen people" wins a year's subscription to the Las Vegas Sun.
• Judging by the potential for catastrophic political embarrassment in his state of Connecticut, perhaps Joe Lieberman should have maintained his apartment in New Hampshire.
• Which is worse, Governor Romney: Using the phrase "tar baby" or not knowing that it's offensive?
F&J TOTEBOARD
| | |
| --- | --- |
| Sean Mahoney: | Tells the Portsmouth Herald he's "a better candidate now than [he] was" when he ran in 2002 for Congress because he's "just really gotten to understand" more of the issues "in the Seacoast and around it." |
| New Hampshire Democrats: | Have indeed found a tax they don't like, or at least the source of the tax: the "Coburn Gas Tax." |
| Judd Gregg: | Applies his big government, No Child Left Behind approach to education to maple syrup with his sponsorship of the National Uniformity for Food Act, which would take away state authority to regulate food safety and food purity. |
| John Kerry: | Your eyes did not deceive you: the man who ran for president two years ago actually posted a piece on the Huffington Post Web site titled, "Standing for Something." Guess it's better late than never. |
| Claremont Eagle Times: | The daily newspaper breaks with the New Hampshire media's presidential primary love affair by editorializing that maybe it's time for some other states to be first. |