Flotsam & Jetsam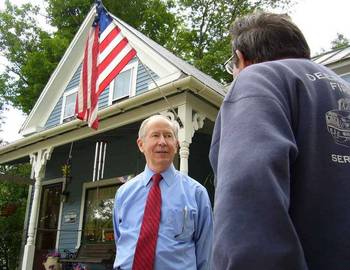 Reality check
You can't blame New Hampshire Republicans, and particularly candidate Jim Coburn, for pretending they have a shot at the corner office this year, but at some point you'd hope they'd at least acknowledge that they're playing in an alternative reality.
Take a recent GOP forum for state and county candidates. The advice for all of them focuses on three words – the "location, location, location" of New Hampshire politics: taxes, taxes, taxes. Opposing them, of course.
The problem is, the last anyone checked, Republicans have been the ones in control for nigh these last 150 or so years, except for an occasional Democratic governor. But the folks who pass the tax hikes – well, check the "R" next to their names.
It's all a matter of timing
Dennis Hogan has been pulling out all the stops in his write-in campaign to win the Republican state Senate nomination to run against Democrat Joe Foster in Nashua.
The lawyer, and a member of the city's board of education, announced his campaign after local GOP officials discovered that Tom Alciere, the former Republican state rep whose online postings once condoned killing police officers, was their one and only candidate in District 13.
Hogan, who has the backing of the state Republican hierarchy – he even was the beneficiary of a fund-raiser at a local Chinese restaurant sponsored by Senate President Ted Gatsas. In case you couldn't guess, avoiding another humiliating Alciere candidacy is the fuel on which the Hogan bandwagon is apparently running.
"We must act to prevent the embarrassment that Mr. Alciere's nomination would be to Nashua," Hogan said in a press release.
No mention of whether signing up to run in District 13 in the first place would have made his job any easier.
If you don't have anything nice to say…
A sordid moment in relatively recent New Hampshire history reared its head earlier this month in, of all places, New Jersey.
Christopher Lyon, an opposition researcher working on GOP U.S. Senate candidate Thomas Kean Jr.'s campaign, was the focus of a piece in the Philadelphia Inquirer. The paper recounted Lyon's resume, which includes the infamous Willie Horton furloughed-killer campaign that George Bush the First used to hammer Michael Dukakis. But the one that still sticks out is Lyon's work for the New Hampshire gubernatorial campaign of Jeff Howard in his GOP primary race against Gordon Humphrey in 2000.
During that campaign, anonymous mailers were sent out and phone calls were made accusing Humphrey's wife of being an active member of a cult that "advocates adults and children have orgasms as a means to reaching inner peace," as the paper reported.
Then-New Hampshire Attorney General Philip McLaughlin investigated the communications. Lyon, who eventually took responsibility for the mailers and calls, was barred from participating in campaigns in 2000. No criminal charges were filed, even though McLaughlin found that the notorious campaign violated state election law.
The Inquirer reported that Lyon declined to comment on his work for Kean, which has had that same particularly brutal scent about it.
New Hampshire, naturally
You know how it feels when people from other parts of the country ask dumbfoundedly where New Hampshire is, or better yet whether it's part of Vermont or Massachusetts or Maine (take your pick)? Well, imagine if you're living in Vermont and people in your very own state have the audacity to confuse your home with that irascible neighbor to the east.
That's what happened earlier this month with the release of a regional plan for the Northeast Kingdom of Vermont. It features a picturesque photo of fields and rolling hills – green everywhere. Beautiful. But it's not in Vermont – it's on the other side of the Connecticut River in New Hampshire, as the Caledonian-Record newspaper in St. Johnsbury was rather quick to point out.
"I knew it was New Hampshire the first time I saw it," East Haven Town Clerk Franklin Higgins told the newspaper. Unfortunately, he didn't see it until the publication was released.
And it wasn't even taken anywhere close to Killington.
It's been making the rounds…
• The new Coburn for Governor radio campaign aired on radio stations WZID, WOKQ and WGIR, but not on the Concord station that airs Coburn political consultant Jack Heath's daily program. Why duplicate their efforts?
• How come all these New Hampshire opponents of No Child Left Behind never mention that one of the chief architects of the despised law was none other than Judd Gregg?
• Anybody who thinks John Lynch doesn't have the right political instincts need look no further than his nomination of Tom Burack for environmental services commissioner.
• Think Mike Nolin has any tips for John Stephen on how to handle Lynch?
• There's no truth to the rumor that Republicans are putting out feelers to get Jay Lucas to run for governor again.
F&J TOTE BOARD
| | |
| --- | --- |
| John Lynch: | An American Research Group poll points out some potential openings for his opponent in November, but they're nowhere near as big as the piggyback semi that Jim Coburn's going to need. |
| Concord Monitor: | The Joan Rivers of New Hampshire daily newspapers is now making over its business page. |
| Jim Craig: | The Democratic congressional candidate's campaign releases an engineered poll that shows Jeb Bradley is beatable, but the poll's methodology ends up being the story, not its results. |
| Mitt Romney: | The Massachusetts governor folds like a cheap suitcase after his New Hampshire counterpart threatens a lawsuit over unpaid flood protection payments from the Bay State. |
| Carol Murray: | The transportation commissioner endures a grilling over a highly critical financial audit, but in the end remains in the driver's seat. |
| Howard Dean: | If anything, you'd think the Democratic National Committee chairman and ex-presidential candidate would want to give Iowa's presidential caucus the shaft, not New Hampshire's primary. |