Flotsam & Jetsam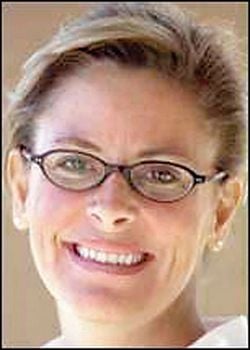 Location, location, location
Bea Francoeur, a Republican state rep from Nashua, has in recent months found herself in the news – although not for any accomplishments related to her work as a lawmaker.
You may recall that earlier this year she tried weaseling out of a speeding ticket – she was driving 44 mph in a 30 mph zone – with the spurious argument that the state Constitution somehow allows legislators on official business to put the pedal to the metal. For some reason, it didn't impress the judge.
More recently, Francouer – who owns a manufactured-home park in Hudson – has ticked off officials in that town after she removed a swing set from the park, an action that was in violation of the planning board's site plan approval in 1992. She was told earlier this summer not only to put the swings back up, but to install a second swing set.
But Francoeur apparently likes to push the envelope – or at least the swing, because the set she installed wasn't exactly to the planning board's liking.
"Please note, it is the opinion of the board that the swing set you recently installed at Krystal Estates is not appropriate for the intended purpose. That is, when the board made the decision to require the two swing sets, it was intended that such swing sets would be appropriate for children to play on and enjoy," wrote Town Planner John Cashell in a letter to Francoeur.
Francoeur's attorney, James Troisi, told planners earlier that the swing set was removed because her insurance company said that it didn't comply with safety standards, which meant her insurance premiums would rise. Besides, an engineer told her that there were concerns related to the area's topography that prevented a swing set going up at the site.
He also told the planners that any children who would want to use the swing set could just as easily take a walk to Greeley Park, which has a playground – including swings — and a basketball court.
"This is a very small matter, in my opinion," Troisi said. "She didn't think it would be a major issue."
Then again, it all depends on what your definition of "small" is – or perhaps "nearby." Greeley Park isn't even in Hudson – it's across the river in Nashua.
Keeping 'em guessing
Unlike his colleague – who's already said, "No" — U.S. Sen. Judd Gregg hasn't yet said how he'll vote on a proposal to expand the federal hate crimes law.
While the past isn't always prologue, it is interesting to point out that new Hampshire has had a hate crimes law since 1992, when none other than Gov. Judd Gregg – yes, the one and the same – signed it into law.
Narrowing down the field
Tom Tancredo, the Republican congressman from Colorado who fancies himself a possible president, broke ranks with two of his fellow Republican presidential candidates a couple of weeks back, declaring he would not support either former New York Mayor Rudy Giuliani or former Massachusetts Governor Mitt Romney if either should win the Republican nomination for president in 2008.
Tancredo's remarks came during an on-air interview on "The Woody Woodland Show" on WSMN radio in Nashua.
"No," the congressman said, when first asked about possibly supporting Giuliani. Tancredo, who has campaigned primarily on border security and an end to illegal immigration, said Giuliani opposes efforts to ban the creation of "sanctuary cities" in the United States as havens for undocumented aliens. He also questioned the validity of positions taken by the former New York mayor on other issues.
"You cannot convince me that someone has had so many conversions in such a short period of time on the issue of life, on guns, on immigration. You cannot have that many conversions on that many issues."
That goes for Romney as well, Tancredo said. After being asked if he would support Romney if the former Massachusetts governor should be the party's presidential nominee, Tancredo simply said, "No."
Tancredo wasn't exactly offering the highest praise for another candidate, former Arkansas governor Mike Huckabee.
He said Huckabee has been a moving target on Tancredo's main issue — the former Arkansas governor's positioning on immigration has been "evolving," Tancredo said.
"He was one of the three of us who raised his hand when asked a question in the first debate about who did not believe in evolution," Tancredo said. "But I think he is a true evolutionist on immigration."
Since that whittles down the field, he was then asked if he would run as a third-party candidate – no, he said — nor did he see anyone as a possible third-party candidate that he would support.
"I suppose I could write in myself" if either Romney or Giuliani is the nominee, he said.
Word processing
A recent e-blast from Josh Shultz, director of new media for the National Republican Congressional Committee crossed F&J's desk.
In it, Shultz asked recipients to enter the NRCC's "Your Direction" slogan contest. 
"We have gotten a lot of great responses thus far, but we still want to hear from you," Shultz wrote. "We need a slogan — a brand for our new media outreach initiative. And we want YOU to pick it. In one sentence, tell us what our message should be. Then explain to us how you came about choosing that slogan. We are looking for a message that encompasses our online movement and our commitment to work together to win back our majority."
To get the creative juices flowing, Shultz offered a few examples:
• "Because what they want for you … you can't afford in the end"
• "The Elephant Remembers"
• "Fire a Democrat"
• "When Principles Matter"
• "Better to be 'right' than 'left' out
Not bad. but how about: "See how far we can run from the President"?
If your inner sloganeer has been piqued, by the way, you can e-mail your suggestions to flotsies@ yahoo.com, and we'll make sure to forward them over to Mr. Shultz.
F&J TOTEBOARD
Fred Thompson: The unofficially official presidential candidate "loses" another top campaign staffer — this time, his communications director – and his only response to the press is, "I don't know what the story is."
Charlie Bass: Seemingly minutes after former colleague Jeb Bradley makes official his plans to run once again for Congress, the former congressman's Republican Main Street Partnership endorses Bradley.
Gardner Goldsmith: The host who succeeded in turning off listeners in the Manchester and Upper Valley radio markets gets yet another shot with a time slot on Concord station WTPL.
Nick Toumpas: The interim Health and Human Services Commissioner says that one of the first things he'll do is cut down on his predecessor's apparent penchant for micromanagement: "John Stephen had 30 people reporting directly to him. That's a non-starter with me."
Mike Bloomberg: The New York City mayor takes the air out of Washington Post columnist David Broder's fantasy Bloomberg-Chuck Hagel presidential ticket trial balloon.
It's been making the rounds…
• Here's a simple compromise to the ongoing state-on-state violence surrounding the presidential primary calendar: Hold the New Hampshire primary in Michigan.
• A recent meeting of the Stonewall Democrats drew representatives from the Obama and Richardson campaigns, as well as Jay Buckey's senatorial campaign and – interestingly — a staffer from the Draft Shaheen campaign.
• They're making a big deal of former Mass. Gov. Paul Cellucci's endorsement of New York's Rudy Giuliani over fellow Bay Stater Mitt Romney. So what about former New York Sen. Al D'Amato's dissing of Rudy for Fred Thompson?
• So is it a Bradley-Stephen 1st C.D. primary a good thing or a bad thing for GOP Chair Fergus Cullen?
• If Joe Kenney, the Wakefield Republican state senator, is for real in his gubernatorial run, can Bruce Keough be too far behind?