Flotsam & Jetsam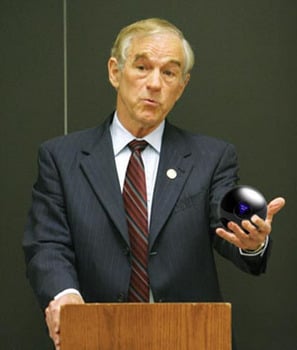 We shall overcome this analogy
He has since taken back his observation, but Republican presidential candidate Ron Paul managed to give plenty of people pause last month when he reached a little too far in trying to boost the image of Plainfield anti-tax zealots Ed and Elaine Brown.
In an interview with Lee Rogers, who runs the Web site roguegovernment.com, Paul actually said, "People who point this out and fight the tax code and fight the monetary code are heroic. I compare them to people like Gandhi, who was willing to speak out and try to bring about change in a peaceful manner. Martin Luther King fought laws that were unfair and unjust, and he suffered, too."
Perhaps Paul was right to compare the Browns, holed up in their Plainfield fortress-like lodging facility, with Mahatma Gandhi and Dr. King – you never know. Except there is one slight difference: It's safe to say that neither Gandhi or King was convicted of armed assault – as Ed Brown was in 1960 while living in Massachusetts. And neither had to be pardoned of the crime 16 years later by then-Massachusetts Gov. Michael Dukakis.
The Duke of elections
At this point, former Massachusetts governor Mitt Romney doesn't seem to need advice on running his campaign, but in the topsy-turvy world of presidential politics, you never know when it might come in handy.
So as a public service, F&J presents a couple of pearls of analysis from none other than Mike Dukakis, one of Romney's predecessors as Bay State governor and the man at the helm of what can only be described as one of the worst-run presidential campaigns in history. That was in 1988, when the Duke opposed George H.W. Bush for the White House.
Nevertheless, this advice from Dukakis: "If Romney can't win in New Hampshire, then he's dead." His reasoning? "We're New Hampshire's neighbor. When I ran, my feeling was if I couldn't win New Hampshire, how could I win the country?"
Dukakis said the key to winning a national campaign is to focus on a grassroots network of campaign workers – something, he said in an interview with the Taunton (Mass.) Gazette, they kind of dropped the ball on in '88.
The Duke does know what he's talking about. He didn't win New Hampshire in the general election, or much of anything else, for that matter. Bush beat Dukakis with 53 percent of the popular vote and won 40 states.
Clean for Jeanne
In case you needed any more proof that the fix is in for a U.S. Senate bid by former governor Jeanne Shaheen, look no further than who made sure the press was aware of a recent American Research Group poll showing Shaheen with a commanding lead over the current senator, Republican John E. Sununu.
It was none other than the Democratic Senatorial Campaign Committee, which sent out an e-mail blast to the press touting the poll, which showed Sununu trailing Shaheen by 28 points.
With a former state party chair taking care of business in New Hampshire and the folks in Washington doing their part – some might be tempted to say "pulling the strings" – it's looking pretty apparent that your next Democratic Party nominee for Senate will be Shaheen, no matter what all those other candidates might think.
A change of heart
So who ya gonna believe – the 23-year-old lawmaker or the presidential campaign?
We speak of the tiff between state Rep. D.J. Bettencourt, the Salem Republican, and the campaign of Sen. John McCain over whether Bettencourt quit his post as Rockingham County co-chair over principle or a paycheck.
Bettencourt last month told the campaign that he could not, "in good conscience, continue to support" McCain because of the Arizona senator's support for the twice-failed immigration bill.
The McCain folks, however, weren't about to grant amnesty to the departing Bettencourt. They released e-mails to The Associated Press in which the state rep apparently tried to wheedle a paying job out of the campaign,
He wrote to a McCain staffer that Romney campaign was "on the hunt for conservatives" and had offered him a paid position.
"While I love Senator McCain, the next few years are going to be financially difficult for me — next year with graduate school and law school following that — and thus I must at least entertain some thought on the offer. … I'm not going anywhere soon, but I wanted to inform you of this so we could discuss it and so that you wouldn't be broadsided if rumors of this circulate," Bettencourt wrote to a McCain staffer.
The Romney people denied that Bettencourt was offered a job, but it is interesting to note that the man who posted a video endorsement of McCain on YouTube in May, told the AP a mere few weeks later that Romney's "principled stand to not reward people who are here illegally with a permanent free pass to stay, is consistent with my views and the views of most New Hampshire citizens."
(The McCain video, by the way, has since been removed from YouTube.)
The one question that lingers: Bettencourt didn't know about McCain's views on immigration before giving him his endorsement in March?
F&J TOTE BOARD
Kindergarten:
The recently passed definition of educational adequacy includes a provision for compulsory kindergarten in New Hampshire, just a few steps behind the 39 states that currently have state funding for preschool classes.
John Lynch:

The governor pulls a Howard Dean in signing the measure repealing parental notification for abortion, literally behind closed doors – on Friday afternoon, with announcement of the signing coming after he left the building.
George Bush:

With the latest American Research Group poll showing the president's favorability rating in New Hampshire at 14 percent, a GOP activist is heard to opine, "At least it's still in the double digits."
Fred Thompson:
The former Tennessee senator and expected GOP presidential candidate sure is tall.
Rupert Murdoch:

If the News Corp. owner does get his way and acquires Dow Jones and its Wall Street Journal, he gets a toehold in New Hampshire as well: The company also owns the Seacoast Newspaper Group, owner of the Portsmouth Herald a string of weekly newspapers.
It's been making the rounds…
• Judging by his the pace of his campaign-related activities, State Sen. Joe Kenney is all but officially running for the Republican nomination for governor in '08.
• With the budget passed, the countdown begins for the departure of Health and Human Services Commissioner John Stephen.
• With all the talk about Fred Thompson, whatever happened to Tommy?
• Fran Wendelboe has bigger fish to fry than Fergus Cullen: She has national ambitions for her New Hampshire Reagan Network.
• Despite evidence to the contrary, Rudy Giuliani is running in the New Hampshire primary.