Flotsam & Jetsam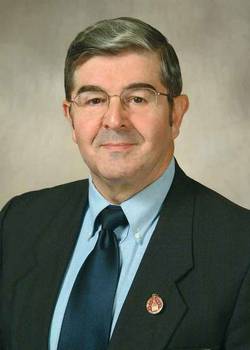 Where there's secondhand smoke…
During the debate over whether the state should ban smoking in restaurants, Rep. Ken Weyler – the man who would be speaker – used a tried-and-true tactic of many a smoking-ban opponent. He referred to people who claim there's a link between cancer and secondhand smoke as "junk science" – a claim straight out of the tobacco I industry playbook.
"Even something as harmless as broccoli could be described as containing carcinogens," he said.
For whatever reason, Surgeon General Richard Carmona, apparently wasn't paying strict attention to the case-closed declarations made by Weyler.
In introducing a report on what he sees as the dangers of secondhand smoke, Carmona said, "The scientific evidence is now indisputable: second-hand smoke is not a mere annoyance. It is a serious health hazard that can lead to disease and premature death in children and nonsmoking adults."
Obviously the good doctor failed to consult with Weyler's sources.
By the way Weyler, a retired airline pilot, never had to worry about secondhand smoke in his workplace.
Come back, kid
The best description of how Bill Clinton, the president who knew so much and accomplished too little, can capture an audience came from one observer who attended the Dems' fund-raiser in Bedford.
With his speech – "both in content and delivery" — Clinton had everyone eating out of the palm of his hand form the get-go, according to the admiring non-Clintonista, adding that "Clinton is the Mel Torme of speakers," with a "velvet fog" enveloping the room as he "smoothly and passionately spoke."
Added the observer: "It was obvious what was missing in the field of 2008 aspirants – someone who could talk like Bill Clinton."
Primary accent
When they've got their sights set on the New Hampshire's first-in-the-nation status, where do members of the primary class turn for aid and comfort?
Look no further than the voice of reason, the man of a thousand spins, the Dear Abby of political "analysts": Tom Rath.
So as the Democratic National Committee turns the handles on its vise ever so tighter on New Hampshire, it's time to seek the wise and consoling counsel of the local and national media's go-to quote machine.
"Before we wring our hands and gnash our teeth … we need to remember what we've got. We've got the first primary," quoth the attorney. "That has huge credibility with the national media and, frankly, the national political world."
And if anyone should know that, Mr. Rath should.
Contributing factors
Almost as soon as the name "Vito Fossella" made what appeared to be its debut last month in New Hampshire newspapers, the New York Republican congressman goes and does it again.
Fossella, you may recall, was mentioned here and elsewhere as being one of the recipients of Seacoast Executive Council candidate Sean Mahoney's political largesse – to the tune of $3,250 over a six-year period. In fact, Fossella's received more than any other individual Mahoney campaign – far more than any individual New Hampshire Republican.
Well, it turns out that, according to the New York Daily News, the Staten Island congressman has been doing some pretty interesting things with the money given to his campaigns by Mahoney and other contributors.
In its June 25 issue, the News documented how Fossella had spent tens of thousands of dollars of campaign contributions on personal trips, including family ski vacations and a $5,000 stay with staffers at the exclusive Turnberry Isle resort in Florida.
While Fossella later admitted to the newspaper, in perfect political parlance, that "mistakes have been made," he also insisted that most of the expenses were legitimate campaign costs – even paying for his wife and children to attend a ski school in Vail, Colo.
And while he insisted that "everything we've done has been consistent with rules and regulations" and "I followed the law," the News found that he had amended 18 campaign-disclosure forms since finding out the newspaper was snooping around. He also fired the accountant who he said was responsible for reporting his campaign contributions and expenses.
F&J TOTE BOARD
| | |
| --- | --- |
| N.H. Libertarians: | Anyone who thinks they don't miss the days of Miriam Luce has spent too much time in the hemp fields. |
| Bill Clinton: | The president of New Hampshire makes a triumphant return, on schedule, but did he make December hotel reservations for Hillary before taking off? |
| Ray Burton: | The elephant in his living room must have just been a figment of some people's imagination. |
| Gary Dodds: | Somewhere along the line, the whole off-road thing stopped being funny. |
| State Supreme Court: | Timing on whatever its school-funding ruling will be is everything. |
| Iris Estabrook: | The Democrat from Durham is the only member of the state Senate to have no opposition in either the primary or general election. Go figure. |
It's been making the rounds…
• Want to know why Charlie Bass is hard to beat? He's already begun running radio spots.
• When is the Democratic Party going to ask for equal time from the Concord radio station that broadcasts Jack Heath's show?
• You can't blame Jim Coburn from throwing out whatever he can to see if anything sticks to John Lynch.
• Getting Dick Green named Pease Development Authority executive director is like then-Governor John H. Sununu naming three Democratic senators to jobs as commissioner and, in one case, a judgeship.
• Is Mitt Romney really going to turn to a prominent Seacoast retailer to be his finance chair?