Flotsam & Jetsam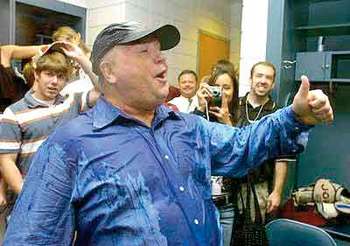 Kutting and running
In his New Hampshire fund-raiser speech earlier this month, GOP mastermind Karl Rove took special relish in pronouncing the words "cut and run" when the issue became Democrats and the war in Iraq.
But, as The Telegraph's inestimable Kevin Landrigan pointed out, the man the president affectionately nicknamed "Turdblossom" did his own cutting and running from the New Hampshire press corps in a well-organized effort to avoid having to answer nagging questions linking the White House to the 2002 phone-jamming scandal. His path to the speech before and after was designed to ensure that he wouldn't come in contact with members of the press, although he was happy to sign autographs and exchange pats on the back with the 500 or $250-per-person contributors who showed up to hear him speak.
Home is where the heart is?
Whether or not Sean Mahoney, one of the Republicans trying to fill the Ruth Griffin vacuum in Executive Council District 3, has fulfilled New Hampshire residency requirements is something for the Ballot Law Commission to decide – or at least that's what he hopes.
But it is interesting that among the reasons he cites as proof that he always considered himself a New Hampshire resident, despite living in Massachusetts, is that he never registered to vote in the Bay State.
All well and good, but during the time in question – before August 2000, when he bought a home in Portsmouth — he certainly voted with his pocketbook. And none of those "votes" came New Hampshire's way.
According to campaign contribution records, of the total $4,450 he donated to federal campaigns in 1999 and 2000, the man who considered himself a New Hampshire resident contributed zero, zilch, nada to New Hampshire candidates and organizations.
By 2002, the New Hampshire air must have finally gotten to him, however, at least when it came to donating to the state party. Since then he's donated more than 15 grand to the Republican State Committee, and even tossed some toward some New Hampshire candidates, notably the four members of the state congressional delegation.
Interestingly, the candidate who has been the recipient of the largest chunk of Mahoney's largesse over the 2000-2006 period has been Vito Fossella, a Republican New York congressman who represents Staten Island and Brooklyn and has received $3,250 from Mahoney over the period.
Just asking
What actually is the message New Hampshire politicians send to the rest of the world when the first question they unanimously, regardless of party, ask potential president candidates has nothing at all to do with the war in Iraq, homeland security, health insurance, Social Security, Medicare, even ethanol, but whether or not they support the first-in-the-nation primary?
Majorities rule
Whatever you think of him, John Babiarz, former Gov. Craig Benson's house Libertarian has a point about the candidate filing process.
After revealing that a number of members of the Libertarian Party had filed to run for office as either Republicans or Democrats, Babiarz said they were doing so to point out the hurdle he and likeminded folks face when they want to run for office without major party affiliation.
Major party candidates can file to run for state Senate by coughing up 10 bucks as a filing fee. If he had chosen to run as a Libertarian, he would have to pay the $10 and collect 750 signatures on his Declaration of Intent petition.
It's even easier for major party candidates filing for House seats (as Babiarz, a Grafton resident, has — as a Democrat, believe it or not). They have to pay two bucks and sign up with their town clerk. Unaffiliated candidates have to haul their butts down to the Secretary of State's office in Concord, with their two buck and collect 150 signatures to boot.
Not exactly a high-ranking entry in the fairness department, but then again, look at who writes the rules.
Calder Cup is the best revenge
Revenge, as they say, is a dish best served cold. But in the case of former Manchester Monarchs coach Bruce Boudreau, it may be better served on ice.
Boudreau led his team to the playoffs in each of the four years he coached the Monarchs before suffering the fate of so many coaches in the "What Have You Done For Me Lately?" World of sports – he was fired. But on June 15, a year and a day after being summarily dismissed in Manchester, Coach Boudreau's new team, the Hershey Bears, celebrated winning the Calder Cup trophy as champions of the American Hockey League.
The iciest part of the revenge? The executives of the Los Angeles Kings – which owns the Monarchs — who were responsible for dumping Boudreau were themselves fired two months before the Calder Cup finals even began.
F&J TOTE BOARD
| | |
| --- | --- |
| JIM COBURN: | If you think his campaign's going to have trouble gaining traction what do you think faces Gary Dodds? |
| NEW HAMPSHIRE DEMS: | Karl Rove, the man they all say is the real brains behind the 2002 phone jam, turns up in the state and all they can muster is 75 people to protest? |
| JAMMIN' JIM TOBIN: | Told he doesn't have to begin serving his sentence for telephone harassment and conspiracy until after his appeal his heard, the 2002 phone-jamming mastermind may be living proof that it pays to have friends in the highest of places. |
| DAVID WHEELER: | The erstwhile executive councilor throws himself back into the political ring to take on Debora Pignatelli, proving that he really does believe in recycling. |
| TOM ALCIERE: | The onetime state rep-who-fell-through-the-cracks rears his anti-cop head to run once for office once again, this time a Republican for state Senate. |
Making the rounds…
• So did Bob Clegg get cold feet or did cooler heads prevail when it came to his supposed challenge of Charlie Bass?
• Is it fair to call outgoing House Speaker Doug Scamman the Anti-Tom Delay?
• On the face of it, incumbent Bob Letourneau's strategy to turn down Republican primary rival Frank Sapareto's request to debate in their Senate race looks bad – but it did work for him in 2004.
• U.S. Senate Appropriations Chairman Judd Gregg's budget reform plan may play well in Washington, but it's sure no Gramm-Rudman.
• Believe it or not, New York Mayor Michael Bloomberg just can't snuff out that talk about his possible presidential bid.
• Tom Daschle for president? You've got to be kidding.