Flotsam & Jetsam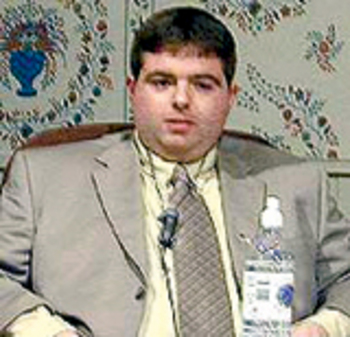 A dam shame
Last fall you might recall that Mitt Romney, the soon-to-be-former governor of Massachusetts, was deluged with criticism from constituents in the Greenfield, Mass., area for failing to respond adequately to serious flooding. Things seemed so bad at the time, that it was pretty obvious the potential presidential candidate cared more about the western part of the country than the western part of his state.
Now he's facing a torrent of criticism in New Hampshire, including from a number of New Hampshire Republicans, over his state's failure to pay its share as part of a 50-year-old flood-control agreement with the Granite State. Essentially, Massachusetts is telling New Hampshire to pound sand over the money that goes to communities that gave up land for dam and reservoir construction.
It's a sentiment that doesn't play well with state Rep. Richard "Stretch" Kennedy, whose town of Hopkinton is one of the communities affected.
Pointing out Romney's unabashed search for the presidency, Kennedy opined that vote-seeking, at least in his part of the state, might be fruitless for the Massachusetts governor. "When you welsh on a deal and you're the chief administrative officer who doesn't pay his bills – who doesn't even agree to discuss (the matter) – what the hell do you expect from us?"
Sure saves time in the voting booth
It's not completely clear why the Democratic Party would want to bypass the democratic process, in the New Hampshire 1st Congressional District at least, but it has nonetheless.
Jim Craig, one of four people running for the party's 1st C.D. nomination, was anointed earlier this month when Congresswoman Debbie Wasserman-Schultz of the Democratic Congressional Campaign Committee, proclaimed him the best candidate to unseat Jeb Bradley in November. Why? She cited Craig's fund-raising strength, local support and experience as a state representative.
Unfortunately, Wasserman-Schultz neglected to say just how much of that money came from the DCCC and DCCC-inspired donors.
Nevertheless, she said, "We feel like he has the best chance for success and we're not taking any chances leaving it 'til Sept. 12 to know who our nominee is."
Putting aside the uncomfortable reality that the only people who should be referring to the New Hampshire 1st C.D. nominee in the first person plural possessive are Democrats in New Hampshire, it sure is mighty nice of the DCCC to make New Hampshire Democratic voters' decision for them.
Try, try again
Self-reflection and contrition are apparently qualities that aren't on state Rep. Christopher Doyle's radar screen.
The Windham Republican, facing charges stemming from a March 2005 incident in which the then-26-year-old Doyle allegedly hit a 62-year-old Windham supervisor of the checklist in the chest right after learning that he lost his bid to be a town selectman.
Doyle, who has been appealing the charges since they were filed, still has not stood trial. He faces 3-1/2 to 7 years in prison if convicted of assaulting Gail Webster.
Because the alleged crime comes with such a sizable sentence, Doyle and his attorney are pulling out the stops to avoid prosecution.
He has been seeking to get the felony indictment dropped – a request that Rockingham County Superior Court Judge Patricia Coffey denied in February. But Coffey did allow Doyle to appeal to the state Supreme Court, which he is.
Their argument is that the charges are essentially tougher than they should have been because, they say, Webster shouldn't have been working as an elected official when the incident occurred. That's because, Doyle argues, Webster's name was on the ballot for a trustee of the cemetery position, and state law prohibits public officials from working at elections where they are also candidates. In other words, she was in the wrong place at the wrong time.
Whatever the outcome, and whatever the legal technicalities, a question does remain: Isn't it still illegal in New Hampshire to hit a 62-year-old woman?
It's been making the rounds…
• It's now three weeks – does the Manchester Express know where the local news is yet?
• Paul Hodes' "a spine is a terrible thing to waste" sound bite sure sounds like a good book title.
• When District 3 Executive Council candidate Sean Mahoney says he's "comfortable" that he meets residency requirements, it doesn't have quite the same ring as saying "confident."
• Certain political consultants must have visions of open wallets dancing in the air at the thought of the Executive Council GOP primary between Sean Mahoney and Sen. Chuck Morse.
• The best coverage of the post-New Hampshire phone-jamming case is in the Bangor Daily News in Maine.
F&J TOTE BOARD
| | |
| --- | --- |
| CHUCK MCGEE: | Out of the slammer, phone-jamming connoisseur returns as a star faculty member of a GOP Campaign School. |
| STEVE FORBES: | In the magazine founded by his grandfather, the twice-failed GOP presidential candidate actually says that phone-jamming mastermind Jim Tobin suffered an "injustice" when he was sentenced to 10 months in jail for conspiring to deny Manchester citizens of their rights to vote. |
| BOB LETOURNEAU AND FRANK SAPARETO: | The Ali-Frazier of New Hampshire Senate politics go for Round 2 in District 19, a contest that has the most potential for entertainment, and maybe even fisticuffs, among campaigns so far. |
| BOB CLEGG: | Judging by the Senate majority leader's latest outburst – charging that a lobbyist for the New England Carpenters Council had threatened to "take me out" – the session must have been getting to him. |
| AL GORE: | If he shows up in New Hampshire before Dec. 1, should we count him in? |
| HILLARY CLINTON: | If she doesn't show up in New Hampshire by Dec. 1, should we count her out? |
| JIM COBURN: | He probably lost some of the GOP friends he had left in the Legislature after calling for an override vote on Governor Lynch's veto of the deadly force bill. |