Flotsam & Jetsam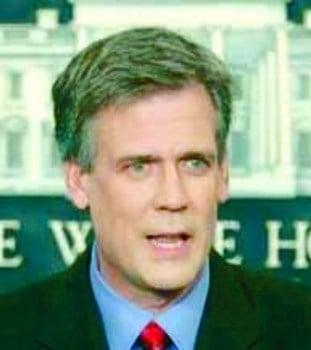 Hook, line and sinker
George Pataki is apparently using as many of his waning days as possible as governor of New York to spend as little time in the Empire State as he can to lay the groundwork for a presidential campaign.
Just a week or so ago, Pataki toured New Hampshire, letting voters here give him the once-over as the sadistically long 2008 presidential campaign continues to slog through.
At one of his stops, Pataki met with some members of the New Hampshire Fishermen's Cooperative on Peirce Island in Portsmouth. While there, he was told by co-op president Erik Anderson that his guys were essentially being given the shaft by the federal government, whose regulations have been progressively cutting the number of days ground fishermen can go out to sea.
Now, federal fishing rules have been a big issue for fishermen and others who live in coastal communities, even in a state like New Hampshire, with just 18 miles of coastline. So it's probably safe to assume that it's an issue in New York state, which has 127 miles of Atlantic Ocean coastline and a far larger fishing industry.
So it may be surprising to know that the governor, while decrying the situation, apparently wasn't up to speed on issue, telling Anderson that he would "talk with my guys in Montauk" to see how fishermen there were staying afloat under the federal rules.
Good idea, governor – they may like to hear from you too.
Surprised party
Leave it to Executive Councilor Ruth Griffin to know which side her bread is buttered on.
Her decision earlier this month to announce that she's had enough after nearly 20 years on the council was likely a surprise to readers of the May 6 Union Leader, which broke the story. (Why not give what may be one last scoop to the newspaper that has so often given the Seacoast pol a free pass on her questionable fund-raising and equally questionable votes?)
But the announcement also was a surprise to Wayne Semprini, the recently installed chairman of the state Republican Party.
Asked for a comment by the Portsmouth Herald, Semprini revealed that Griffin hadn't given him a heads-up that she was about to announce her retirement in the newspaper.
In fact, Semprini told the Herald, he had no idea that she was even contemplating stepping down. "I felt very comfortable that Ruthie would return and it would be a seat that we didn't have to be concerned with," Semprini said.
Considering what's on the party chairman's plate – financial woes, a disaster-in-the-making in the governor's race, and the never-ending phone-jamming scandal – you'd think one more thing would be a disaster.
Then again, at some point you're plate's so full it doesn't matter if anything more is added to it – even if it is a potentially contentious District 3 Executive Council primary.
Another public radio freeloader?
New Hampshire Public Radio got its moment in the Sunday lineup April 30 when it made its HBO debut on an episode of the cable channel's mob family drama, "The Sopranos."
Actually the entire state – or at least a somewhat reasonable facsimile, considering the scenes were filmed in Boonton, N.J. — has been playing a role in the TV program. New Hampshire is the place where the recently uncloseted mobster Vito Spatafore goes to either hide out, or contemplate suicide, or wait for his former "colleagues" to find him.
To give the episode a semblance of New Hampshire-ness, in one scene, we see Vito in bed at the almost-too-precious-like B&B he's staying in, in the almost-Vermont-like town of "Dartford, New Hampshire". And while lying there, we watch him listening to an NHPR newscaster, reading the news. (Vito's not, in case you were wondering, reading the Union Leader.)
In any case, even though there is a gun on the nightstand, nothing in the news spurs Vito to suicide.
In the end, as with anything else on "The Sopranos," the episode ends with a lot of questions. But one was likely limited to the musings of public radio types.
"Internally, of course, we wondered: Is he a member?" NHPR assistant general manager Scott McPherson told the Concord Monitor.
Shooting from the lip
Tony Snow, the White House press corps' newly named concierge, has been portrayed as a straight-talking, tell-it-like-it is kind of guy – just the kind of person President Bush needs as his press secretary.
It's not clear whether comments he made in December 2005 to a reporter from the Pittsburgh Tribune-Review come under the category of straight-shooting or shooting from the hip. But folks in New Hampshire, and a particularly beleaguered section of the state, may be interested to know that Snow doesn't have what you would call affection for our North Country.
In response to a question feeling him out about potential 2008 GOP presidential nominees, the former Fox News talking head said he didn't know yet. But, he added that he was "old school," and likes "to see how these people do when they have to go to horrid places like northern New Hampshire or when they have to brave the winters in Iowa to go around, hat in hand, begging for votes."
F&J reported. You decide.
It's been making the rounds…
• It's a long way between smelling blood in their effort to finally unseat Congressman Charlie Bass, the Road Runner of New Hampshire politics, and state Dems actually being able to pull it off.
• There are plenty of Republicans, both in Senate District 4 and outside of it, who can't wait for incumbent Bob Boyce to lose in his upcoming primary against Jim Fitzgerald.
• When Ted Gatsas, wearing his Manchester alderman's hat, mutters loudly enough for others to hear, that perhaps the city should put operation of Manchester Cable Television out to bid, does that mean that Meridian Communications won't be too far behind?
• Never mind the governor's race, now the state GOP has its hands full trying to keep control of the Executive Council.
• No, your eyes weren't playing tricks on you. Jim Coburn, the GOP gubernatorial candidate, really did refer to Land and Community Heritage Investment Program as a "charitable interest."
F&J TOTE BOARD
| | |
| --- | --- |
| GOP'S PHONE JAMMING JAM: | If it weren't for the national media, the Republican Party would have been well on its way to a free pass over the 2002 election scam. |
| VIRGINIA BEECHER: | Remember when you read about the ongoing mess that is the Division of Motor Vehicles, only one executive councilor voted against reappointing her to head the agency. |
| FISHER SCIENTIFIC MERGER: | What will the company's move to Massachusetts do to the anti-income tax movement? |
| RICHARD BROTHERS: | The Department of Employment Security commissioner may have angered the wrong guy by ticking off Senate Majority Leader Bob Clegg with his proposal to raise the unemployment tax. |
| BOB CLEGG: | The Senate majority leader's selective anger is beginning to become a little transparent, considering that he tore into Brothers only after the Employment Security commissioner went to Keene to praise Clegg nemesis Sen. Tom Eaton. |
| STATE DEMOCRATS: | If they don't make big inroads this year, then you know they've got a problem. |