Flotsam & Jetsam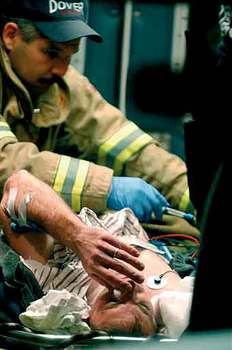 Good living
Gary Dodds, the previously unknown Democratic congressional candidate now famous for being found in the woods 24 hours after a car accident in Dover, tried to make the best of the fame thrust upon him in a rather interesting "Dear Friends"/Dodds for Congress message posted on his Web site (doddsforcongress.com) shortly after his rescue earlier this month.
Saying he was "doing well and recovering from my injuries," Dodds described what he remembered of the accident (very little) described his recovery (he's expected to make a full one) and said precious little in thanks to the dozens of state and local police officers and area firefighters, K-9 units, helicopters and marine patrol divers, along with volunteers, who spent the 24 hours searching for him.
He did, however, take the time to offer a rather detailed explanation of why he was able to come out relatively unscathed, despite frostbite, hypothermia and a concussion:
"Healthy living was critical to my survival," he wrote. "Because of it, I had the physical strength to survive the elements. I eat healthy foods, don't smoke or drink, and regularly practice Tae Kwon Do to stay strong and fit. As a small business owner and father of two young girls, healthy living is essential. Smoking and drinking have no place in my life. I don't do either."
The only thing missing is, "Button up your overcoat."
Water over the dam
There are lies, damned lies and dam lies.
On March 16, Elliot Schultz, the Senate's communications director, issued a press release headlined, "New Hampshire Dams Get a Much Needed Plug," touting the success of Senate Bill 103.
"In the Senate today," the release began, "New Hampshire dams got a much needed funding boost to ensure they are operating under safest conditions possible." The release went on to explain that the bill set a fee of 10 cents per linear foot on property fronting on bodies of water where water levels are managed by state-owned dams to finance the Dam Maintenance Fund.
After referring to the devastation caused by last year's flooding, Senate President Ted Gatsas, is quoted in the release as saying "we cannot sit idly by and allow dams to deteriorate."
Senator Sylvia Larsen, D-Concord, the Democratic leader, said "we need to do whatever we can to make sure our dams are secure and receive repair," while Senator Maggie Hassan, D-Exeter, added that the bill "gives everyone a little piece of security that lives downstream from a dam."
Unwittingly, Hassan hit the nail on the head, for the bill adopted by the Senate that day did provide "a little bit of security" — but just how little she had no idea.
The bill established a committee to study how to fund Dam Maintenance Fund, which will be stone broke at the end of the biennium, and in the meantime appropriated a single dollar toward operating and maintaining state-owned dams.
As originally introduced by Sen. Carl Johnson, R-Meredith, the bill included the fee for shorefront property, which was one of several funding sources recommended by a study committee in 2004. But the Senate Environment and Wildlife Committee amended the bill to eliminate the fee, establish another study committee and appropriate $1 million to sustain the operation and maintenance of the dams through June 2007.
But after the bill escaped the gauntlet of the Senate Finance Committee, the $1 million was reduced to a buck. The amended bill was adopted on a voice vote.
The bill is now in the House, where Johnson, along with Jim Gallagher, chief of the Dam Bureau of the New Hampshire Department of Environmental Services, earlier this month urged the House Resources, Recreation and Development Committee to restore the $1 million to Senate Bill 103.
Voting with their mouths
Senate Majority Leader Bob Clegg has once again tried his best to unmake any friendships he may have had with prosecutors in the state attorney general's office.
This time, Clegg greeted an AG report on alleged voting fraud with the air of a teacher throwing a student's disappointing term paper in the wastebasket, all with the threat of throwing the student in there too.
The AG's office was called upon, essentially by Republicans, to look into alleged voting fraud in the 2004 election. In GOP parlance, by the way, "voting fraud irregularities" means "college students casting ballots."
Anyway, after what they described as an exhaustive investigation, state prosecutors said they found little if any evidence of voter fraud.
"The results of our investigation reflect that there are very few instances of wrongful voting in New Hampshire, the overwhelming majority of which involve people who had a right to vote somewhere in New Hampshire," Deputy AG Bud Fitch wrote in his report to legislative leaders.
In response, the ever-suspicious Clegg said, "I'm not buying it."
What Clegg wasn't interested in purchasing is the core of the report: Of the 4,000 targeted returns investigated from Election Day 2004, the AG's office found three cases of actual illegalities.
Despite that .00075 voter fraud rate, lawmakers are convinced that the state is in a crisis situation, which is why the House and Senate approved voter ID bills earlier this session. The Senate also is currently considering a House bill that would make it easier to file Election Day challenges against newly signed-up voters.
Making the rounds…
• Why would Dem congressional hopeful Peter Sullivan complain about interference by the governor's office, and perhaps others, in the 1st C.D. primary? Well, why not?
• It's only downhill from here in New Hampshire for Arizona Sen. John McCain.
• Hip surgery didn't prevent new GOP Chair Wayne Semprini from shooting from it.
• After the smoke cleared on the smoking ban, it was obvious that the measure never had a chance in the Senate.
• What do you think that first debate in the Dem 1st C.D. primary's gonna be like, now that his opponents know that Gary Dodds is a Tae Kwon Do buff?
F&J TOTE BOARD
| | |
| --- | --- |
| GARY DODDS: | When the Democratic congressional hopeful was found half-conscious in the woods after a car accident, he may have proven to be overqualified for Congress. |
| JOHN LYNCH: | The governor racks up what may be one of the crowning achievements of his tenure by showing up Secretary of State Bill Gardner on knowledge of the 1976 presidential primary. |
| WAYNE SEMPRINI: | The new state Republican Committee chairman does his best to change the subject from phone jamming by charging in a Hotline article that Dem Party Chair Kathy Sullivan is "in over her head" in trying to convince her national party to maintain the presidential primary schedule. |
| VIRGINIA BEECHER: | After more than a decade on the job, the director of the Division of Motor Vehicles produces a 10-page report aimed at speeding up waiting lines at DMV offices. |
| JACK HEATH: | Your ears didn't deceive you: the political consultant/radio talk show host actually introduced Alicia Preston as an objective-sounding "political analyst" on his radio program without ever mentioning she works in his political consulting business. |