Flotsam & Jetsam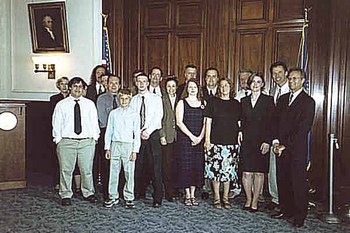 A dream deferred
Far, far, far short of its goal of luring 20,000 libertarian anti-taxers to New Hampshire by 2006, the Free State Project has decided to scale down its ambitions.
Actually, the self-described "porcupines" have decided to abandon the whole idea of getting a critical mass of fellow travelers to New Hampshire and take over the joint – politically, of course.
Why? Well they've so far managed to convince 130 of their counterparts around the nation to move to New Hampshire, despite their best efforts and the efforts of former Gov. Craig Benson.
So if you do the math, that means they'll have to get another 24,870 Free Staters to move here by the end of next year. But that's only if you're into accounting, because Amanda Phillips, the Free State Project's president and head New Hampshire cheerleader, now says the 2006 goal wasn't really real – really. Instead, she and fellow Free Staters say, it was kind of like a grand experiment that … failed.
At first sounding somewhat defensive about the collapse of their cause celebre – "No one's ever done this before, so you can't predict things" she told the Concord Monitor — Phillips was little more critical of their plans.
"What we found was what the people out there wanted to do was very different than how the project was structured," she said. "What it looks like people want to do is, is people don't want to wait for 20,000. People want to move to New Hampshire when they're ready to, and work toward liberty."
Not to pour gasoline on the fire, but when the brains behind the Free State Project – Yale instructor Jason Sorens – shows no interest in moving to New Hampshire during the two years since he foisted the idea on the Granite State, you're probably starting with two strikes against you in the first place.
Light their fire
When it comes to burning bridges, former Senate President Tom Eaton seems to be right up there in a league with General Sherman.
The man who managed to tick off more than half the Senate before being forced to demote himself to the rank and file, has managed to add to his total with the recent revelation that he deliberately redirected two-thirds of the money in a PAC designed to help fund GOP Senate campaigns because he still harbors a grudge against Ted Gatsas, the man who ousted him as Senate prexy. Instead of passing the complete fund over to Gatsas' control — the Senate president oversees the PAC — Eaton handed over a $16,000 check to the state Republican Party. Why? Well, he told a few media outlets, because Gatsas' bid for the presidency was supported by Democrats. Nice try, Tom. But more than a few of your fellow senators remember that it was the Dems who helped put you in the presidency in the first place – against none other than Ted Gatsas.
The bottom line: even senators who opposed the overthrow of Eaton say he's got some 'splaining to do. The only problem is at this point he's ticked off so many of them, he might not be able to find anyone who will be willing to give him the time to hear his explanation.
And then there's the case of the other bridge Eaton has managed to give the Mrs. O'Leary's cow treatment. After his money transfer was first uncovered, the flame-throwing senator initially blamed it on the good folks at Elevare Communications, political consultants Rich Killion and Erik Taylor. That one didn't fly either, considering that Killion and Taylor never handled the money.
As Killion told Kevin Landrigan of The Telegraph: "We don't do the PAC reports and had nothing to do with the checkbook. I consider myself a friend of Senator Eaton, but I was stunned by his misguided remarks and believe he owes me an apology."
Putting his money where his mouth is
His poll numbers may be higher than Judd Gregg's, but in a recent Bingo game in Berlin, Gov. John Lynch apparently wasn't quite as lucky as New Hampshire's senior senator.
Lynch earlier this month kept an election campaign promise to take part in the weekly Bingo game at St. Anne hall in Berlin. The not-quite free-spending Lynch played one card and several rounds during his two-hour stay, and even called a game or two. He also won over the crowd of about 140 people, who were impressed that he actually remembered – let alone kept – a campaign pledge.
But he did come up empty in the winnings department – as opposed to Gregg who famously cashed in an $850,000 Powerball ticket last month.
Making the rounds…
• If you actually believe that Tom Rath's Gang of Five lobbyists studying the feasibility of a Rockingham Park without gambling weren't hired to actually lobby, then there's a certain bridge in Brooklyn you might be interested in cutting a deal on.
• Why wasn't Jeb Bradley all aboard when Charlie Bass took his recent train trip touting a Lowell, Mass.-to-Concord, N.H. commuter line?
• Too bad the Executive Council didn't show the same due diligence on the Public Utilities Commission nomination of Graham "No Show" Morrison that they did on the failed Chris Houpis appointment.
• Boy, that same-sex marriage commission sure knows how to make the front page, doesn't it?
• How soon they forget, eh Mayor Streeter
F&J TOTE BOARD
| | |
| --- | --- |
| JOHN KERRY: | Returns to New Hampshire and fires up a Manchester crowd. Now what? |
| TOM RATH: | Harriet Miers' D.C. escort is quoted on the front page of the New York Times about the Libby indictment, but what would he do if the New Hampshire goes the way of the Concord Coach? |
| N.H. AUDUBON SOCIETY: | Laying off employees without notice – in the very hot public spotlight – is definitely for the birds. |
| TRAVELING LAWMAKERS: | Reimbursed jaunts to Puerto Rico, Taiwan, Czechoslovakia and Greece, among others, all in the name of constituent service. |
| JUDD GREGG: | If the senator wants to tax windfall profits, why not start with millionaires winning at Powerball? |
| CHARLIE BASS: | The only congressman in a four-hour venting session for GOP lawmakers to call for new leadership elections seems to want to distance himself from someone. |