Flotsam & Jetsam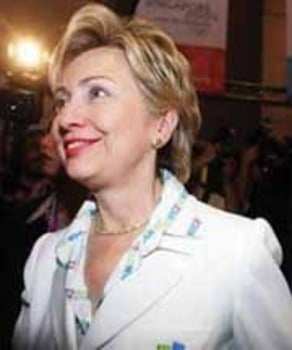 Every cloud has a silver lining
At a time when consumer confidence is heading in the exact opposite direction of energy prices and when Americans in general are justifiably worried about security threats, economic threats, health threats and the break-up of Brad and Jen, it's nice to know that at least one group of people is delusional enough to think that gray skies are gonna clear up and they can put on a happy face.
That group is none other than the slap-happy folks at the New Hampshire Democratic Party, who actually are going around the state claiming that they have a chance not only to make some political gains in '06, but that they actually can win a majority in the New Hampshire House of Representatives.
You read that right: a majority in the House of Representatives.
And it's none other than Jim Craig, the state rep who has the dubious honor of leading the vastly outnumbered Democratic minority in the House, who is voicing that opinion.
He most recently told a gathering of North Country Democrats – about 80 of them, according to press reports – that 2006 is going to be the Year of the Donkey. In fact, he asserted: "We have been the minority in the House since the 1920s, and I can't see any good reason why that should continue.
Never mind generations of life as the permanent minority, never mind the current 100-seat GOP advantage, never mind the historical failure of Democrats to enlist a full slate of candidates — and certainly never mind the failure of the party to come up with a cohesive plan to win a single congressional seat, let alone an entire legislative body. No the quixotic Craig told his audience, don't let reality butt its obnoxious nose in on the party's plans.
"My dream is not out of the question," he said, "and next year is the perfect time."
He added: "Everything is set up for us, and shame on us if we don't take advantage of it."
If you say so, Jim.
The Rath of Coulter
It's not often that you have to feel sorry for Tom Rath, the Republican Renaissance man and national press corps' go-to pundit.
But that's exactly how you had to feel when his name appeared on the Web site of Ann Coulter, the Morticia Addams of right-wing talking heads.
Headlined, "Tom Rath?" the Oct. 16 item described the eminent Concord attorney as "the man the Bush administration is using to strong arm (sic) Senate Republicans to vote for Harriet Miers. She quotes Newsweek – part of the liberal media conspiracy whose information on Rath can be trusted — "[W]hen George W. Bush's political team wanted to send ambitious Republican senators a firm message about Harriet Miers (crude summary: 'Lay off her if you ever want our help'), they chose Rath to deliver it."
Coulter continued: "According to the list of accomplishments Tom Rath cites on his own 'webpage', he actively assisted in the U.S. Senate process that confirmed David Souter as Supreme Court Justice… It can only be a matter of time before John Sununu calls Miers a home run! (At least she's a good bowler!)"
Higher ground
The national press, not to mention New Hampshire's, was all a-twitter about the Oct. 28 fund-raiser being held in Boston for our very own Gov. John Lynch.
It wasn't the location, and it certainly wasn't the idea of a politician aching to get his hands on some Beantown money, that was making the punditry almost rapturous about covering the event. It was the guv's special guest – none other than the senator from New York, Hillary Clinton.
In fact, they were so distracted by the presence of Mme. Hillary that most failed to notice the fine print of the event: the Lynch Committee, host of the event, was soliciting funds that comply with all federal requirements and limits. Why would a fund-raising committee do that if it wasn't thinking of opening a federal political action committee down the road or keeping an account that could be converted to a federal PAC?
And since the only reason to have a federal PAC is to run for federal office, should John Sununu start worrying?
Just asking
With "conflict of interest" a phrase heard more in the last year or so among politicians, particularly New Hampshire Democrats, a question:
Is there a potential COI – that's conflict of interest, for those acronomyically impaired – if state Democratic Party Executive Director Nick Clemons stays on the job when his older brother Bret makes it official and runs in the 2nd Congressional District Dem primary?
Making the rounds…
• Is Sen. Bob Odell grooming himself to take on the chairmanship of Republicans for Lynch '06?
• HHS Commissioner John Stephen gets a noticeable gleam in his eye whenever someone asks him if he's thinking of running for governor.
• If Bernie Streeter actually is considering running to regain the Executive Council seat now held by Deb Pignatelli then Council District 5 Republicans are indeed desperate.
• It's not the Democrats Charlie Bass should be worried about facing.
F&J TOTE BOARD
| | |
| --- | --- |
| JUDD GREGG: | What else can you say? The rich get richer. |
| CONCORD MONITOR: | Newspaper gets a little OCD about Judd Gregg's lottery win, with back-to-back front-page lead stories and an editorial. Someone over there jealous? |
| MITT ROMNEY: | The Massachusetts governor and potential presidential candidate gets blasted in the Massachusetts press for inadequate flood response. No worries: He's already written off the possibility of taking Mass. in '08. |
| JIM TOBIN: | The alleged phone-jamming mastermind tries to get his indictment dismissed on what can only be described as technicalities. |
| CYNTHIA HUNTINGTON: | New Hampshire's poet laureate steps down from her post after finding her "dream home" – in Vermont. |
| N.H. PRESIDENTIAL PRIMARY: | Even if they insert one caucus between Iowa and New Hampshire, it's bye-bye candidates. |