Flotsam & Jetsam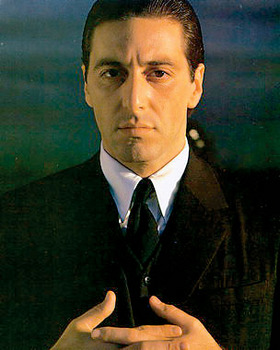 A resignation he couldn't refuse
You couldn't actually say that Senate President Tom Eaton was eager to accept the resignation of his longtime majority leader, Bob Clegg, earlier this month. But there was something lingering after Clegg said he'd had enough being No. 2 (or was it No. 1A?) to the Senate's top dog.
In proving that one man's policy issue is another man's personal reason, Clegg cited a difference over policy as the motivation for his stepping down, while Eaton insisted there was no such thing, going so far as to insist that Clegg told him he was resigning for "personal reasons." That makes things pretty clear.
Nevertheless, it was Eaton – who called Clegg "my closest friend" – who tried to wrap himself in the "personal" cloak by insisting that accepting Clegg's resignation was "personally very difficult for me to accept." Personally, yes. Politically … well that's another story.
Or, as Michael Corleone tells his brother Sonny in "The Godfather": "It's not personal, Sonny. It's strictly business."
This is why they compare laws to sausages
As if you couldn't find anything more to screw up in the screwed-up annals of E-ZPass in New Hampshire, it turns out that all those lawmakers – read the Senate president and his former majority leader – who were so insistent that buyers of E-ZPasses pay full freight ASAP, didn't quite add up the costs before coming up with the retail price.
It turns out that the $24 shelled out by those E-ZPass customers who missed out on the $5 transponders doesn't include the shipping and handling cost of the device. The real price tag is $27.50, which includes a $3.50 S&H charge. Which explains why people who were even remotely following the back-and-forth over the actual transponder price – it ranged anywhere from $24 to $30 — must have felt like Linda Blair in "The Exorcist" their head was spinning so much.
Everyday low expectations
To give you an idea of how the North Country economy has been faring of late, consider the remarks of Gorham Town Manager Bill Jackson, hailing a recent event as "the biggest economic boost to the Berlin-Gorham area in 30 years."
What would cause such economic elation? A factory opening? Installation of broadband infrastructure in the area? Addition of 500 jobs at the pulp and paper mills?
Answer: Announcement that the way is paved for a 152,000-square-foot Wal-Mart Supercenter to be built in Gorham.
Out of one, three
Fortunately, the governor and other supporters, tacit or otherwise, of the current school-funding law have given up on the ruse of claiming that donor towns were a thing of the past. Otherwise, like Lucy, they'd have a lot of 'splaining to do.
In what can only be described as the latest in a long line of legislative votes based on misinformation, or simply just wrong calculations, it turns out that the widely hailed claim that the number of statewide property tax donor towns won't be reduced from 42 to one, but actually there'll be three: Hebron; New Castle; and Jackson. (Just to remind you, the legislative session started with the universally uttered claim that there would be NO more donor towns.)
And yes, you would be right if you were thinking, "Wait a minute – didn't they pass that law in June, and they're only finding out now that there are three times as many donor towns as they thought?"
How do things like this happen? Martha Fuller Clark, the state senator who represents New Castle – and voted against the final school-funding bill – shines some light on the matter.
"I was assured that the only donor community was Hebron," she told the Portsmouth Herald, citing a conversation she had with Sen. Ted Gatsas, R-Manchester, the architect of the measure.
So much for assurances.
Making the rounds…
• One thing you've got to say about the Republican National Committee: They really do believe that you're innocent until proven guilty, at least when it comes to Jim Tobin.
• Bruce Keough is not crazy, or willing to be a sacrificial lamb. But there's a pretty good list of potential '06 GOP gubernatorial candidates who are.
• If Ed Theobald, the soon-to-be former chairman of the Retirement System board, thought having a fellow Democrat in the corner office would help him, boy was he wrong.
• Did you ever get the feeling that Howard Dean is one step away from losing it completely?
• Wesley Clark didn't get his fill the first time he ran for president?
• Too bad "E-Z" puns aren't slated for oblivion, like highway tokens.
• Sure, Wisconsin Sen. Russ Feingold isn't running for president. And he and Manchester Mayor Bob Baines – for whom he'll appear at a fund-raiser – go way, way back too.
F&J TOTE BOARD
| | |
| --- | --- |
| TOM EATON: | With Bob Clegg on the other side, he might actually have an easier time getting elected governor than getting re-elected Senate president. |
| TED GATSAS: | Perhaps he needs a little remedial help in math, considering he was off by 200 percent in the number of "donor" towns his school-funding plan would leave. |
| GAMBLING: | A legislative study committee begins its three-month job of looking at expanding gambling. All bets are off. |
| CANDLEPIN STARS AND STRIKES: | You mean there won't be anything on TV to help you take a nap on Sundays? |
| JOHN WARD: | The 21-year-old freshman rep, charged with buying alcohol for a minor, may still be waiting for his sentence, but the billboard on I-293 is pretty clear. "You Buy, You Pay" – up to a $2,000 fine and a year in jail. |
| ED THEOBALD: | Nineteen days after submitting a letter saying he doesn't want the retirement system chair job anymore, he gets all huffy when people – gratefully — take him at his word. Go figure. |
| N.H. PRIMARY: | With Dr. Dean attending to the patient, should we get a second opinion? |
| KILLINGTON: | Say this for the Vermont town's elected officials, even though their legal challenge was thrown out of court, they have not yet begun to fight. |
| JUDD GREGG: | He's one of only four senators to vote against the federal transportation bill on July 29, the same day he sends out a press release taking credit for the $20 million the bill contains for rebuilding the Little Bay Bridges. |