Flexibility, reliability are manufacturer's forte
Where GSM once made just piece parts, it now builds entire systems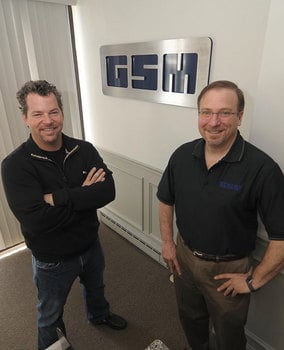 In the film, "The Hunt for Red October," two submarine antennas manufactured by Manchester-based Granite State Manufacturing stop working in a crucial scene when the crew needs them to communicate news of an impending attack. Not exactly the best advertisement, but "it wouldn't be a movie if they worked," says John Allard, GSM's chief executive.
Even if Hollywood doesn't do the company's antennas justice, the reliability of GSM's antenna systems was firmly established last year when it won a $26 million, multi-year contract with the U.S. Navy to refurbish its submarine fleet's antennas.
But antenna systems aren't the only reason the family-owned contract manufacturer, which provides engineering and manufacturing services to customers in the defense, medical, semiconductor, robotics and industrial equipment markets, has grown substantially in recent years.
GSM was founded in 1937 by Edmond Allard, John's grandfather, as a tool and die shop in the former mill building it still inhabits at 124 Joliette St. There, Edmond manufactured piece parts for machines that made apparel, hats and shoes.
After his son Gerry took over the company, he worked hard to establish GSM as a defense contractor, forging the relationship with the Navy that continues to this day and building its reputation as a leading New Hampshire manufacturer.
In addition to the 80,000-square-foot Manchester facility, GSM also operates a facility in Baltimore, Md. About 130 people are currently employed at GSM, including engineers, machinists, welders, program management people and others, some of whom have worked there for more than 50 years, says GSM President Glenn Lawton.
Where GSM once made just piece parts, it now builds entire systems. Customers approach GSM with ideas and preliminary sketches and leave with completed products.
Among the high-precision products GSM manufactures are x-ray machines, PET scanners, marine handling systems and drug-testing equipment.One of the company's largest growth markets in recent years has been in manufacturing robots used to detect and defuse bombs, which are in high demand due to the abundance of improvised explosive devices, or IEDs, in Iraq and Afghanistan. Lawton says they have made more than 1,000 of the robots and tens of thousands of replacement parts, such as arms and cameras.
In the last five years, Allard says GSM's revenues have been between $25 million and $40 million each year – a significant hike from the $7 million to $15 million it made annually earlier in the decade.
A Reliable Manufacturer
Ed Godere is senior vice president of unmanned systems groups at QinetiQ North America, which owns Foster-Miller, designer of the TALON robot that GSM manufactures. Godere says GSM's flexibility makes the company a reliable manufacturer.
"We've put some pretty strong demands on them over the years. Orders from our customers are not exactly timely," says Godere, citing the surge in Iraq. "We had to put a lot of pressure on GSM to accelerate production of the robot. They stepped up and added more resources."
"Almost all the important jobs we do are under a tight schedule or near-impossible schedule," says Lawton, "and we just have to make sure we pull it off and make sure it's right the first time."
Even as the U.S. military begins to wind down its presence in Iraq, Allard still anticipates some demand for the specialized robots since customers are beginning to sell them to other countries.
Besides, Allard says he knows from years of experience in contract manufacturing not to invest too heavily in one industry.
"We could have easily added facilities, spent a lot of money in areas, and we'd now be wondering what we were going to do in those areas and with those investments," he says. "You can't let one customer become 100 percent of your business, because you can't rely on it."
One of GSM's new focuses is power generation, both through underwater turbines and windmills, but given the nature of the business, the company could find itself working on any number of products in the coming years.
"Every two or three years you come in here, it'll be an entirely new set of products," says Allard.
Godere says it's this "willingness to try new things" that makes Granite State Manufacturing successful.
"They haven't said, 'We only do this type of work.' They're very open to supporting new projects."
Citizens Bank's In Good Company is presented in partnership with NHBR. The series spotlights growing New Hampshire businesses with unique stories to tell. For more information, visit citizensbank.com.