Flatley issues its fifth Challenge to startups
Annual competition offers space, assistance to high-tech firms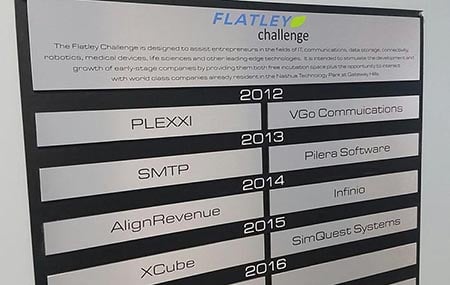 Applications are being sought for the fifth annual Flatley Challenge.
The challenge gives young high-tech companies a shot at free rent for one year for up to 5,000 square feet of office space at the Nashua Technology Park or Nashua Office Park at Gateway Hills, and up to $10,000 in fit-up, connectivity and related costs.
The competition is designed to assist startups and emerging businesses in the fields of IT, communications, data storage, connectivity, robotics, clean tech, medical devices, digital health, mobile app design, life sciences and other leading-edge technologies.
Participating companies must provide some information, including a business plan, history, job growth potential and long-term business goals.
Previous winners include networking firm Plexxi Inc., VGo Communications, Pilera Software, creators of an online property management solution, cloud-based email delivery service provider SMTP Inc. and last year's winner Infinio, a firm specializing in data storage performance technology.
Submissions should include an executive summary, an existing business plan or a thorough description of the nature of the venture, including a history of the business, its proposed or existing product line, the characteristics of the potential market, a marketing plan, an organization of the business and management team, existing and projected financial resources, long-term business goals and job growth potential for the next three to five years.
Finalists will be invited for a personal interview before a review panel in early December, and the winning applicant will be notified by Dec. 30.
Deadline for applications is Friday, Oct. 28. There is no application fee and candidates are encouraged to apply online at gateway-hills.com/flatley-challenge.
Questions about the Flatley Challenge should be directed to Kathleen McLaughlin at the Gateway Hills Welcome Center, 200 Innovative Way, Nashua, N.H., by phone at 603-598-7500, or by email at Kathleen.mclaughlin@johnflatleyco.com