Five Product of Year Award finalists named
Nov. 12 event set at Manchester Country Club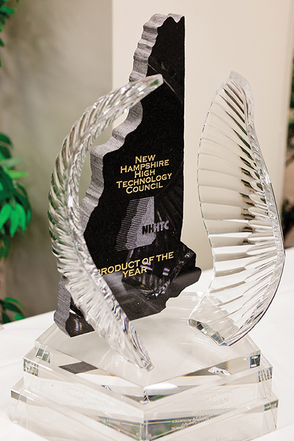 ARC Energy, Plexxi, Rapid Insight, Retrieve and B2W Software have been named the five finalists in the 2015 NH High Tech Council's Product of the Year Award competition.
The event celebrates innovative products developed in the past year and provides a platform for entrepreneurs and inventors to receive free advice, major product promotion, and podium time in front of hundreds of tech leaders at the finalist event on Thursday, Nov. 12.
The products are:
• ARC Energy's CHES500 Furnace, the world's largest automated production sapphire furnace, capable of producing single-crystal sapphire boules, which are the largest crack-free sapphire crystals in the world and are used in LED lighting and cell phone cover glass.
• B2W Software's Maintain, an enterprise-class construction software for transportation, water, sewer, petroleum, power and telecommunications industries that minimizes unplanned equipment downtime and optimizes production.
• Plexxi's Switch 2 Series, a disruptive networking solution that transforms decades-old legacy network architecture with today's complex and dynamic networking needs.
• Rapid Insight's Rapid Insight Analytic platform, which allows organizations to quickly build predictive models and analyze big data; and
• Retrieve Technologies' SaaS platforms that enable businesses and individuals to communicate more effectively and transfer information more efficiently. Retrieve creates software solutions at the intersection of video communication and mobile distribution. Retrieve's video-based mobile applications, called kApps, expand their user's ability to share and interact with information.
The finalists will present their innovations to a live audience at the awards event, which starts at 5 p.m. at the Manchester Country Club in Bedford.
Along the way, they receive advice, major product promotion and podium time in front of hundreds of entrepreneurs and tech leaders. The first place POY winner will also be featured in a display at the Interstate 93 South Welcome Center in Hooksett.
Online registration to attend the POY event on November 12 is now open.
The event's major sponsors are Autodesk; BerryDunn; Cook, Little, Rosenblatt & Manson; Cross Insurance; Dunn Rush & Co., Dyn; Eversource, FairPoint Communications; Hanover Insurance; TD Bank; NH Business Review, and Single Digits.
Tickets are $50 for members and $75 for others, and includes dinner and networking. For more information, visit