First hearing set for I-93 Concord expansion
4.8-mile, $260 million project to address traffic volumes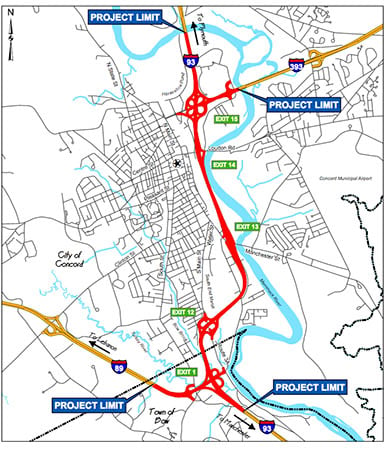 The NH Department of Transportation will hold its first public hearing on the $260 million plan to widen Interstate 93 from Bow through Concord on Wednesday, Nov. 14.
The hearing will begin at 7 p.m. at the NH Department of Transportation, 7 Hazen Drive, Concord. At least three members of the Executive Council, members of the special committee looking at the project, are expected to be in attendance.
The proposal calls for widening a 4.8-mile portion of I-93 from the Grandview Road overpass in Bow to the Merrimack River Bridge in Concord, including improvements to five interchanges.
NHDOT says "the continued pressures of high traffic volumes, coupled with geometric and operational problems, suggest the need for improvements."
The project will also extend about 0.8 mile along Interstate 89 in Bow, from Route 3A north to Exit 1.
Interested property owners, public officials and highway users will be given the opportunity to comment on the project. Written statements and other exhibits may be submitted to the Chairman of the Special Committee, c/o Peter Stamnas, director of project development, NH Department of Transportation, P,O, Box 483, Concord, NH 03302-0483 up to 30 days after the date of this hearing for inclusion in the official record.
More information can be found at the project website – i93bowconcord.com.