First Deal of the Year Award goes to CBRE/New England
Brokers Dieker, Tamposi and Clancy honored for Pettengill Road lease and sale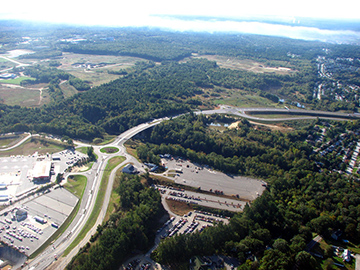 Three CBRE/New England brokers – Roger Dieker, Michael Tamposi and Steve Clancy – took home the 2014 Deal of the Year Award at the first New Hampshire Commercial Real Estate Awards ceremony.
They were honored for the lease and subsequent sale of the 614,000-square-foot build-to-suit facility developed on Pettengill Road in Londonderry by Prologis.
The facility is scheduled for completion in the summer.
UPS, in agreement with Pratt & Whitney Logistics, will use the space as a central distribution center housing parts, tooling and supplies. The project is slated to bring approximately 250 jobs to the state.
The deal also earned Dieker, Tamposi and Clancy Industrial Lease of the Year and Industrial Sale of the Year awards.
New Hampshire CIBOR Cares hosted the event in collaboration with NH CIBOR to raise funds to provide charitable support for individuals and nonprofits covering immediate need assistance throughout the state as well as for other non-profits supported by NH CIBOR members.