Firm's hallmark is dedication to customers, employees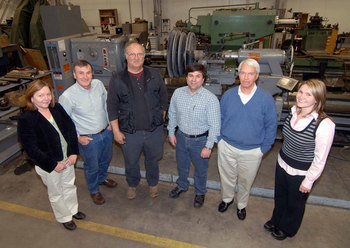 Keith Frisbee, owner of Energy Resources Group Inc. accepted a dozen roses as payment for his first job — an energy audit performed at a local greenhouse. A similar job at a lobster company followed. His payment: lobsters.
"I told my wife, 'See, I am putting food on the table,'" Frisbee said while describing the birth of the company he began in the basement of his home 23 years ago. "There was no money, but now I had two references."
Today Energy Resources Group Inc. does business from locations in Dover and a 40,000-square-foot facility in Farmington. This year the company expects to do $6 million in business performing energy upgrades and repairs on power generation equipment for facilities throughout New England and as far away as western New York.
Not bad for a company that started from such humble beginnings.
"I had no customers, no tools, no employees, nothing," said Frisbee, a licensed professional engineer. "So I just started knocking on doors saying, 'I'd like to fix your stuff.'"
In addition to his determination and engineering credentials, Frisbee had years of experience in the nuclear energy industry and enough insight to see that the rate structure offered by large original equipment manufacturers in the mid-'80s would place a financial burden on smaller power plants and hydroelectric facilities, creating a niche for the business he envisioned.
The dedication Frisbee demonstrated while getting his company running has remained constant over the years, proving a cornerstone in the success of Energy Resources Group, which now has a customer portfolio that includes hydroelectric and waste-to-energy facilities, wood-fired power plants, the Department of Defense and others.
A similar dedication to his staff of more than 30 people and his surrounding community has earned Keith Frisbee and Energy Resources Group recognition by Citizens Bank and New Hampshire Business Review as this month's Not Your Typical Business Award recipient.
"Energy Resources Group puts a huge emphasis on providing a high level of customer service," said Lori J. Wingate, assistant vice president, commercial lending for Citizens Bank. "Teamwork would be one way to describe how the company functions, but I think a better description would be family."
'Like a family'
Whether in-house or on-site, all work performed by Energy Resources Group is consistent with the company's reuse and recycle philosophy.
A recent equipment redesign for a waste paper recycling company resulted in the saving of 3,000 gallons of fuel oil a day for a total savings exceeding $2 million annually and removal of tons of CO2 from the air.
Another recent call to fix a failing pump at a Boston hospital resulted in the design and installation of a new holding tank that will allow the hospital to save over 3 million gallons of water and 50,000 gallons of fuel annually.
"You need to partner with someone you trust and have confidence in," Frisbee said. "For example, we were called in by one hospital to deliver a new $40,000 piece of equipment. After looking the project over I knew we could fix the problem rather than replace the piece – it ended up costing the hospital $3,500. I left a lot of money on the table, but I think we have a new long-term client."
While Frisbee takes pride in the reputation of his company, he is the first to acknowledge that much of its reputation rests on the shoulders of his staff.
The faith Frisbee places in his staff's ability is something Mike Morin, a field engineer for the firm since 1989, appreciates.
"I really enjoy the challenges I've been given here. There's a real diversity in the jobs we do and I've been able to take on some interesting challenges," Morin said. "Keith has really allowed me to grow professionally."
Frisbee, who provides his staff with competitive salaries and benefits that include medical and dental coverage and a generous 401(k) package, also promotes a close-knit atmosphere.
"We're like a family here. I strive to hire people that fold into that type of corporate culture," said Frisbee, whose wife Lauren and daughter Carrie also work at the company. "It's not unusual for these guys to be on the road and away from their families for two weeks at a time – they really develop relationships with each other, they build a sense of camaraderie."
While the community benefits from the sheer nature of the energy-saving work performed by Energy Resources Group, Frisbee and his staff also support their community in other ways.
Each year Energy Resources Group hosts a golf tournament in support of the Make A Wish Foundation and provides scholarship support to local students.
And, on more than one occasion when local manufacturing companies closed their doors, Energy Resources Group was there to hire some of the displaced workers.
"I figured if they've got the skills they can learn the job and that's what it's all about," Frisbee said.