Firm keeps on truckin' after the Dead's demise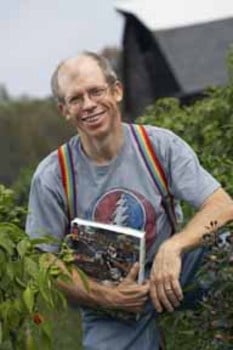 How powerful was the Grateful Dead phenomenon? Here's one piece of evidence: A New Hampshire man made a good living for over a decade by compiling lists of every song played at every one of the legendary group's concerts. John Scott sold thousands of copies of "Deadbase," the all-but-official database of Grateful Dead performances.
But 10 years ago Jerry Garcia died, and the band was no more. Scott continued to produce Deadbase, but like all entrepreneurs faced with such a development, he realized his business would have to change.
He now calls his company "Dharma Rose." The Internet retailer (dharmarose.com) sells a variety of clothing and merchandise — some Grateful Dead-related, some not. Its headquarters is the family home, an old white farmhouse in Cornish.
The first several years were a time of growth, but sales were off last year.
"On the Internet, we have to compete with the big guys," he says. "A year and a half ago, one of our major suppliers opened their own online store, and they're now the big kid on the block. That's part of the problem. Business is decent; it's at a sustainable level, but we're in an awkward time."
In such a rapidly changing environment, this soft-spoken 46-year-old is turning himself — by necessity — into a savvy businessman.
John Scott was a freshman at Dartmouth College in 1978 when he first saw the Grateful Dead perform. It also was his first encounter with the Deadhead phenomenon. "I was surprised that people followed the Dead on tour. I couldn't quite understand how someone could drop everything and make that their life."
Although he came to occupy an important niche in their world, "I never [became a Deadhead] myself. I saw a fair number of shows, but I never followed the band around the country." By a fair number, Scott means "160 or so. But a real Deadhead has to have seen over 200."
Scott graduated in 1981 with an art degree, but after a couple of years "I realized that the romance of the starving artist wasn't what it was played up to be." So he spent a year taking computer science classes at Dartmouth. That was where Deadbase was born.
"I took a database course, and my project for that was a Grateful Dead set-list database. And that's what led into this; I was archiving all these set lists for the course — and afterward, I'd already started, I couldn't stop then."
For a few years it was a hobby, and Scott worked at Dartmouth. "I was writing an online interface for statistical databases in the social sciences. Back then it was a very new field. During my time there it changed to something that's still in use — DCIS, Dartmouth College Information System, an online interface to a wide range of databases."
By 1986, Scott wanted to publish Deadbase. He saw a ready-made market among the legions of Deadheads and their lively trade in bootleg tapes. "There were a lot of tapes in circulation. People needed ways to keep track of tapes, and find out what else was out there. That was the driving force behind it."
Scott contacted Dennis McNally, a writer of some note who was close to the band. Through McNally, Scott gained the band's permission, and he pledged to donate a portion of the proceeds to band-approved charities.
"The print run started out pretty small — a thousand or two," but sales picked up, and in 1988 Scott quit his job to work full-time on Deadbase.
"I did these books pretty much yearly for seven or eight years. I'd come out with a new one, and I started doing supplements that covered just that year in just nauseating detail. I listened to every show, timed out every song, and we'd have reviews of every song."
Truly a Deadhead's dream. By its final edition, Deadbase was nearly 600 pages long and cost about $35.
Challenging time
On Aug. 9, 1995, Jerry Garcia died. His bandmates decided to retire the group, rather than carry on without their guitarist and leader.
Scott produced two more editions of Deadbase, but the writing was on the wall. In 1999, he and his wife Terrie launched a Web-based business called "Deadbasics" that sold Grateful Dead-inspired apparel and remaining copies of Deadbase.
But they knew it couldn't last forever. They started carrying other kinds of clothing, although the Dead remained the heart of their business. They changed the name to "Dharma Rose," which was less overtly tied to the band and to Deadbase. They experimented with other merchandise, including scented candles and personal-care products. It paid off in the short run.
"Diversity was important to me," says Scott. "I wanted to offer something for everyone. But that also had a big cost; our inventory was out of control." He now plans to eliminate the non-apparel items, and streamline his clothing selection.
It's a challenging time for John and Terrie Scott. Dharma Rose is in transition, and family expenses are high. They have a 19-year-old son in college; soon enough, they will be paying tuition bills for their other sons, ages 16 and 13. Health care is a heavy burden; Scott says they paid about $20,000 last year for insurance and medical expenses.
Would their life be different if Jerry Garcia hadn't died at the age of 53? Would they still be making a living off Deadbase? Scott isn't so sure. Thanks to the Internet, he says, "it's all available for free. I don't think it was just Jerry's passing that marked the end of Deadbase. I think it was also the way the Internet was moving, with the philosophy that things should be free, which I actually agree with to a large extent."
Whatever the future holds for Dharma Rose, Deadbase will live on. Scott has sold remaining copies for as much as $250 on eBay. Its contents will soon be posted on the official Grateful Dead Web site.