Firm has 'unique partnership' with customers, community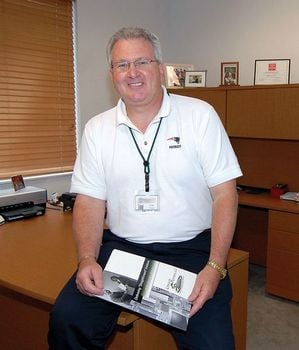 The success of a company today is at least in part dependent on its ability to keep pace with the changing world of technology. For many companies, however, the arrival of new technology presents the dilemma of how best to dispose of surplus IT equipment in a cost-effective, environmentally sound and data-sensitive manner. One Merrimack company has been providing the answers for nearly six years.
Lifecycle Partners LLC is a full-service computer and electronic asset recovery provider dedicated to turning a company's obsolete electronics into a financial asset.
While the process varies from customer to customer, Lifecycle offers its clients complete reverse logistical support and will either complete an inventory and capture barcodes for tracking purposes at the company's headquarters or upon arrival at either Lifecycle's 58,000-square-foot facility on Continental Boulevard in Merrimack or its satellite facility in Morrisville, N.C. – whichever is closer.
Once inventoried, the equipment is either refurbished and resold, dismantled and harvested for saleable parts or, in the case of end-of-lease equipment, prepped to be returned to its OEM, saving the Lifecycle client time and money.
"We work to provide our clients with a return on their investments," said Jim Luciano, director of sales, marketing and client services for Lifecycle Partners. "Our goal is to see that the resale value of the equipment offsets the cost of disposal."
The dedication of Lifecycle Partners to meeting the needs of its clients is seen in its similar dedication to the company's employees and surrounding communities. For this reason the company has been recognized by Citizens Bank and New Hampshire Business Review as this month's Not Your Typical Business award recipient.
"Lifecycle has a unique partnership with its customers and the community," said Gary Hatfield, relationship manager for Citizens Bank. "Lifecycle offers a straightforward solution to the problem of outdated IT equipment that maximizes the customer's return and minimizes other risks, including environmental risk, which is a growing problem that concerns all of us and the world we live in."
Today's growing list of Lifecycle clients includes the names of numerous Fortune 500 and Fortune 1000 companies, from large OEMs and defense contractors to insurance and financial institutions, hospitals and colleges.
Environmentally conscious companies appreciate Lifecycle's commitment to reusing equipment or components whenever possible, recycling those pieces that cannot be reused and properly disposing of any other material through domestic handlers that meet federal, state, local and corporate regulation standards.
Locked cage storage and 24 hour surveillance coupled with disk overwriting, drive degaussing, disk shredding and asset and ID tag removal services offer clients peace of mind that their data will remain secure.
Security is especially important for clients like Raytheon Company, which sends thousands of units annually to Lifecycle, where they are prepped for return to the OEM at the end of a lease.
"We've had a working relationship with Lifecycle Partners since 2003, and they have accommodated us very well," said Michelle Brunelle, end-of-lease coordinator for Raytheon. "The company processes our end-of-lease equipment, ensuring it is in returnable condition."
Lifecycle officials give much of the credit for the success of the company to its 35 employees.
"Without your employees you're nothing," said Mary Bendix, the firm's marketing and accounts manager. "I don't know a single business that can grow and remain successful without its employees."
In addition to a competitive salary and benefits package, Lifecycle Partners offers referral bonuses and other incentives. A monthly luncheon and timely birthday celebrations are only a couple of the ways the company tries to show its appreciation for a job well done.
To operations manager Jodi Morris, the team mentality and cooperative atmosphere is part of what makes Lifecycle Partners a great place to work.
"We continue to grow but it's still a family atmosphere," said Morris who has been with the company for five years. "It's just a nice place to work."
Perhaps Lifecycle's greatest contribution to the community is the service the company provides. An estimated 400 million units of electronic waste is expected to end up in the nation's landfills each year through the end of the decade. Through its efforts, Lifecycle Partners has given large companies a viable alternative to adding to the country's e-waste stream.
Closer to home, community outreach begins at Lifecycle's Merrimack facility, where developmentally disabled individuals from The PLUS Company are given the opportunity to hone their vocational skills by working at everything from dismantling and cleaning PCs to processing field returns.
Lifecycle, a member of the Greater Manchester Chamber of Commerce, recently was asked to take part in the creation of the organization's "Green Committee," on which it will work toward encouraging a greater and financially viable environmental consciousness among New Hampshire businesses.
Mike Salter, executive chairman of Lifecycle Partners, is a member of the board of directors for Easter Seals and is currently serving as chairman of the organization's Veterans Count Program.
In addition, Lifecycle Partners supports numerous other causes including youth athletics, area schools and educational programs and UpReach Therapeutic Riding Center through financial and in-kind donations.
"It's just a good feeling," Luciano said of the company's community service endeavors. "We always strive to be a good corporate citizen."
The Citizens Bank Not Your Typical Business Award is presented in partnership with New Hampshire Business Review. Businesses are selected each month based on the company's commitment to community, colleagues and customers. Visit Citizens Bank online at www.citizensbank.com.