Firearm season for deer to start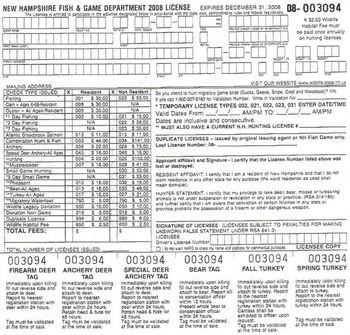 VIEW ARTICLE CHART
Firearm season for whitetail deer starts Wednesday, launching the busiest three weeks of the year for hunters in New Hampshire.
Deer are by far the most popular game for hunters here, and while it has been legal to hunt them with bow and arrow since Sept. 15 and with muzzle-loading muskets since Nov. 1, it's the ability to hunt legally with rifles or shotguns that brings hunters into the woods and fields. This popularity is relative, however, because the number of hunters in New Hampshire is continuing a long, slow decline – as it is in the nation as a whole and in most industrialized countries.
The state has sold 59,768 hunting licenses this year, according to N.H. Fish & Game. That's down from last year's tally of 61,076, and is a whopping 28 percent decline from the tally of slightly over a decade ago: 83,292 licenses were sold in 1996.
It's not always simple to be a legal hunter (or angler) these days. Different species have different seasons during the year, sometimes depending on your age or the type of weapon used. You have to buy a license, then buy a separate extra license or special "tag." Legal seasons also differ depending on where in the state you hunt, because New Hampshire is divided into 18 "wildlife management units" that often have different rules.
For example, this Saturday, you can shoot any deer if you're in the state's southeast corner, but you can only shoot a deer with antlers (i.e., a buck) in most of the rest of the state, and in the northern tip of New Hampshire, you can only shoot a buck with at least two points on its antlers (i.e., a buck that isn't too young).
These rules are set by Fish & Game on the advice of biologists, with an eye toward managing the size of wildlife populations. Last year's heavy snows hit deer hard in the eastern and northern parts of New Hampshire, so the number of days in which antler-less deer can be taken was reduced in those areas.
Licenses are a major source of revenue for Fish & Game; the decline in hunting and fishing has led to budget problems for the department.
In response, fees have been increased in recent years, and following a long tradition of wringing more money from out-of-staters, they have really been jacked up for non-residents. (If you sign that you're a New Hampshire resident but actually live elsewhere, you face misdemeanor charges for "unsworn falsification" and serious fines.)
Last year, hunters killed 13,559 deer in the state – the second-highest tally since records were first kept in 1922. Early results from archery and muzzle-loading season, as well as the special youth-hunting weekend last month, shows kill rates about one-third less than last year, which puts results roughly in line with tallies earlier this decade.
Almost as important as hunting licenses are hunting tags, which are sold to keep hunters from killing more animals than legally allowed.
If you're caught with an untagged deer, you face heavy fines. In fact, tags are so important that it's illegal to possess one separated from the license, unless it's attached to your deer. There are also laws against putting your tag on somebody else's deer or removing a tag from a deer before it's reported and registered.
Your tag must be attached to your deer after you kill it, and then you have 24 hours to take it a registered check station. (J-Don's Variety in Nashua and the Milford Fish Hatchery are the closest.)
This registration process allows biologists to keep an eye on the health of the deer herd, because animals can be weighed and otherwise analyzed. This is how the state sees whether chronic wasting disease, the deer version of "mad cow" disease, has shown up in New Hampshire.
You can kill an extra deer each year in wildlife management unit M – the state's southeastern corner, east of Route 13 and south of Route 101 – but you need to buy a separate permit, for $13.
This rule is an attempt to control deer in New Hampshire's most built-up region, where a shortage of places to hunt has combined with deer's ability to thrive in neighborhoods to produce a four-legged population explosion.
– DAVID BROOKS