Finding a 'Bridge to the Afterlife'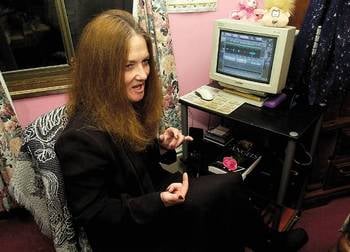 HUDSON – After her 22-year-old son died, Karen Mossey wanted to still be able to hear his voice.
Through a ghost-hunting technique called EVP – electronic voice phenomenon – Mossey believes she has found a way to hear her son and her father, who died two years ago.
About four years ago, Mossey's son Robert Browning died after having a seizure while fishing. He suffered from a seizure disorder after a car accident when he was 16.
"I always believed life continues after death," Mossey said.
When people ask her how many children she has, Mossey still replies four.
"Rob is always with me," she said. "He's just in another room."
After her son's death, Mossey was looking for confirmation of her beliefs. She turned to a friend who had been capturing EVP since the 1970s. She heard some of his recordings and started working with him.
The two found the American Association of Electronic Voice Phenomena, a group dedication to the research and practice of EVP. She's now a member.
When she first started EVP, Mossey said it was a bit scary and she was a little jumpy.
She now participates regularly in recording sessions, known as "Bridge to the Afterlife." Members discuss and learn how to use EVP to make contact with family members and friends who have died.
She also participates in investigations with the New England Ghost Project and is the organization's EVP specialist.
While many see ghosts as caricatures or joke about them at Halloween with its parties and haunted houses and hayrides, communicating with ghosts is a serious subject for Mossey. She says it has provided her
comfort to be able to hear her son's voice after he died.
Mossey's work in EVP will be featured in an upcoming trailer for "White Noise," a Hollywood movie featuring Michael Keaton.
Sarah Estep, the founder of the American Association of Electronic Voice Phenomena, defined it as "the appearance of intelligible voices on recording tape which have no known physical explanation."
"Certain equipment, which is easily obtained and need not be expensive, and a good deal of patience and persistence is necessary," Estep said. "It is not necessary to be a psychic superstar or gifted medium to communicate with unseen worlds."
When Mossey started, she began looking for her son. She thinks other spirits were trying to help her find him. She said she once heard her son's last name, which she said she hadn't told the spirits from which she had heard.
She said she eventually heard "ease up," which is something Rob always said.
"I knew the inflection in his voice," she said. "I knew his voice."
In one of the advertisements for "White Noise," Browning can be heard saying "Yup. It's Rob."
She says she has also heard her father, Stanley Searles, a well-known local politician.
Several members of the AAEVP also have deceased children with whom they say they communicate.
"I know the comfort it has brought to me," Browning said. "The one thing a parent would want to know (is) my child is OK."
In her bedroom, along with angel figurines, a picture of Jesus and a prayer to angels, is her computer that's filled with voice clips she has recorded.
"I pretty much taught myself," she said of EVP.
She said voices could be captured from the white noise a television or radio emits. Sometimes she leaves her old-fashioned radio running at night, tuned to white noise, with a tape recorder running.
There's no special place she has to be to capture EVP. Mossey has taped at home, in friends' homes, at haunted locations, cemeteries and even her car.
One summer day, when she was having difficulty breathing because of the humidity, Mossey turned on her tape recorder during the ride home. Later when she listened, she says she heard, "Having trouble breathing?"
There are different classes of EVP based on the quality of the sound. Some that can be heard very clearly are Class A. Others may need some editing to be more audible.
She has a variety of software that can be used for editing sounds – for example, by filtering out background noise.
The question most people have is "What is this?" They feel there has to be a rational explanation for what she and they hear.
She hopes the upcoming movie helps people gain more awareness and knowledge about EVP.
Mossey became involved in the trailers after attending an AAEVP conference. Members of Universal Studio doing research for "White Noise" were there and noticed Mossey, who spoke at two workshops, including one about grief management.
She was interviewed for a trailer and provided sound clips.
In the beginning, Mossey faced a lot of skepticism, even from some family members. One relative has told her he doesn't believe in EVP.
"It takes a lot of strength, a lot of courage to do this," she said.