Finance co.'s bankruptcy puts a chill on Upper Valley propane business
Court ruling sought to allow supplies to go ahead for ski area, manufacturers, propane dealers served by Haverhill firm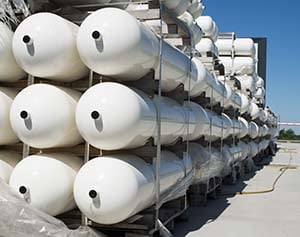 The finance company of a Haverhill-based propane supplier filed for bankruptcy reorganization on New Year's Eve after state regulators issued orders for it to stop operations.
The company, Upper Valley Commercial Corp., is seeking approval from federal bankruptcy court in Manchester to keep operating on a limited basis so that its affiliate, Patten's Gas, also of Haverhill, will be able to supply its customers, which include a ski area, three manufacturers and 11 suppliers that themselves serve 15,000 to 20,000 customers. Without the permission, their service would be disrupted.
These customers can't simply switch to other propane companies without replacing their tanks, according to the bankruptcy filing.
Despite the state action and bankruptcy filing, all parties insist that investors in UVCC and Patten are at no immediate risk. Indeed, the filing said that UVCC has about $12.4 million in assets and owes $11.8 million. And investors would get their interest paid during the interim period – from Jan. 4 to April 4 – if the bankruptcy court approves the motion.
"No one has suffered any loss," said Peter Tamposi, bankruptcy attorney for UVCC. "It is very solvent. I don't anticipate any losses."
Both the state Bureau of Securities Regulation and the New Hampshire Banking Department issued cease and desist orders during the last week of 2013, alleging that the company violated securities and banking law.
The bureau said that UVCC was selling unlawful securities without registering as a broker, whereas the Banking Department charged that it was operating as a private bank.
Alvin Fadden, one of the principal officers of the company, said that the company was simply operating the same way it has for the past 50 years.
"The rules have changed, I guess, and we were unaware of it," he said. He added that there might have been some confusion when Ed Patten, who handled the regulatory matters, passed away in May, leaving that part of the business to his son David.
Both agencies insist that they had to step in to ensure that it protected investors' (or lenders') assets, and hinted that more might be at stake, but that wouldn't be clear until both agencies complete their investigation, which was ongoing.
"Whenever there is a significant amount of money involved, we need to step in to prevent any further violations or dissipation of assets," said Jeffrey Spill, deputy director of the Securities Bureau. "It's a substantial concern, or we wouldn't have stepped in."
"We have to protect depositors. They were operating as a bank without federal deposit insurance. We needed to stop their operations," said Ingrid White, deputy bank commissioner.
White added that UVCC had characteristics that involved both banking and securities, making it similar in one way to Financial Resources Mortgage, a commercial mortgage company that was operating a multimillion-dollar Ponzi scheme.
The FRM scandal is one reason both departments seem to be working together, said Tamposi.
"They are gun-shy," he said. "That's why they want to be proactive. That's understandable. But this is not FRM. It's not even close."
He noted that bankruptcy filing is voluntary, and that the company was working closely with regulators to assure minimal disruption and no loss of assets.
White agreed that there has been "no evidence of consumer loss."
"I can't tell you what the outcome of our administrative investigation will be at this point, but no criminal charges have been filed, and we are hopeful we can reach a successful resolution," she said.