Filing says U.S. attorney steered probe away from Benson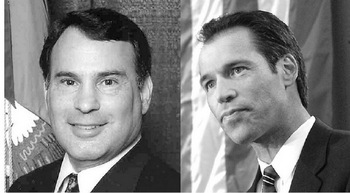 U.S. Attorney Thomas Colantuono directed a securities fraud investigation of Cabletron Systems away from then-Gov. Craig Benson, despite evidence that Benson might have been involved in sham transactions through a company he effectively controlled to boost revenue at Cabletron spinoff Enterasys Networks, charges former Enterasys chief financial officer Robert Gagalis in a filing in U.S. District Court in Concord.
Colantuono – described in the filing as "Benson's close associate" — also did not pursue allegations that Benson was funneling money, perhaps illegally, from the company, Final Mile Communications, to his gubernatorial campaign through executives, the filing said.
Gagalis is serving more than 11 years in prison after his conviction in December 2006 on charges of inflating revenue during the split-up of Cabletron, the Rochester, N.H.-based networking firm that was once the state's largest employer.
Gagalis first filed a motion in July to reverse his conviction, arguing that he was a scapegoat for the crimes of his superiors. But the latest filing goes into much greater detail concerning Benson, a Cabletron founder and Enterasys board member and largest stockholder at the time in question. Benson was never charged with any wrongdoing.
The filing liberally quotes from FBI interviews of former employees at Cabletron and Final Mile— a Dover company Benson formed in 1999 (and that filed for bankruptcy in April 2003) — as well as an interview with Benson himself when he was governor.
In his May 2003 interview with the FBI, Benson said he was "not aware of incorrect product being shipped to buyers in order to record a sale. Benson stated he would not have been involved in anything like that," according to the report.
But that claim seemed to be contradicted by a FBI interview of Michele Winder, Final Mile's controller of operations from January 2000 to November 2002. Winder charged that Benson was involved in pressuring Final Mile to write a $1 million purchase of product that it didn't need and couldn't afford in order for Cabletron to make its numbers. When contacted by NHBR, Winder stood by the general accusations of interview, in which she also discussed campaign irregularities.
The filing also cites an ongoing civil suit by the Securities and Exchange Commission. In August, the SEC charged that a securities fraud conspiracy involving Gagalis was led by former Cabletron CEO Piyush Patel, Cabletron CFO David Kirkpatrick and Eric Jaeger, Cabletron's former senior vice president of corporate affairs.
"These facts strongly suggest that the government improperly steered the criminal prosecution away from the true wrong-doers," said the filing by Portsmouth attorney Stephen M. Rasche and Los Angeles attorney Michael H. Artan. "If any of the top-level wrongdoers were charged, Benson would undoubtedly have been drawn into the case. Because none of the top-level wrongdoers were charged, Benson was kept out of the fray."
Colantuono did recuse himself before charges were filed, but not before Benson was questioned and Gagalis targeted, Gagalis attorney's maintains.
Colantuono, who has not answered NHBR questions about when and why he recused himself, also did not respond to this latest filing.
Benson's attorney, Harvey J. Wolkoff, of the Boston law firm of Ropes and Gray, called the accusations "ridiculous, absolutely false." Wolkoff noted that Gagalis did not take the stand in his own trial.
"Mr. Gagalis never tried to offer any explanation for his criminal conduct. Anyone could see that Mr. Gagalis has absolutely no credibility, not one scrap of truth in what he has said about Mr. Benson," he told NHBR. "He has gone out of his way to spread outright lies about Mr. Benson in order to get back at him for spearheading the investigation that resulted in Mr. Gagalis' conviction."
But Gagalis also charges that his former lawyer, James Rehnquist, advised him against testifying in his own defense.
Rehnquist's law firm, Goodwin Procter LLC, also represented Daniel Harding, — the "center of decision-making at Cabletron/Enterasys," according to Gagalis' filing – who was being targeted by a criminal investigation involving Riverstone Networks, another Cabletron spinoff where Harding went on to work.
"Showing that others were behind the conduct at hand, rather than Gagalis, would have implicated Harding. Rather than implicate others, and possibly expose its client Harding, Goodwin presented no defense," the filing said.
Bob Sanders can be reached at bsanders@nhbr.com.