Ferlins to keynote next TechWomen|TechGirls Power Breakfast
Cirtronics CEO's topic: 'In Defense of Millennials!'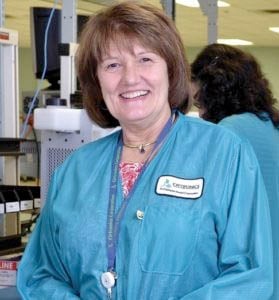 Gerardine Ferlins, president and CEO of Milford-based Cirtronics, an employee and woman-owned contract manufacturer for quality-sensitive electronics, will headline the next TechWomen|TechGirls Power Breakfast, 7:30 to 9 a.m. Wednesday, Nov. 9, at the Manchester Country Club in Bedford.
Ferlins' talk, "In Defense of Millennials!" will explore the challenge Cirtronics and other tech businesses face in finding and retaining talent and how Baby Boomers can continue to play a meaningful role in filling the gap.
"Gerardine will address an often talked about topic among tech companies, which is finding and retaining talent. We look forward to hearing from a leader in advanced manufacturing about her experiences as the head of an employee owned company," said Michelline Dufort, director of business relations for the NH High Tech Council, which presents the monthly Power Breakfast.
Tickets for the breakfast are $10 for members of the council and $20 for others. To register, visit nhhtc.org or
call 603-935-8951.