Federal rail funding effort seen as boost for New Hampshire projects
Kuster-Pappas measure aimed at energizing passenger rail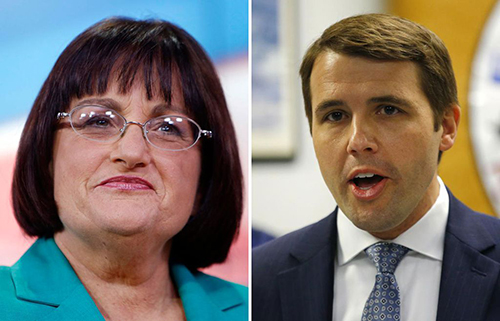 A proposed new federal rail-funding initiative has been announced by U.S. Rep. Chris Pappas, D-1st. Dist., and U.S. Rep. Annie Kuster, D-2nd Dist., that is aimed at allowing states to secure low-interest loans for rail projects.
Called the Invest in American Railroads Act, which is also sponsored by U.S. Rep. Lloyd Smucker, R-Pa., would have an interest rate below 2% with terms that can be extended to as long as 50 years.
The measure also calls for setting aside $100 million in credit risk premiums for passenger rail projects.
The legislation "makes critical improvements to the federal Railroad Rehabilitation and Improvement Financing Program to promote the development of passenger rail and so-called "short line railroads," said Kuster.
She added that "passenger rail will be a game-changer for New Hampshire, helping to spur economic competitiveness and help keep Granite Staters from spending hours sitting in traffic. It will also plug New Hampshire's burgeoning tech industry with the vast pools of talent in the region, helping bring the best and brightest minds in to employers in Nashua and Manchester."
She called the legislation "a win-win for working families and for our state's economy."
Such funding, she said, could be used to help the state pay for the long-sought Capitol Corridor Project, which would connect Concord, Manchester and Nashua to Boston via commuter rail.
Another beneficiary could be the city of Claremont, which has long hoped to improve its rail station and boost ridership on the Amtrak Vermonter, which stops daily in the city.
According to Pappas, when state "are looking to build and improve our railways, such as a passenger rail from Manchester to Boston, it's critical that we set them up for success."
He said the legislation, by improving the federal RRIF loan program, would make it easier for the state to "undertake ambitious rail projects" aimed at "improving our regional economies" and "creating good-paying jobs."