February EYE Award Winners: Jessica Keefe and Jim Connolly, octo studios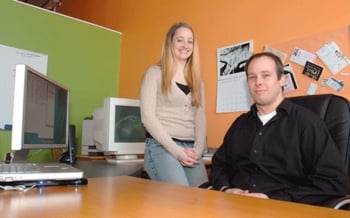 From the time she was a little girl Jessica Keefe knew she wanted to own her own business. After building her first professional Web site as a senior at Syracuse University, Keefe knew what that business would be – her own advertising agency.
A slow job market following Keefe's 2001 graduation proved to be the perfect springboard into freelance work. Keefe's self-confidence grew along with her list of clients, and in March 2004 the young entrepreneur realized her childhood dream, formally launching octo studios.
A creative name, "octo," was chosen with hopes of alluding to the multifaceted services the new company would provide.
Within two months of octo's inception, Keefe had secured office space on the fourth floor of the Waumbec Mill building at 250 Commercial St. in Manchester, and by November had enlisted the talents of friend and fellow Syracuse alum Jim Connolly, whose computer graphics expertise complemented Keefe's marketing background.
Much more than a print or Web advertising firm, octo studios provides clients with a wide variety of services, including video, Web, print, multimedia, even online games. The firm's client base has grown to 40 and includes Big Brothers Big Sisters of Greater Manchester and Appledore Engineering in Portsmouth. The growing list boasts names of companies around the country and as far away as Germany.
While many of their peers did venture to the big city following graduation with hopes of landing jobs at well-known companies, Keefe and Connolly, now approaching octo's third anniversary, believe their decision to anchor in New Hampshire was critical to their success.
"New Hampshire is really built on small businesses," Keefe said. "When you work for one of those big companies you're just one of many. Here we have the opportunity to really be creative. And here we're both involved with all the projects – if one of Jim's customers calls I can answer their questions, and he knows my customers, that's important to our customers."
What inspired you to start your own business?
As a child and teenager I always wanted to start my own business although I didn't know what it would be. When I went to college that focus never left. I loved being creative and studied advertising with a focus on business marketing. By my senior year of college I had built my first professional Web site and I knew what my business would be — an advertising agency.
What about this endeavor are you most proud of?
I am proud that I've been blessed with a great business partner and some fabulous clients. I am also very proud of the continuing support from my family and friends. The other thing is that so far all of our business has been referral based. It's great having our clients refer us to others.
Where do you see your business 10 years from now?
I see octo studios still creating beautiful, quality work, still keeping with our core values of providing quality. I hope to have a larger group of creative talented team players. And maybe a bigger office.
How do you kick back?
I bought a house in the past year, so I enjoy hanging outside at the pool with friends. In the winter months I work on my interior design skills. And Jim spends time exercising, hanging with friends and reads a lot.
Who are your role models or sources of inspiration?
For me there's no particular person. I've just always been gung-ho when it comes to putting my mind to something. It's been more of a self-inspiration that has gotten me here – that and huge support from my family and friends. And Jim gets inspiration from everything – movies, television, digital media, the Web — he's always thinking.
What is it about New Hampshire that brought you here?
Jim has lived here all his life and had a great job opportunity, and I came here after college. This is just such a good place to start a business. There are a lot of new businesses, and that is a great benefit.
What advice would you give other entrepreneurs like yourself?
When you are passionate and love what you do you can succeed at it. There will always be risks whether you're taking a new job or starting a new company, so just weigh the risks and make educated decisions. And always ask questions.
The Emerging Young Entrepreneur awards program is presented by New Hampshire Business Review in partnership with Centrix Bank. The monthly award honors New Hampshire's young business owners for their creativity, determination and business success. Visit Centrix Bank online at www.centrixbank.com.