Farmers' markets abound with food and fun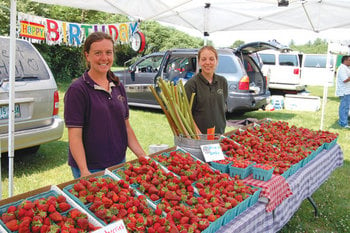 Should strawberries really be able to sit at the bottom of a refrigerated produce drawer for two weeks without growing blue hair? And why do store-bought tomatoes never taste "tomatoey?"
Sure, today's supermarkets provide us with an ever-growing list of "fresh" produce from all over the world at practically any time of the year, but while the brilliant colors and posted names of the fruits and vegetables on display are easily recognizable to the eye, so many leave the palate feeling shortchanged, void of that fresh, just-picked flavor.
But for five or six months each year New Hampshire's farmers bring our taste buds back to life by offering their locally raised and freshly gathered produce and goods at farmers' markets held weekly throughout the state.
The New Hampshire Farmers' Market Association and the New Hampshire Department of Agriculture, Markets and Food lists nearly 60 markets on their Web sites (nhfma.org and agriculture.nh.gov). Listings include days and times of the markets, contact information and a brief overview of the products available at each.
Always a surprise, the selection at today's farmers' markets varies from week to week in accordance with New Hampshire's fickle growing season.
On Tuesday, June 19, for example, I left the Bedford Farmers' Market with bagged lettuce, a dozen brown eggs and a quart of Barrett Hill Farm strawberries – the kind that actually taste like strawberries.
I also treated myself to an armful of beautiful fresh-cut flowers. Locally grown by 70-year-old Carolyn Ramsbotham and her husband at Riverview Farm in Madbury, the bouquets were a rainbow of color punctuated with white and pink peonies the size of softballs.
Early in the season the selection of vegetables at farmers' markets may be a little limited. There's lettuce and radishes and a couple of other cool-weather roots but the fresh tomatoes, cucumbers, summer squashes and other locally grown produce traditionally associated with farmers' markets make their debut a little later, but that's part of what makes visits to farmers' markets fun – there's always something to look forward to.
But today's farmers' markets are about far more than just vegetables. From a beautiful array of fresh-cut flowers to jams and jellies, natural and organic breads and other baked goods, free-range meats, natural pet treats and even locally produced wines and fresh seafood, the changing selection of our farmers' markets rival many supermarkets.
It's not unusual to find gifts of the inedible variety at the open-air market as well.
According to the state Department of Agriculture's Web site, shoppers at Franklin's farmers' market will find hand-crafted art and jewelry as well as fiber products.
The New Durham market boasts locally fired pottery, paintings, garden art and quilts, and the Contoocook farmers' market actually has its own railroad museum on site.
One vendor at the Concord Farmers' Market even has something special for folks hoping to grow their own produce — composting worms.
Each market is different
More than a visit to an outdoor grocer, many farmers' markets — including those in Sanbornton, Peterborough, Manchester, Littleton, Lee, Hancock, Franklin, Claremont and Contoocook — serve as a venue for local talent or host demonstrations.
Although well established in the community, the Deerfield Farmers' Market – whose opening day celebration on June 29 included a petting zoo, horse-drawn carriage rides and musical entertainment — has moved to a new home this year. Every Friday through Oct. 12, the market will take place from 3 to 7 p.m. at the Deerfield Fairgrounds.
In addition to healthy fresh food and high-quality products, a weekly trip to the local farmers' market supplies shoppers with much more. It's a voice of support for the state's farmers. By purchasing locally grown goods shoppers help local farmers remain profitable, and in turn aid in the preservation of New Hampshire's rural landscape.
From the days of the week and hours of operation to the products sold, each farmers' market is different. For details on markets in your area check out the listings at nhfma.org and agriculture.nh.gov. Or better yet, just stop by and be surprised.