Farmer pushes for buffer laws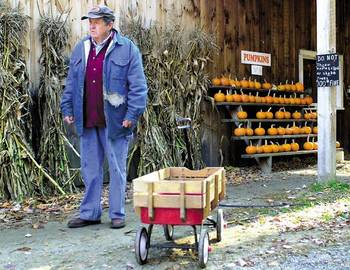 MERRIMACK – "Good fences make good neighbors," wrote Robert Frost, the poet and occasional New Hampshire farmer.
Another New England farmer, Eber Currier, would amend Frost's words to add, "so do good buffers, especially ones with thick underbrush."
Currier grows apples, pumpkins, cucumbers and squash on his 28-acre Peaslee Road property, which he's owned for two decades. The land has been in farming for at least half a century and predates the homes that have gone up just beyond the orchard's edge.
Therein lies the issue, not just for Currier, but for a whole bunch of farmers trying to scratch out a living in the state's heavily developed and developing southern tier.
People move to the country and build homes near farms, and then complain about chemical sprays, odor and noise associated with agricultural operations, Currier said.
"It kind of can be hard on the fellow, or the woman, doing the farming," he said.
Wayne Mann, president of the New Hampshire Farm Bureau Federation, puts it another way.
"There's always been the issue of existing farm operations and suburbia moving up to the farms," Mann said. "People move to the country from the big city and discover that cows moo in the morning and roosters crow at night."
New York and Maine have laws on the homes and certain types of farming operations. The buffer would be a stretch of land owned by the developer where vegetation would be allowed to grow wild, creating a natural barrier between new homes and existing farms.
Currier wants New Hampshire to adopt a similar measure.
"We were scratching our head about what to come up with in our state," Currier said about a recent meeting of the Hillsborough County Farm Bureau, of which he and his wife are members.
Currier's proposal to create a buffer around farms passed muster with policy review committees of the Hillsborough County and state farm bureaus. It will go before delegates of the state Farm Bureau Federation annual meeting in Lebanon on Nov. 20.
If the agricultural buffer proposal is approved, the delegates would look for someone to introduce it as legislation, where it would undergo discussion and debate and could someday become law. However, Currier doesn't expect the idea to survive the annual meeting.
"It probably will not pass, but it will be discussed," he said.
There are more farmers in the northern part of the state, where development stresses on farms aren't as great as in the south, Currier explained. But having the idea aired on the state level could be an important first step, he said.
Among the details to be debated: how much of a buffer for different types of farms.
For orchards, experts have recommended not disturbing the underbrush in a 100-foot buffer the entire way around the development, Currier said.
That's so drift from spraying the orchards would be caught in the underbrush and not carried over into the development, he said.
The buffer might be different for other types of farms, such as pig or dairy farms.
"You take a pig farmer – his manure pile smells a heck of a lot worse than someone with horse stables, or a dairy farmer with his manure," Currier said
A couple of years ago Currier worked out a deal with the developer of Wasserman Heights to include a 100-foot buffer between homes and his land.
The buffer hasn't been problem-free. Currier and a neighbor have concerns about a pond that catches runoff from the development. Water has been leaching over Currier's property, and the developer and Merrimack town officials have been working to solve the issue.
Problems with the detention pond notwithstanding, the buffer agreement is still one that should be copied across the state, Currier said.
Good fences only go so far in making good neighbors, Currier suggested. Neighbor also has to meet neighbor half way.
Buffer or not, Currier is mindful not to unduly disturb homeowners in nearby Wasserman Heights when he sprays his apple trees to kill insects.
"I do my spraying about 4 a.m. When the wind come up about 9 or 10 o'clock, I'm finished by then," Currier said.
That's a message Mann also stresses with members of the statewide farmers association.
"I tell our delegation, you may have been there for five generations, but that doesn't mean you should be up at 3 in the morning clanging and banging just to irritate your neighbors," Mann said.