Family homeless following Thursday blaze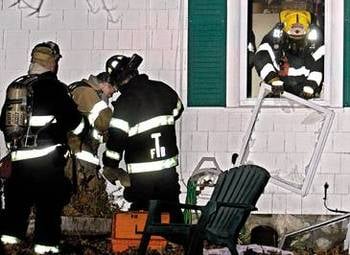 TYNGSBOROUGH, Mass. – A police officer was injured and a family of four left homeless following a fire that may have had an electrical source.
Tyngsborough police Officer Shuan Woods was treated and later released from Lowell General Hospital, where he was taken with symptoms of smoke inhalation after he entered the burning ranch-style home at 196 Lakeview Ave.
No one else was hurt in the fire, which was reported at about 6:40 p.m. by the female homeowner who had just arrived home, Police Chief John Micelli said
According to Micelli, the woman reported that she had just set down her purse after entering the house when she noticed the lights flickering and the smell of smoke.
After hearing a popping sound, the woman immediately retreated from the home and called 911, Micelli said.
He said Woods was first to arrive at the home, which had visible signs of smoke emanating from it at that time.
Woods then entered the home after the woman told him she could not be certain if her son was in the basement, he said.
"He got as far as the basement, but had to turn back because of the smoke condition." Micelli said.
Fire crews then arrived at the home and upon entering the structure found a 10-foot section of wall in the first floor dining room ablaze, Tyngsborough Fire Department Capt. Wes Russell said.
Firefighter Bruce Hallowell was able to extinguish the blaze seconds later, while crews broke windows to expel smoke from the home and check for any occupants, Russell said.
According to neighbors, the woman lives at the home with her husband and two teenage sons, but no one other than the woman was home when the fire broke out, Micelli said.
The blaze caused fire and heat damage to the dining room of the home, smoke and water damage throughout as well as numerous broken windows, Russell said.
The home was deemed uninhabitable and Red Cross officials were contacted to assist the family, Micelli said.
Micelli said the fire started in an area near an electrical panel in the center portion home, and that neighbors in the area had also reported seeing area lights flickering just prior to the fire.
"Now, if that has anything to do with it, I don't know," Micelli said.
The home had also been recently decorated with white holiday lights, according to neighbors.
Cindy Corriveau, who lives across from the home at 201 Lakeview Ave., said she and her teenage son, Justin, noticed lights in their home dimming and brightening about 10 minutes before fire crews arrived at the neighborhood.
"Every light in the house was flickering, and my son said to me 'Mom, something's wrong,' " Corriveau said.
Massachusetts Electric crews were called out to examine nearby equipment, Micelli said.
The cause of the fire in under investigation by Tyngsborough police and fire officials, Russell said.