Families left homeless by fire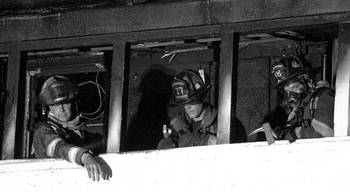 DERRY – An eight-unit apartment building was left uninhabitable after a fire ripped through the rear of the dwelling early Wednesday night.
Fire crews arrived shortly after 8 p.m. to find the rear of the West Broadway apartment building fully engulfed in flames, fire chief George Klauber said.
Firefighters were still working to fully extinguish the building more than two hours later.
No one who lived there was injured, but two firefighters were taken to Parkland Medical Center because of the heat and humidity, Klauber said.
At least three of the apartments were totally destroyed and the rest suffered smoke and water damage, Klauber said.
"There's enough damage inside this building that it won't be occupied until substantial repairs are done," Klauber said.
While the front of the building located at 89 W. Broadway, just beyond the Derry town line from Londonderry between Fordway and Clark Street, did not appear substantially damaged, the rear was blackened and charred by the flames. Downtown Derry smelled like a fire for most of the night.
West Broadway was still closed to traffic at 11 p.m., and Derry police said at the time it would be shut down for about two more hours.
Klauber credited firefighters and working smoke alarms for getting people out of the building safely.
Families displaced by the fire were offered assistance through the Red Cross.
Fire departments from Windham, Auburn, East Derry and Londonderry were called for assistance.