Fall construction start planned for Merrimack mixed-use development
Monahan, Procon partner on $100 million project near Premium Outlets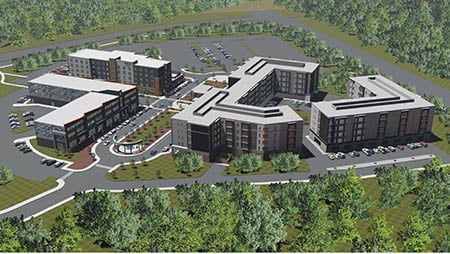 Work is expected to begin this fall on a $100 million mixed-use development at the entrance of the Merrimack Premium Outlets in Merrimack.
The 20-acre development, called Merrimack Park Place, is being developed by Nashua-based Monahan Companies and constructed and designed by Procon of Hooksett.
The conceptual design features a five-story, 124-room Fairfield Inn & Suites by Marriott with a 5,000-square-foot conference center. Three five-story luxury apartment buildings are planned, offering a combined 192 one and two-bedroom units. Plans also include a 42,000-square-foot office building and 28,000 square feet of street-level retail and restaurants.
Developer Tom Monahan said the project will be "the first live, work and play development of its kind in the area providing an urban-style walkable community."
He called Merrimack Park Place "a tremendous opportunity to enhance what a great town Merrimack already is. We hope to complement them by creating the type of mixed-use community that they can be proud of in this area and one that attracts and retains talent for the large local businesses."