Facing foreclosure, White Mts. resort sues Northern Pass
'We are really in danger of losing our business'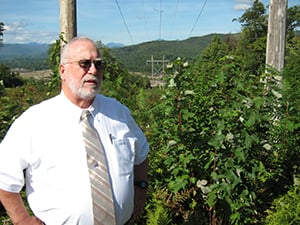 The Owl's Nest Resort & Golf Club is facing foreclosure because Public Service of New Hampshire tricked it into expanding the utility's right of way in 2007 so the Northern Pass transmission line could run through the resort's golf course, according to the first major lawsuit filed against the project.
"We are really in danger of losing our business," Tom Mullen, an owner of Owl's Nest and a vocal opponent of the project, told NHBR.
The 600-acre resort – with a golf course that was voted the best in the state by WMUR-TV viewers – employs about 70 people at the peak of the season, more than any other business in the towns of Campton and Thornton, where it is located, Mullen said. And that is more than Northern Pass will create in the area, Mullen contended.
Mullen, his partner Walter E. Lankau Jr., and Owl Street Associates LLC (the entity that owns Owl's Nest) – claim that condo and home sales on the property have "collapsed" ever since the 2010 announcement of plans to construct the high-voltage transmission line from Canada through New Hampshire, according to the complaint filed Tuesday in Grafton County Superior Court. The suit names PSNH, its Connecticut-based owner, Northeast Utilities, and Northern Pass Transmission LLC.
NHBR provided a copy of the complaint to PSNH, but the utility has not "yet been formally served," said spokesperson Martin Murray. Besides, added Murray, "if there are legitimate legal issues that deserve consideration, the court is the proper forum for that discussion, not the newspaper."
But Murray added, "PSNH has a long history of working successfully with neighbors along our rights of way on agreements. We believe that existing power line rights of way can coexist, as they have for many decades, with neighboring homes and businesses, such as golf courses. Owl's Nest is a good example, as its own website explains that it has been voted the best golf course in New Hampshire, notwithstanding the existing transmission lines."
Owl's Nest was able to thrive with the existing lines, Mullen said.
Although the nation and the North Country were still in the throes of the recession in 2010, Owl's Nest "kept rolling" in 2008 and 2009, Mullen told NHBR. In 2009, Mullen said the resort had $3.5 million in sales and was assessed in early 2010 at about $23 million.
But in the fall 2010, after the Northern Pass project was announced, "it was like we fell off a cliff. It was instantaneous. We lost pending transactions and not had a single sale – not from our inventory – since," Mullen said.
Those who tried to sell on their own took major losses, he said. A condo that went for $125,000 sold for $20,000, and a detached home is about to be sold for $250,000 when it was worth nearly twice that, Mullen said.
According to the complaint, the resort is delinquent on its mortgage payments. Its primary lender, Meredith Village Savings Bank, warned that it would foreclose at the end of the year, according to the suit. Mullen told NHBR that he was trying to obtain other financing, but the situation is "bleak."
Mullen declined to disclose the total amount owed, but the most recent mortgage with the bank filed in 2008 totaled more than $7.7 million, though numerous partial releases were filed afterwards, so it is unclear how much was paid off and how much has accrued in interest.
The suit also says Owl's Nest also owes an unspecified amount to a private lender and back property taxes. The latter amount currently totals $389,000, according to the towns' records.
If the bank forecloses or the company files for bankruptcy, Mullen and Lankau will lose their personal investment, the Owl's Nest as a going concern, the value of the real estate, and deficiency judgments on their personal guaranty on the mortgage balance, according to the suit.
2007 agreement
The lawsuit faults Northern Pass project primarily for two reasons. First, it says PSNH "wrongfully and fraudulently induced the plaintiffs to enter the Easement Deed by misrepresentation of its intended use."
Mullen said that is a reference to an agreement reached with PSNH in 2007 to move deteriorating and poorly secured poles running over an old gravel pit to another portion of the property. The idea was to set up an alternative route so electric flow wouldn't be interrupted during the switch.
"This seemed reasonable enough to me," Mullen said, but now he said he is "suspicious" that PSNH really was preparing for the Northern Pass. Rather than upgrade the power grid in the North Country, "they are going to put in an extension cord to Canada to Massachusetts, Connecticut and beyond that is not going to benefit New Hampshire."
What PSNH knew and when it knew it would come out in the discovery, presaged by extensive interrogatories filed with the suit by Mullen's attorney, Art Cunningham.
Cunningham, who practices in Hopkinton, has been a frequent foe of PSNH in other battles, such as the effort to install the mercury scrubber at the utility's coal-burning plant in Bow.
Mullen did say that the 2007 agreement insisted on a clause that would protect the aesthetic quality of the property – and that, he said, has been clearly violated by the Northern Pass.
"The Owl's Nest is all about views and gorgeous scenery and natural surroundings," he said.
True, he said, there is currently a transmission line with 43-foot-tall wooden poles, but that's a far cry from the proposed new 300-kilovolt lines hanging from "gargantuan" lattice towers that could be as high as 130 feet.
"Aesthetics is like beauty, it is in the eye of the beholder, so there is some wiggle room, but they are claiming that aesthetics is all about how the line is managed. I don't think many juries in Grafton County are going to buy that," Mullen said.
Mullen said that PSNH did offer compensation, but it would not be enough to salvage his business. His biggest hope is that the project doesn't go through, and he points to an opposition movement that is "going to make Seabrook look like a tea party."
But although he has been very public about his opposition to the project, he said, this latest salvo is "embarrassing" in the end.
"I've invested years and millions of dollars in my business, and to have nothing to show for it …" he said, trailing off.
Then he added: "I'm not ready to call it a day yet. I'm fighting for my economic life."