F.W. Webb breaks ground on million-square-foot Londonderry facility
Central distribution center scheduled to open in 2017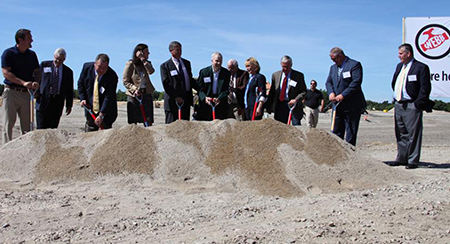 Bedford, Mass.-based The F.W. Webb Company held a groundbreaking ceremony for its nearly 1 million-square-foot central distribution center in Londonderry, NH.
The $60 million facility, which is expected to open in late 2017, will replace and be more than double the size of the company's current central distribution center in Amherst, NH.
"Opening a much larger central distribution facility represents a major investment in our operations and a significant commitment to our customers and manufacturing partners," said Jeff Pope, F.W. Webb's president. "This huge, state-of-the-art CD will allow us to offer our customers even more and better products, and reach further into the Northeast."
Among those taking part in the groundbreaking were New Hampshire Gov. Maggie Hassan, U.S. Sen. Kelly Ayotte and Londonderry Town Manager Kevin Smith.
F.W. Webb considered five locations, including some in northern Massachusetts, before choosing the 75-acre Londonderry site near the Manchester-Boston Regional Airport. The site next to logistics centers for UPS and Pratt & Whitney and just down the road from FedEx. The site is about 50 miles north of downtown Boston, MA.
F.W. Webb has been growing steadily through a series of recent acquisitions. In March, it acquired Water Works Supply Corp. of Malden, Mass., and Londonderry. In April, it purchased Seabrook, NH-based State Line Supply and in late June it announced the acquisition of Trenton, N.J.-based Lincoln Supply.
F.W. Webb now has more than 90 locations across nine states, with 13 in New Hampshire.